'It made me a better person': MS Dhoni reveals how 2007 World Cup exit and backlash changed him
A crowd pleaser, the film MSD The untold story gives audiences a rare glimpse into Dhoni's personal life
Mahendra Singh Dhoni is as cool and unruffled a sportsman on the field as he is self-effacing off it. He laughs off a comment from a sharp elbowed reporter in New York suggesting he has the good looks and charisma to have played himself in MS Dhoni — The Untold Story, which releases on 30 September.
"I am a professional cricketer, not an undercover actor," Dhoni deadpanned at a press conference at Fox headquarters in New York. "Sushant Singh Rajput, who plays me in the movie, is a fantastic actor with strong theatre experience. When we first met, I was surprised because he wanted to get into my head, rather than just see how I walk or talk. He wanted to know what made me tick, understand why I take decisions the way I do. It was tough because I couldn't tell him everything; I am an active cricketer," added India's ODI and T20 captain, currently in the US with wife Sakshi and film producer Arun Pandey after playing West Indies in Florida.
Everyone talks about Dhoni's spectacular rise, but the biopic more spends time painstakingly cataloguing his journey. It gives an insight into the kinds of challenges Dhoni faced while growing up: He wasn't a natural like Sachin Tendulkar; he started out playing state level football, he was rejected by the Railways Ranji Trophy team; playing for a small Ranji side like Bihar wasn't easy; bureaucratic disorganisation almost sabotaged his rise and the 2001-02 season was an unmitigated disaster.
The film makes us appreciate how Dhoni put everything on the line, including the safety of a government job, to slog it out in cricket's dusty domestic circuit. "It's a deeply emotional movie. I was shown the unedited, raw footage without a soundtrack and was stunned. Silent. All these things that had happened a long ago suddenly became fresh: Where I lived, where we played, my school. I went blank," said Dhoni, otherwise so chillingly calm on the field, betraying not much emotion.
"It was nice to be in the past for a moment, and get a view of what others think about me," added Dhoni.
The right-handed batsman and wicket-keeper, widely regarded as one of the greatest finishers in limited overs cricket, had a humble background. His father arrived in Ranchi in 1964 to work as a pump operator with MECON Limited, a public-sector engineering firm. Dhoni was born in July 1981 and grew up in a crammed one-bedroom apartment near the city's MECON Stadium.
"If you come from a middle-class family, job security is very important. As a sportsman you roughly have a 12-year professional life, but how are you going to take care of the other 40 years of your life? It can be a tough decision, to choose between job security and following your passion," he said.
Dhoni's father always wanted his son to secure an adequate education and a stable job. Under his dad's eagle eye, he would religiously get up at dawn and study for two hours throughout his years at DAV Jawahar Vidya Mandir; his evenings though were crowded with football and cricket practice.
In 2001, a struggling Dhoni had to focus on finding an income. He moved to Kharagpur in West Bengal, where Animesh Kumar Ganguly, then a divisional manager of the South Eastern Railways (SER), was trying to build a cricket team. After traveling cross-country to arrive at Ganguly's bungalow, Dhoni faced a spell bowled by the SER boss. It took just three balls for Ganguly to decide he liked what he saw — he gave Dhoni a job as a railway ticket collector and a spot on the SER cricket squad.
The movie shows how Dhoni developed a unique technique by playing with a tennis ball on 18-yard pitches in Kharagpur. On these pitches, bowlers consistently bowled yorkers and he had to learn to use his shoulders and forearms to dig the ball out, a skill that helps him play his famed 'helicopter shots' today.
The film also shines a spotlight on the making of Dhoni by showing audiences the people he encountered: An array of coaches (some encouraging, others downright egotistical), mentors, friends and even enemies. All these colourful characters shaped the incredible journey of a small-town boy.
The film gets to the heart of what made Dhoni "a man possessed" while exploding onto the arena by becoming the first regular Indian keeper to score an ODI century. Dhoni has excelled at the challenges of bearing the triple responsibility of being a specialist batsman, wicket-keeper and captain.
A crowd pleaser, the film gives audiences a rare glimpse into Dhoni's personal life. In 2010, he married childhood sweetheart Sakshi. The two have known each other practically all their lives and their families are close as well. In February 2015, the couple had a baby girl, Ziva. In the film, Sakshi's role is being played by Kiara Advani.
The film does touch upon Dhoni's triumph at the Wankhede Stadium in Mumbai in the 2011 World Cup final, but India's most successful captain of all time chose to focus on another, darker, chapter in his life. Dhoni says the backlash he and his team faced after the shock exit from the 2007 World Cup was a "big turning point".
"When we landed, we had to get out of the airport in a police van. I was sitting next to Viru (Virender Sehwag) paaji. It was late in the night and we were travelling at a decent speed. But media cars followed us with their cameras and big lights. It felt as if we had committed a big crime, maybe like a murderer or terrorist (would feel). We were actually chased by them and ducked into a police station," said Dhoni.
Dhoni's house, which was under construction in Ranchi at the time, was pelted with stones and vandalised. "That actually had a big impact on me, and I channelised the aggression to become a better cricketer and a better human being," he said.
Photos
Check out pictures from 2nd ODI played between India and Sri Lanka at Colombo.
First Cricket News
The meeting, which was conducted virtually, welcomed Mongolia and Tajikistan as the 22nd and 23rd members of the Asia region, while Switzerland is Europe's 35th member, with the ICC now comprising 106 members in total, including 94 associates.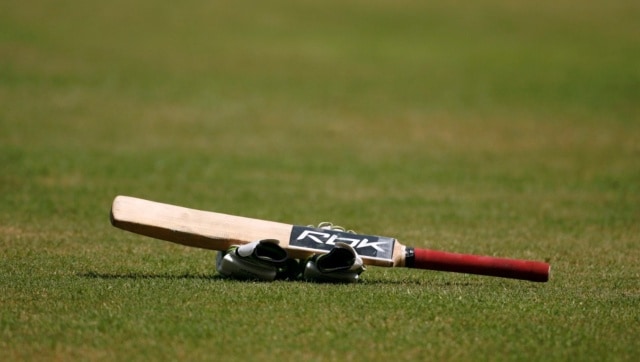 First Cricket News
Of the 65 players identified, 45 players have been withheld from further participation till resolving of the disputes, the CAB said in a statement.