Isle of Man Open: Viswanathan Anand's superior tactics stand out in victory over Hou Yifan
Viswanathan Anand wasn't the only Indian who made his countrymen proud with his performance in Douglas as Swapnil Dhopade and Vidit Gujrathi were also impressive in the tournament.
After Hikaru Nakamura's back to back wins in the seventh and the eighth round, he could have been expected to come out all guns blazing against Magnus Carlsen in the final round of the Isle of Man Open. He had had an excellent run so far. He had remained unbeaten throughout the event, was in good form, and had even earned the right to play the tournament leader in the final round.
There was every reason for him to play for a win. There was only one problem though: he had the black pieces. Therefore, choosing the right opening was of paramount importance.
The game began, Carlsen played 1. d4. Nakamura replied with the Queen's Gambit. The 5. Bf4 line appeared. By the 12th move itself, Nakamura knew what was coming. Carlsen had a way to force a draw by repetition in the position. But there wasn't much he could do now. If he chose to play on by not repeating, his position would be much worse. On move 18, the players were seen shaking hands. Nakamura was visibly unhappy.
After the game, Nakamura said that going for the King's Indian Defence was definitely an option. But he felt Carlsen must have also considered that he might play it and chose to go for this line. But once 12. Qc1 was on the board, there was hardly anything he could have done.
With a draw on the top board, Viswanathan Anand, who had lost his chance at the title before the final round began, now had a chance to tie for second. But for that to happen, he would have to beat the top woman player in the world, Hou Yifan.
Yifan, with the black pieces, opened with the Petroff, an opening known for leading to drawish positions. By the 12th move, the position was almost completely symmetrical. The only difference was the placement of the light and dark squared bishops of white and black respectively. As International Master Sagar Shah pointed out in his post-game analysis, this is what gave Anand a slight edge in the position.
Trying to make the most of such a minuscule edge, Anand did everything in his might to improve his pieces. Finally, on move 25, Anand's efforts were rewarded. A tactic involving a knight sacrifice won Anand a pawn. This was good enough for the five-time world champion to convert. He finished the game off with impeccable technique by move 53.
But Anand wasn't the only Indian who made his countrymen proud with his performance in Douglas. In fact, one of the players on boards two, three and four was Indian. There was Anand on board two, Swapnil Dhopade on board three and Vidit Gujrathi on board four.
Putting behind a slightly disappointing show at the World Cup last month, the 22-year-old from Nashik, Gujrathi came back with a bang. With his fantastic performance at the Isle of Man Open, Gujrathi reached his lifetime high rating of 2721 and climbed up to the 34th spot in the world in live rankings, ahead of such legends of the game as Grand Master Boris Gelfand.
Also, he proved his mettle against the best in the world. His draw against Magnus Carlsen in round speaks volumes by itself.
Dhopade, who is rated merely 2532, was a big surprise in this pack. At the Isle of Man, he finished tied for third with a performance rating of 2768. In the final round, he was paired to play against the defending champion of the event, Grand Master Pavel Eljanov. Dhopade, playing with the black pieces in the advanced variation of the Caro-Kann defence came up with a novelty on move nine. He continued playing ambitiously and gave up the right to castle on move 11 by moving his king, something that requires careful consideration when done in the early phases of the game.
Objectively, this looked better for Eljanov but Dhopade was able to open up the queenside and exchange both rooks to reach an equal position. A draw was agreed on move 41.
Some other highlights of Dhopade's run were draw against Sergei Movsesian and a win against former world championship challenger, Grand Master Nigel Short.
Besides the established Grand Masters from India, there were also some budding talents who made their mark. Two norms were scored by Indian youngsters in Douglas. The first big norm was earned by 17-year-old Harsha Bharathakoti from Andhra Pradesh. With a spectacular rating performance 2693, Bharathkoti scored his maiden Grand Master norm with a round to spare. In the course of the event, he beat some strong Grand Masters like Varuzhan Akobian, Sebastian Wagner and B Adhiban.
The other Indian to score a norm at the tournament was the 15-year-old Arjun Kalyan who scored an International Master norm. In his nine rounds at the event, Kalyan scored 4.5 points and had a performance rating of 2511. Kalyan was able to secure draws against star players like Ju Wenjun and Alexei Shirov.
Round 9 results
Final standings
Aditya Pai is an editor at ChessBase India
Subscribe to Moneycontrol Pro at ₹499 for the first year. Use code PRO499. Limited period offer. *T&C apply
Sports
Planting his knights in the centre, Anand made a temporary pawn sacrifice on move 26 while also opening up lines for his rooks. By the 46th move, the 'Madras Tiger' had wrapped the game up in style.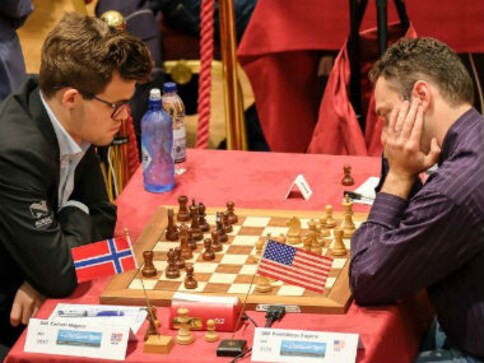 Sports
Magnus Carlsen, Hikaru Nakamura and Michael Adams managed to squeeze wins out of drawish or losing positions, Fabiano Caruana and Viswanathan Anand ended up conceding draws.
Sports
With their wins, Vidit Gujrathi and Viswanathan Anand have catapulted themselves into the sole second and joint third spots respectively.