Isle of Man Open: Magnus Carlsen digs deep to eke out win, Viswanathan Anand forces a draw
Magnus Carlsen, Hikaru Nakamura and Michael Adams managed to squeeze wins out of drawish or losing positions, Fabiano Caruana and Viswanathan Anand ended up conceding draws.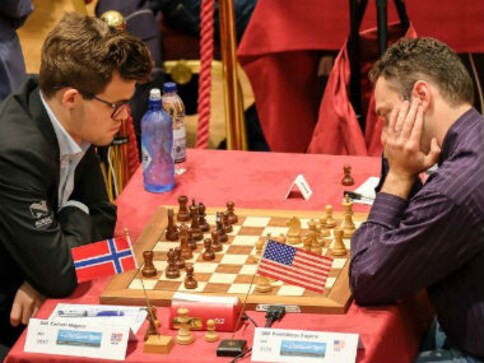 Day two at the Isle of Man Open brought some unpleasant surprises for the top seeds of the tournament. Star players on all of the top four boards were seen struggling to win their games against much lower-rated opponents. While world champion Magnus Carlsen, Hikaru Nakamura and Michael Adams managed to squeeze wins out of drawish or losing positions, Fabiano Caruana and Viswanathan Anand ended up conceding draws. Another major upset was seen in the game between International Master Harsha Bharathakoti and Grand Master Varuzhan Akobian in which the Indian national junior champion dominated the game from the word go.
On board one, Carlsen was thoroughly outplayed in the opening by Grand Master Eugene Perelshteyn, who is rated more than 300 points below the world champion. Playing from the black side of the board, Carlsen essayed the Modern Defence, an opening he does not play very often. Perhaps, this was an attempt to sidestep preparation; or maybe, Carlsen was simply trying something new.
Whatever the reason might be, the decision backfired badly as Perelshteyn lashed out with a pawn sacrifice early in the opening and caught Carlsen's pieces in a firm bind. By as early as move 10, almost all of the world champion's pieces looked paralysed. But Carlsen defended with great patience and precision to free up the traffic jam of pieces on his king side. Soon he looked to have wriggled out of his spot of bother.
While Carlsen improved his position, Perelshteyn worsened his. On move 35, Perelshteyn exchanged rook-pawns and opened up the king-rook file. Carlsen quickly exploited this by doubling his rooks on this newly-opened file and generated a strong attack on the white king. Within just a few moves, the boot was on the other foot. Now Perelshteyn's pieces were tied down. On move 49, Perelshteyn made his final mistake of the game by capturing the b6 pawn, allowing Carlsen to catch his king in a mating net.
Just like Carlsen, tournament's second seed, Caruana also faltered in the early phase of his game against International Master Nikolas Lubbe. Already by move 23, the German International Master had a rook and two pawns for two pieces. Objectively, this wouldn't have been a bad trade for Caruana if Lubbe hadn't got a passed queen-rook-pawn. But with this pawn being on the board, Caruana was the one on the back foot.
However, despite having the worse position, Caruana seemed to be determined to emerge as the victor. On move 32, Lubbe made a silent draw offer by repeating the position. But Caruana refused to oblige and played on. Given the precarious situation he found himself in, this was a brave decision. He even tried complicating the position and create chances for himself. But Lubbe was up for the task and responded well. Eventually, on move 44, the players thought it was time to call it a day and agreed to split the point.
On board three, Anand went for the rock solid Caro-Kann Defence with black pieces against the 20-year-old German International Master Jonas Lampert. By the end of the opening phase, the Indian superstar was in a comfortable place. It seemed Anand just wanted to have a solid position from the opening and slowly outplay his opponent.
But while he had successfully equalised, there was nothing wrong with his opponent's position either and it was hard to create chances. Soon there was a mass exchange of pieces and with such little material left that Anand decided to force a draw by repetition when the opportunity arose on move 24. It must also be mentioned that had Anand not forced a draw, he might have ended up worse as his opponent had a pawn majority on the queen-side.
Another Indian playing in one of the top-10 boards was the 12-year-old prodigy R Praggnaanandhaa. Having won his first round game, he was paired against the English No 1, Michael Adams. With white pieces in hand, Praggnaanandhaa went for the Italian opening. Although Adams was able to equalise quite easily, Praggnaanandhaa enjoyed a comfortable position out of the opening. Things were pretty even until the 12-year-old blundered a pawn and gave his opponent the advantage. From there on, things just kept going south for the Indian as Adams speedily rolled his pawns down the board. By the 42nd move, it became impossible to stop both of Adam's passers and little Praggnaanandhaa was forced to resign.
The second strongest Indian in the field (by rating), Vidit Gujrathi, made a strong comeback after his draw against Rasmus Svane in the last round. Playing against International Master Martin Zumsande from the black side of the board in round two, Gujrathi was quick to get an edge out of the opening in the Alapin variation of the Sicilian Defence. In the middlegame, Zumsande went for a knight exchange that shattered Gujrathi's kingside pawns. But at the same time, this exchange also opened a file towards his own king and Gujrathi made the most of it by posting his rook there and this just spelled doom. Even though Zumsande tried to defend, the position was far beyond the realms of defensibility. A fine rook sacrifice towards the end sealed the game in the Indian's favour.
Another Indian who completely outplayed his opponent was the 17-year-old national junior champion, Bharathakoti. Playing from the white side of an English opening, Bharathkoti was able to secure an edge early in the game and never let it slip.
He further damaged Akobian's position by exchanging his knight for bishop on the 20th move and thereby induced weaknesses on the queenside. As play progressed, the Indian went into an endgame by trading more pieces and collecting a pawn along the way. Akobian tried seeking counterplay by infiltrating with his queen, but a few checks was all he could manage. On the other hand, Bharathakoti had promoted his pawn to a queen. Seeing his counterplay burning out, Akobian decided to call it quits.
After two rounds, 20 players are on a perfect score of 2.0/2. There are three other Indians in the mix: Harika Dronavalli, Swapnil Dhopade and Sunilduth Lyna. The catch, however, is that all of them had played on the lower boards so far and haven't yet played against a higher-rated player yet. It will be interesting to see how they fare in the third round against stronger opposition.
Round 3 pairings:
Aditya Pai is an editor at ChessBase India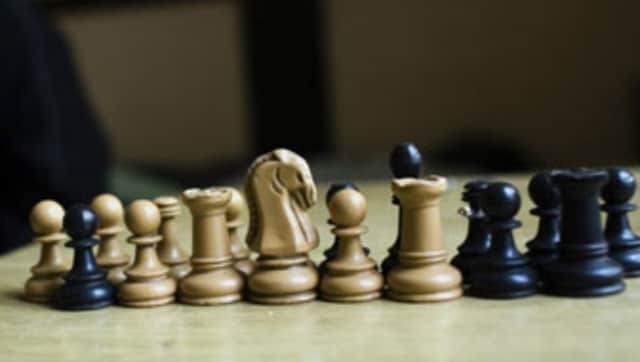 Sports
Uzbekistan sprung a surprise by bagging the gold medal with a 2-1 win over the Netherlands ahead of a strong Armenian team, which beat Spain 2.5-1.5 in the final round, in the Open section.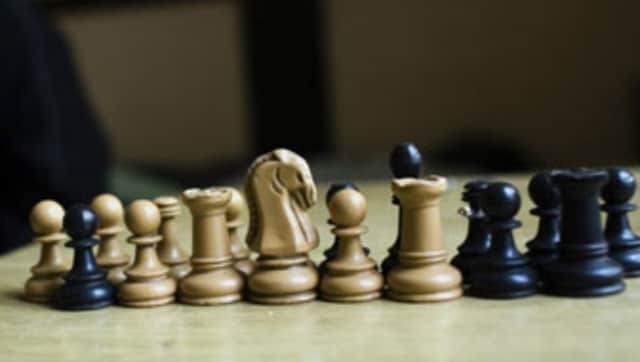 Sports
Top player Koneru Humpy returned to winning ways, beating Zhansaya Abdumalik while Tania Sachdev and Bhakti Kulkarni scored over Xeniya Balabayeva and Gulikshan Nakhbayeva respectively. R Vaishali drew with Bibisara Assaubayeva on the second board.