ISL has a new look in season four; can revamped event help Indian football progress?
The Kerala Blasters and ATK encounter at Kochi on 17 November kicked off Season 4 of the Indian Super League (ISL). Will this re-styled event kick-start a new period of growth for Indian football?
The Kerala Blasters and ATK encounter at Kochi on 17 November kicked off Season 4 of the Indian Super League (ISL). Will this re-styled event kick-start a new period of growth for Indian football?
There is very little doubt that the ISL is well-intentioned. During the first three years of this pro league, the following for football, in India, has grown considerably. Fans of Indian football are also happy that their team has improved its FIFA ranking, though this doesn't count for much. More importantly, money is flowing in into the game, which, if used judiciously, could help catapult India into the top echelons of world football.
Reliance-IMG and the All India Football Federation (AIFF) would therefore be pleased that the ISL is in a happy space.
The worrying factor for AIFF, though, will be its lowly 14th position in the Asian Football Confederation (AFC) rankings. Despite climbing a remarkable 65 rungs in FIFA rankings since the ISL was introduced three years ago, India hasn't been able to make much headway where it matters most.
In this regard, as a football follower, what really bothered me was India's recent showing against Myanmar in the AFC Asian Cup qualifier at Fatorda, Goa. The visitors, besides keeping greater possession of the ball, seemed better organised and man for man, a better team. It was only through a dubious penalty awarded to Sunil Chhetri that the hosts were able to save face.
Mind you, Myanmar is ranked 155th in the FIFA list and around 20th in the AFC list. So much for the importance of rankings in football!
A moot-point during the India-Myanmar encounter, among experts, was whether the Indian players would play 'safe', now that they had qualified for the AFC Asian Cup. This they believed was possible, especially since the ISL was only a few days away.
The whizzes opined that going hard at the Myanmarese could cause injuries and cost the players a place in the first 11, in the ISL, and probably sabotage their earnings in the long run.
Despite the India skipper Chhetri's assurance that they would keep the winning momentum going, their defence was caught napping on quite a few occasions. Chhetri's brilliance up front was the only saving grace for India in a match that was otherwise dominated by Myanmar.
This very attitude of playing 'safe' had been the bane of Indian football in the 1970s and '80s. With top players signing up for clubs at huge contract amounts, especially in Kolkata, most of them were wary of playing for the country, where the earning was negligible. India, therefore, slipped from a position of power in Asia to almost being a cellar team in the region.
AIFF should therefore take cognisance of what possibly transpired in the AFC qualifier against Myanmar and make playing for India more lucrative, with added bonuses for winning.
In Indian cricket too, there is a trend among young players to dream of playing the IPL rather than for the country. This, in fact, won't be bad from the football point of view. If young footballers in India take to the game, in the immediate future, attracted by the glamour, fame and fortune of ISL, the country will have quality footballers to choose from in a few years.
The organisers of the ISL deserve credit for being alive to the concerns of Indian football and tweaking the rules accordingly in the league's 4th edition. The ISL will now stretch from mid-November to mid-March and will have a couple of days off every week, giving the players enough travel and recovery time.
The three earlier editions of ISL were too short and had a few, rather regressive rules. One of them, compelling teams to have a marquee player each made no sense. Most of the so called marquee players had passed their 'use-by' date and no Indian franchise could afford to 'buy' present-day stars. Moreover, only five Indians could play in the first eleven, limiting domestic exposure in the league.
Mercifully, these rules have now been changed and should benefit Indian football overall. The concept of marquee players has been done away with. Six Indian players will now make up the playing eleven and most of all, there will be two new teams i.e. Bengaluru FC and Jamshedpur FC.
One worrying factor in the ISL is the rate of turnover of coaches. Though the organisers don't have much say in the matter, engaging coaches on a long term basis would be in Indian football's interests. Except for Bengaluru's Albert Roca and Jamshedpur's Steve Coppell – who was with Kerala Basters till last year – all the other teams will have new coaches.
Sergio Lobera Rodriguez (Goa), Miguel Angel Portugal (Delhi Dynamos), John Gregory (Chennaiyin), Rene Meulensteen (Kerala Blasters), Teddy Sherinhgam (ATK, Kolkata), Joao Carlos Pires de Deus ((NE United) and Ranko Popovic (Pune City) will be the new mentors in ISL-4.
The experienced Zico, Gianluca Zambrotta, Marco Materazzi, Jose Francisco Molina, Nelo Vingada and Antonia Lopez Habas have decided to move on.
Coaches influence the playing style of teams at all levels. Chopping and changing at the top, therefore, will affect the standard of the league. It is hoped that the new coaches will get used to Indian football, and the conditions here, quickly enough to help their teams play entertaining football. The ISL at least owes that to Indian football fans.
Players like Robbie Keane, Dimitar Berbatov, Iain Hume, Emiliano Alfaro, Everton Santos, Marcelinho and many of the other foreign signings are bound to add colour to this year's ISL. There will be quite a few Indians too to look out for, including Chhetri and Jeje.
Personally though, I would have liked to see at least a couple of present stars from AFC's top squads in each team. Instead of European and South American players, who are past their prime, Indian fans would then get to see the best players from Iran, Australia, Japan, China, South Korea etc. Moreover, they would be more affordable and Indian players and followers would know what it takes to be the best in Asia/Australia.
All said and done, ISL is Indian football's showpiece. A lot of work, though, remains to be done by AIFF – and ISL – behind the scenes. There has to be a vibrant grassroots programme. Local and zonal academies have to cater to coaching of talented players – both boys and girls. Coaches and referees need to be encouraged to rise up to international standards. Better infrastructure has to be built for football and the spectator experience has to be one of 'customer delight'.
Indian football also needs to create some 'home-made' superstars like Virat Kohli, MS Dhoni and Rohit Sharma are in cricket.
The next couple of years are going to be make-or-break ones for Indian football. Let's wait and see how things pan out!
The author is a sportswriter and caricaturist. Ex-president of MDFA, he has coached an elite division Mumbai team and was member (Football) of Maharashtra's Sports Committee.
Sports
In the final match, which was destined to become part of hockey folklore, India went on the attack. Captain KD Singh 'Babu' and Vice-Captain Balbir Singh were like men possessed.
Sports
Juanan joins Manolo Marquez's side after spending five years with their rivals Bengaluru FC.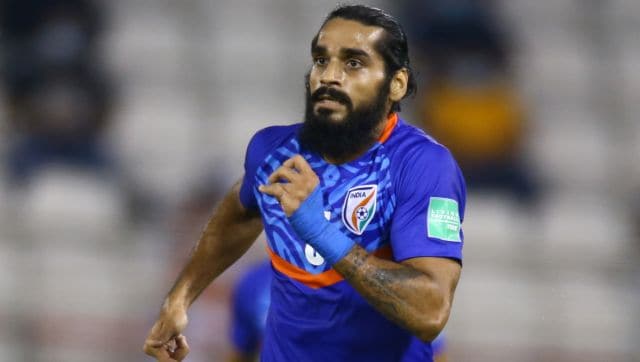 Sports
Sandesh Jhingan admitted that India should have done better in their World Cup qualifiers campaign.