Highlights ISL 2018, Delhi Dynamos vs Chennaiyin FC, Football Match Score and Updates: Match ends in a 1-1 draw
Catch the live score and updates from the Indian Super League match between Delhi Dynamos FC and Chennaiyin FC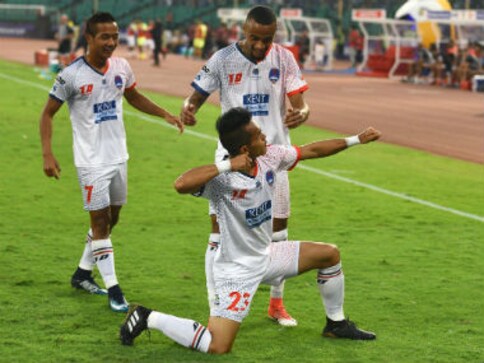 Preview: Bottom-placed Delhi Dynamos FC take on Chennaiyin FC on Sunday with nothing but pride to play for even as the visitors seek to consolidate their position in the top half of the Indian Super League (ISL) standings.
The match may not change the fortunes of the home side in the Hero ISL, but it could certainly affect the visitors' chances in the top four.
Chennaiyin are currently in third position with 23 points but have a game in hand than the teams above and below them. A victory could take them to second spot, and an unlikely loss will still keep them where they are.
In a remarkable coincidence, Chennaiyin have won every alternate game in the last 10 matches. Since they have lost the last game against Bengaluru FC, the pattern would suggest that they will beat Delhi Dynamos a team which has won just two games in the entire season.
"The reason is very simple, when the ball is on the ground we play well.
We play delinquently, with speed, with control and with good combinations.
"But when we are attacked and when we have the ball in the air, it is a problem," Delhi's head coach Miguel Angel Portugal said, trying to explain his side's position in the league table.
He also spoke about the team's inability to excel under pressure when aerial attacks are coming at them, and Chennaiyin will certainly want to exploit that weakness when they travel up north.
Chennaiyin head coach John Gregory is with a cushion of a game in hand, which they can make the most of. But, that also means they could rotate the squad and give some key players a rest.
"I always believe in playing my best team, so it wouldn't make a difference tomorrow. Everyone's fit, we're all healthy, and the only player we're missing is the skipper, who is out with suspension.
"We lost the previous match playing with 10 men for most part 10 men who gave everything, but are now looking to bounce back and are raring to go for the game tomorrow," he said, exuding the confidence of a man who is not too far from sealing a top four spot.
Gregory won't take it easy though, saying that it would be foolish to write it off as a game which is already won.
"You would usually say that they've nothing to play for but pride and professionalism but they've played well and did well in Chennai.
"The team is littered with good players but unfortunately it hasn't gone their way. Nevertheless they've got some talented players and we expect them to try and win the match," he said.
Chennaiyin are one of the few teams to have given away points to Delhi Dynamos during a 2-2 draw, and the home side will want a better result this time around.
Football
The hospital said Saturday that Pelé is responding well to treatment for the infection and his health condition had not worsened over the previous 24 hours.
Football
Pele was hospitalised on Tuesday for respiratory infection amid ongoing treatments for colon cancer, a condition first diagnosed in September 2021.
Football
India and Saudi Arabia were the only two countries left as bidders to host the 2027 AFC Asian Cup.