ISL 2018-19: Tim Cahill's arrival ignites belief in Cesar Ferrando's Jamshedpur FC of winning maiden title
The newfound hopefulness draws its power from many things but there is one reason which shines the brightest – Tim Cahill, the old warhorse in whom Jamshedpur has posed its trust.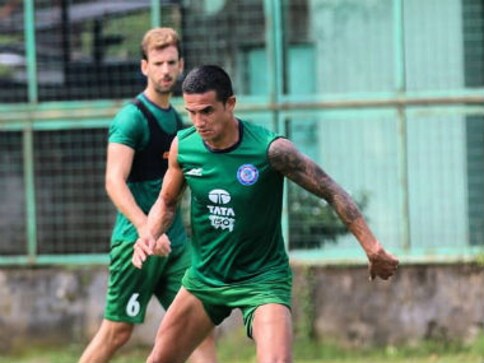 Tim Cahill. Tim Cahill. Tim Cahill… the name reverberates around Jamshedpur FC these days. In a league where 'marquee' players are no longer an obsession, Cahill's arrival provides an exciting diversion from the norm. The Australian will turn 39 during the upcoming Indian Super League (ISL) campaign and it is safe to say his best days are long behind him. But that is not a concern for Jamshedpur, at least for now.
For Cahill's name itself is worth its weight in gold. His displays for Everton in the Premier League, and Australia at the World Cup, live on in memory, especially his knack for scoring spectacular goals. Cahill is preternaturally gifted in the matters of heading a ball too; his eye for goal, arguably, the biggest temptation for Jamshedpur when the club signed him. Cahill can still be decisive.
The dizzying effect of the Australian's arrival, though, has shaded an arguably more important development for the club. Jamshedpur FC's links with Atletico Madrid has firmly driven plans for this season. Manager Cesar Ferrando was a former manager at Atletico.
Jamshedpur trained at the Madrid club's facilities as part of its pre-season preparations. And Atletico even had a hand in Cahill's arrival, as the club's representatives played a key role in successfully persuading the player.
Jamshedpur, of course, is not the Spanish side's maiden foray in Indian football. For the first three campaigns of the ISL, Atletico owned a stake in ATK. Now, the return of the Europa League winner has opened up interesting possibilities for Jamshedpur. The lone blip in this association was the latter's much publicised win over Atletico Madrid 'B' in a friendly, where Cahill played; in reality, it was a match against a motley team of players from the club's youth and reserve squads in addition to footballers of unknown status.
The influence of Atletico will also be seen in Jamshedpur's style of football. Last season, only North East United FC scored fewer goals than Steve Coppell's men as the manager had his side operating in an ultra-defensive mode, relying on quick transitions to reach the final third of the pitch. Although the 'Expected Goals' data did suggest that Jamshedpur should have got better rewards in attack, the side's efforts remained toothless for the most part.
However, the Steelmen did improve as the season progressed as they grabbed 16 points in seven matches at one stage, with Wellington Priori growing in confidence. But defeats in the final two games put paid to Jamshedpur's hopes of reaching the playoffs, and it finished fifth overall. But having conceded just 18 goals all season — bettered only by league leader Bengaluru FC — Coppell made the best of a side that was limited in quality.
The lack of offensive initiative, though, was noted and it brought calls for change in mentality this time around. Manager Ferrando counter-intuitively said that the fans' continued support will help his side to play attacking football, and not the other way around.
However, in an interview with Goal.com, the Spanish coach was clearer about his plans for Jamshedpur.
"The team lacked in several positions last year. So this year my primary job is to build a strong team with more attacking players… We will be pressing higher up the pitch so that we can recover the ball as quickly as possible. We believe in playing with short passes and not long balls," Ferrando said. The manager was also keen to sign Spanish players as it would help him communicate his ideas better. No wonder then that five of the seven spots allotted for foreigners were taken by Ferrando's compatriots.
Among the Spaniards, Tiri in defence and midfielder Mario Arques are expected to figure prominently. The former is the club captain and his arrival precedes that of Ferrando, as the left-back played all 18 matches for Jamshedpur last season. He will miss Anas Edathodika and Andre Bikey in central defence, though as the duo has moved on; Raju Gaikwad (a product of Tata Football Academy), Sanjay Balmuchu, Pratik Chowdhary, and Dhanachandra Singh are the four newly acquired centre-backs. They will be ably supported by the experienced Subrata Pal in goal.
In midfield, Arques could pair up with another of last season's regulars for Jamshedpur – Memo. The arrival of Michael Soosairaj is exciting as well after his breakthrough campaign in the I-League for Chennai City FC. Jerry Mawihmingthanga and Bikash Jairu will add to the threat down the flanks.
Ferrando has hinted at playing two strikers up front but we may not find that out until Jamshedpur travels to Bengaluru for its second match, since Cahill is suspended for the opener against Mumbai City FC. Farukh Choudhary turned out 15 times for the club last season, but it is unlikely that he will form a striking pair with the Australian, having not struck the net even once. Sumeet Passi's prospects look brighter, now that he's fit and freshly back from scoring goals for India at the recently concluded SAFF Cup.
Jamshedpur also signed two members from the Indian under-17 World Cup squad, skipper Amarjit Singh and forward Aniket Jadhav, but they are unlikely to feature this season as the former is not among the registered 25 players yet, while Jadhav was sent back on loan to Indian Arrows. But the future is very much part of the conversation at Jamshedpur.
Manager Ferrando's attraction towards the club was rooted in its plans for youth development, not to mention that it is the only ISL team which owns its stadium and training complex. Ferrando has also expressed his delight at Jamshedpur's refurbished facilities which feature a new swimming pool and football pitch for the players. This rosy outlook is a far cry from the nasty scenes which brought an end to the Steelmen's Super Cup campaign against Goa less than six months ago, a 1-5 quarter-final loss which saw both teams finish the match with eight players.
The change in mood feeds the belief that Jamshedpur will go on to challenge for the ISL title this season. The newfound hopefulness draws its power from many things but there is one reason which shines the brightest – Tim Cahill, the old warhorse in whom Jamshedpur has posed its trust.
Football
ISL Matchweek 16: Mumbai City swept NorthEast United FC aside with a 4-0 rout. The win saw the Islanders extend their unbeaten streak to a record-equalling 15 games
Football
Kerala Blasters suffered back-to-back defeats in the ISL for the first time since October.
Football
NorthEast United FC remain at the bottom of the table but add a point to their tally, now at four points.