ISL 2018-19: Mumbai City FC boss Jorge Costa believes his side gave a good measure of character in Delhi Dynamos win
Mumbai City FC coach Jorge Costa, a protege of Jose Mourinho, believes his side showed character to bounce back from Goa defeat to beat Delhi.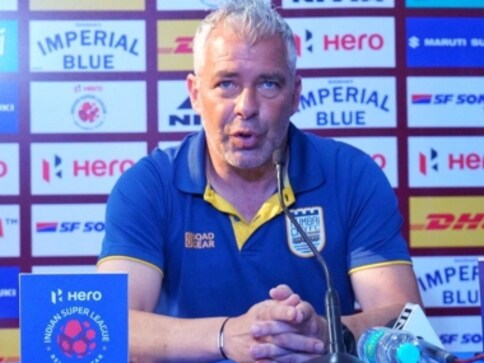 "Does your question mean that my boys didn't show character in Goa? Is that what you're trying to say?" growls Mumbai City FC coach Jorge Costa at the post-match press conference. Costa's side has just beaten Delhi Dynamos FC 2-0, but the fiercely combative Portuguese coach seemed angered by the insinuation that his side had not shown character in the previous Indian Super League (ISL) match against Goa, where they lost 0-5.
As the fumbling journalist makes an attempt to recover and phrase his question better, Costa cuts him short to assert, "They showed character in each of their games. In all the previous matches. Even against Goa. The things I said before, I don't mind repeating them. We cannot give up. I have been a player myself, and I can tell you that it's not easy... when you're losing 3-0 or 4-0, to have this..." Costa is making an ambiguous hand gesture which you could interpret to read mettle, or character, or heart. Or maybe all of the three.
It is clear that his side showed all three to bounce back from a 0-5 shellacking against Goa to win 2-0 at home against the side from the capital.
There are traces of Jose Mourinho in Costa – hardly surprising, given that Costa used to be the captain of Porto when Mourinho was the manager, the duo even leading the club to a treble. Just like his mentor, Costa isn't afraid of criticising his players in the media. Just before the Delhi game, he had slammed his players for "giving up" against Goa. He had even urged the players to show more respect to the fans.
On being asked whether his side had responded to his call, Costa says, "I didn't say this. I had said that they must respect the job, they must respect the club and they must respect the fans.  And we cannot give up also. I said after the game against Goa that we had a very good first half. We have the quality and we had a lot of opportunities to score. We could have easily scored five or six goals. And I was sad because we gave up.
"But today was a good game despite this being just three days after our previous match, which left us little time to do anything. I only spoke to players. And today we won 2-0. But we could have finished the game earlier. But in the end, it's three points picked up, and I am  happy."
On being asked how he had inspired his team to turn around a 5-0 defeat into a 2-0 victory in three days he said, "This is what we discussed after the last game. I told my players, 'this is our job, our life, and one has to be prepared to work and do whatever we can on the field. We don't have time to celebrate, we don't have time to cry.'
"After the last game, we tried to forget the last 20 minutes. We played well, but we lost 5-0. That's what I told the players today – that we made mistakes and people are not happy with us. Today we have to change things."
The Portuguese coach also lauded the stand-in goalkeeper Ravi Kumar for 'giving confidence to the team'. "Ravi had a very good game. He, in fact, gave confidence to the team. This is very important for us."
Just as Mourinho would, Costa wants his players to keep his feet on the ground despite the 2-0 victory.
"After the Goa game, we were not the worst team in the world. After today, we are not the best team in the world," he signs off.
Football
NorthEast United FC remain at the bottom of the table but add a point to their tally, now at four points.
Football
ISL Matchweek 16: Mumbai City swept NorthEast United FC aside with a 4-0 rout. The win saw the Islanders extend their unbeaten streak to a record-equalling 15 games
Football
Kerala Blasters suffered back-to-back defeats in the ISL for the first time since October.