ISL 2018-19: Jorge Costa's Mumbai City FC promise improved challenge, but shot at glory might prove to be step too far
Jorge Costa's men will look to put an end to that agony but against sides packed with technically superior players, ready to unleash free-flowing and flamboyant football, Mumbai City's task is cut out.
Mumbai has threatened Indian football's traditional powerhouses, but those occasions have been few and far between. In a city that finds space to host cricket matches in every nook and corner, football is restricted only to a few pockets. Those pockets have expanded over time, but Mumbai remains a relative outsider on the Indian football stage.
2006 was the only occasion a club from Mumbai reached the summit of Indian football. Derrick Pereira-coached Mahindra United exceeded expectation to win the National Football League title before becoming the only team in Indian football's history to win the domestic double by bagging the Federation Cup.
Since then glory has evaded the city and its football has gone on a downward spiral. Mahindra United and Mumbai FC have folded up, while Air India and ONGC have been reduced to playing in local leagues after government entities were barred from competing in the national leagues.
It was only in 2016 when Mumbai City FC — the only active football club from Mumbai — with a star-studded team comprising Diego Forlan, Sunil Chhetri, Sony Norde topped the league stage of the Indian Super League, only to be knocked out in the semi-finals. It was the closest any club from the city had come to being crowned champions.
The Islanders failed to build on that strong season to finish seventh last term, reducing the 2016 campaign — the only time Mumbai City reached the semi-finals — to a mere exception. Hence heading into the fifth edition of the ISL, expectations at the Mumbai Football Arena have been tempered.
Change has been the theme at Mumbai City FC ahead of the upcoming season, with the alterations beginning from the managerial post. Alexander Guimares parted ways with the club after two seasons, paving way for Jorge Costa, the Champions League-winning captain of Jose Mourinho's Porto side of 2004.
Costa's managerial career is far less decorated compared to his playing days that saw him win eight Portuguese league titles, one Champions League and a UEFA Cup. The Portuguese has been more of a mercenary having managed 11 clubs in the past decade across six countries. His only major success came in Romania where he guided CFR Cluj to the domestic league crown.
However, the 46-year-old Portuguese manager is known for forging together sides that exhibit a lot of fighting spirit and are often a hard nut to crack. After a lacklustre season last time, Mumbai City have opted to go for a manager that can bring the some tenacity to the side.
"With Jorge, you get what you see. He expects hundred per cent of everyone and we've already seen at training that the players know that. We wanted an atmosphere where everyone gives everything for the team and we knew with Jorge we will get that," Indranil Das Blah, the CEO of Mumbai City FC said at the unveiling ceremony of Costa last month.
Costa, who played under Mourinho at Porto, hasn't aped his boss' footballing philosophy, but he does acknowledge the contribution of the Special One in shaping his football mind. Just like Mourinho, Costa's focus is on securing the three points. It forms the base of his philosophy.
"My philosophy is three points. I want fans to go back home happy and there is no better way to do it than by winning the game," the 47-year old said last month.
"I like players who show a lot of heart. I like players who are a bit physical and show aggression. I want my teams to play good football, but sometimes the extra aggression and physicality are important in football. Those qualities are important and you will see my team portraying that," the 47-year-old added.
Mumbai's signings ahead of the fifth season have been in sync with what the manager desires. With a change of guard at the helm, the Islanders have retained only six players from last season with a couple of those players likely to continue playing a fringe role at the club.
Captain Lucian Goian has decided to enter a third straight season with the club and will be expected to start at the heart of the Mumbai defence. Serbian import Marko Klisura could partner him in central defence with Anwar Ali who joined the club from ATK poised to provide competition. It is in the full-back positions where Mumbai City have strengthened pretty well.
Subhashish Bose who starred for India in the left back position in the Intercontinental Cup earlier this year was signed after an impressive season with Bengaluru FC last year. Souvik Chakraborty, a consistent performer in the ISL over the four seasons, who had a strong season in Jamshedpur's rearguard last year, was also roped in. Bose and Chakraborty have also shown great ability in bombing forward and joining attacks, a trait that would come pretty handy for the Islanders who possess lot of quality in the wide areas. If the duo can forge a partnership with the wide attacking players, Mumbai have the potential to be quite menacing down the flanks. In Souvik Ghosh and Davinder Singh, Mumbai have excellent backup options in full-back areas. The defence thus seems to be an area of strength for the Islanders, who will be looking to base their playoff bid on their backline. It was a formula that worked for them in 2016 when they conceded just 8 goals in the league phase.
The midfield looks quite solid as well. Matias Mirabaje has joined from Delhi Dynamos. He will most likely be paired with Portuguese midfielder Paulo Machado. Mirabaje's tenacity coupled with Machado's craft will make it a good combination for Mumbai City. Mohammad Rafique, Sehnaj Singh, Bipin Singh and Milan Singh's presence will provide Costa with plenty of flexibility.
Youngsters Raynier Fernandes, Sanju Pradhan are Indian alternatives on the flanks, but foreign imports Rafael Bastos, Modou Sougou and Arnold Issoko are likely to take up those roles. However, with Mumbai City being blessed in the attacking midfield department, Bastos who has experience of playing in the Champions League is expected to take up the centre forward's role. Alan Deory and Pranjal Bhumij are backup options for Costa up front.
A solid defense and strong midfield mean Mumbai City FC will be tough to beat, but a lack of quality options up front could be their undoing especially in away matches.
Mumbai's campaign last season was derailed by dressing room unrest and Costa according to goalkeeper Amrinder Singh has managed to galvanise his troops. Mumbai City, on a smaller pitch at the Mumbai Football Arena, could prove to be a real handful for the visiting sides, and the results at home could well determine their fate in the race for the semi-finals.
Mumbai's wait for a national league title has entered the 13th year. Costa's men will look to put an end to that agony but against sides packed with technically superior players, ready to unleash free-flowing and flamboyant football, Mumbai City's task is cut out.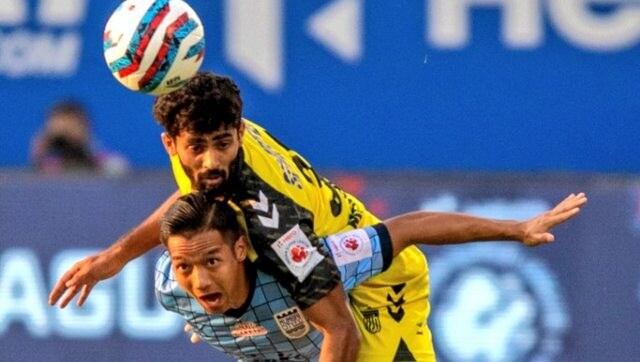 Football
ISL 2022-23: Mumbai City draw 1-1 with Hyderabad FC to brighten League Shield prospects
Football
A win over East Bengal, who already are out of contention as far as the race to the ISL playoffs is concerned, will help Kerala Blasters establish a four-point cushion over ATK Mohun Bagan.
Football
The result put Odisha FC at seventh place with a point behind sixth-ranked Bengaluru FC, while FC Goa remain in fourth.