ISL 2017-18: Sculpted by fierce competition, Mumbai City FC's Balwant Singh out to carve his own standing
Nine years on from his professional debut, and at the age of 30, Balwant is close to satisfying his potential. He is now a key figure in the national team, and the chief marksman for his club Mumbai City FC
In Mahilpur town of Hoshiarpur district in Punjab, football is the best form of recreation. For young Balwant Singh, it meant a bit more. It formed his favourite pastime, a reason to go to school, a way to outweigh his peers and above all a means to happiness.
Often there was a scarcity of resources, but never a dearth of desire. Be it on the streets, the backyard of his house or a playground, Balwant never wandered alone. He had a round object at his feet — that resembled a football — almost always accompanying him.
"I had a deep love for the sport from a very young age. During childhood, I used to leave an hour early for school just to play football with my friends. We didn't have a ball that time, so we used to make a ball out of polythene and play. I used to look forward to it everyday," Balwant tells Firstpost.
His passion for the sport was unparalleled, so were his skills. Even at a young age, Balwant had built a reputation that earned him a place among the elder boys of his village when they came out to play.
"Initially, I used to play with kids of my age, but I was too good for them on most occasions. So the senior players in my village asked me to play with them sometimes. I was a bit scared to play with the bigger boys at first, but they always motivated me. My elder brother who was a goalkeeper with CRPF, used to push me to play with them," the 30-year-old reveals.
Balwant, the footballer grew in stature. He began participating in every competition in a low-weight category. The boy among the men naturally attracted eyeballs, not for being a misfit, but for the extraordinary stuff he pulled off on the pitch. It led to prizes galore and for Balwant it meant the world.
"I always used to win special prizes in local tournaments, especially the one with a weight limit. The prizes used to mean so much to me. That gave me a feeling of achieving something big. It used to excite me and motivate me to play more such tournaments," recalls the forward.
His principal took note of his budding talent and immediately inducted him in the school team. After two years of starring for his school, he got a chance to play for Mahilpur College, a nursery of local footballing talent. His exploits there opened the door of the JCT Football Academy for him. The time at the academy was an eyeopener for Balwant. It enlightened him to the possibilities which lay before him, and gave him a sense of what being a professional footballer is like.
"When I went to the JCT Academy, I was aware of the big players like Anwar Ali, Sunil Chhetri who had played for the club in the past. So it was a big moment for me to have seen them play and then get a chance to train at the same place as they did. I realised that these players didn't play in multiple teams in multiple tournaments like I used to. I was quite fascinated by the amount of money they earned and the cars they drove. It was something different to what I had known before," Balwant recalls.
A year later, Balwant was offered the chance to play for the club's senior team by then coach Sukhwinder Singh. The striker though had just agreed to to join BSF, who were offering him a chance to play for their team and a lucrative job to go with it. But Balwant's heart was set on JCT. He wanted to live the life of a professional footballer. The dilemma was short-lived, owing much to the support he had from his family, who allowed him to chase his dreams.
"My family told me to do whatever I enjoyed doing. They never forced me to take up that job. To an extent, they wanted me to play. They knew that I was a good player, they had heard good things about me from people so they had the belief that I could achieve something in professional football," the forward reveals.
Turning professional, however, was the start of his real journey in football. It was the end of his honeymoon period in the sport. The demands got higher, competition tougher and chances to prove his worth came at a premium. It's a stage where most fall by the wayside, but Balwant survived the grind. In fact, it made him stronger and better.
"After becoming professional, I realised that I had to give the utmost importance to my football, my game, fitness and learn whatever the coach wanted me to. If I didn't play or learn as the coach wanted, then I knew I wouldn't get a chance," Balwant says.
Being a professional Indian footballer is tough, but being an Indian striker is even tougher. Almost every team signs up a foreigner to play in that position. Few Indians match up to the overseas players in terms of skill and technique, and end up playing second fiddle. Balwant's plight was no different. During his time with JCT, they had a Brazilian striker named Edu, whose touch and technique Balwant recalled to be far superior to his. Thus, the only route left for Balwant to make a mark, was through hard work.
"I had to work very hard, maybe a bit extra compared to others in every training session. The attitude in such cases is also important I feel. If you think that you will never get a chance to play ahead of the foreign striker then you will never actually play. As a player, you must be ready to play wherever the coach wants you to play, maybe sometimes as a winger or in midfield," the Mahilpur striker divulges.
Balwant ended his JCT stint scoring 11 goals in 46 appearances, a fair return for a youngster playing at his first professional club. However, he gained enough confidence to think he was ready to go out of his home state and play. Making an appearance for the India B and U-23 teams further helped. In 2011, a move to Salgaocar FC transpired. After honing his skills, battling tough competition at JCT, it was Balwant's time to shine. However, fate had other ideas. Struggling to adapt to a new environment, Balwant fell out of favour. He was restricted to local league games and had few opportunities in the I-League. Despite making the most of his few chances, the competition got the better of him, perhaps for the first time in life.
An injury at the end of the season meant his Salgaocar career only went downhill from that point. At the end of his two years with the Goan club, he was without a job and had to return home. The six months he spent back home were among his hardest days as a professional, but Balwant wasn't going to crack. Once again, the only option available to him was to work hard, very hard.
"I worked very hard during that phase after Salgaocar. I never let my morale drop. I kept believing in myself. Whenever I got a chance to train with any team, even a local one, I used it. I took all possible advice from different people, especially my seniors. I used to get upset at times but I had people around me who supported and motivated me during that time. At such times, if you have people with negativity around you, then you don't progress," Balwant reveals.
There was light at the end of the tunnel though. Sukhwinder, his former coach at JCT who was managing Churchill Brothers at that time, threw him a lifeline by signing him. Balwant didn't get to play as a striker, and was often used on the left wing, but the struggles at Salgaocar make him push the limits. He finished the season with 17 goals, and a Federation Cup winner's medal. Despite playing out of position, he had found a way to stand out amongst the hard competition. The prizes didn't stop there as Balwant was awarded FPAI's Indian player of the year in 2014.
For Balwant, who drew great joy from every small prize he bagged in the local tournaments as a youngster, winning the biggest individual award in Indian football felt like a dream come true.
A debut for the senior national team followed, and also a move to Kolkata — the mecca of Indian football — to play for I-League giants Mohun Bagan. However, despite being the best player in the competition, he was just one among several stars in a strong Bagan side. Apart from the competition from foreign stars, Balwant had to fight the impeccable Jeje Lalpekhlua to find a place in the eleven. The duo was also signed up by Indian Super League side Chennaiyin FC, where they had to battle it out with the likes of Stiven Mendoza for a starting spot.
By now Balwant knew how to make an impact despite the tough competition. He made 14 appearances for the Chennai outfit and became the first Indian to score in the ISL. He followed that up with 17 appearances and six goals in Mohun Bagan's title-winning season. His partner Jeje excelled claiming a more permanent role at Chennaiyin, and also in the Indian team, while Balwant struggled to get a look in. It was more a case of the Mizoram striker being brilliant than former JCT striker being below par.
However, it was this race for place in the side that kept him going. He continued to knock on the door, until it opened for him.
"At Mohun Bagan we had so many players that there was a stiff competition for every position. So everybody had to work hard in every practice session. No one could relax even for one bit. It made me work harder than before. It made me more determined to iron out flaws in my game," the 30-year-old said.
In the 2016-17 I-League, Balwant made 16 appearances and scored eight times for Mohun Bagan as they finished runners-up behind Aizawl FC. He was rewarded for his contribution as he was adjudged Mohun Bagan's player of the season. But the greater prize was national team coach Stephen Constantine granting him a return to the Indian side for the Tri-nation series in August.
He came on as a substitute against Mauritius and scored the winning goal for India. He later scored a brace in the AFC Asian Cup qualifier against Macau to take India on the brink of qualification for the tournament. Balwant was then picked up by Mumbai City FC in the ISL draft ahead of the 2017-18 season as the joint-costliest Indian striker.
Nine years on from his professional debut, and at the age of 30, Balwant is finally close to satisfying his potential. He is now a key figure in the national team, and the chief marksman for his club Mumbai City FC — a position he has never been in at any previous club. There is competition from foreign forwards, but coach Alexander Guimares sees Balwant as his key man up front.
So is it finally time for Balwant Singh to finally shine and shine on his own? The 30-year-old has a slightly unusual take.
"For a player, every moment on the pitch is a chance to shine. Even if he plays for ten minutes he has to do something that people remember him by. So for me every moment counts. I never cheat on the pitch. I never think that if I don't run or chase a ball now, I can make up for it by running the next time. Even when I played in my village, or in my school, I never cheated with myself and my game. I can never do that, not even when I'm in a lot of pain." Balwant explains.
The battle for places doesn't bother him anymore. It's almost become a way of life for him. "There's no fun without competition," says the man who's been sculpted by his endeavours to beat it. "Even if I'm a senior striker, I can't be casual about it," says the 30-year-old, who's keeping his feet firmly on the ground.
Even at 30, he still remains fond of prizes. But this time it's the collective one that he's chasing rather than an individual one.
"My target is to help Mumbai City FC to do well as a team and reach the semi-finals. I am not looking at any individual prizes, nor do I aspire for individual glory on the pitch. For me it's of utmost importance that we play well as a team. The ISL trophy for Mumbai City FC would be the biggest prize that I could win," says Balwant, sporting the wisdom of a grown up man.
"Yes I've matured as a player and a person," the striker provides approval as he signs off. Maybe it's time he comes out of the shadow of his peers and carves a standing of his own, just like he did as football-loving kid in Mahilpur.
Sports
FC Goa midfielder Alexander Romario Jesuraj talks about his debut season in the ISL, the disappointment of losing against Mumbai City FC, working under head coach Juan Ferrando and preparations for the upcoming AFC Champions League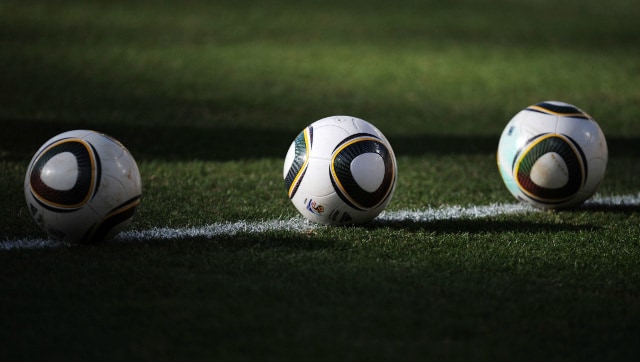 Sports
The AIFF said it arrived at the decision after an "internal discussion and communication with the clubs and state associations".
Sports
It wasn't the defeat but the manner in which India surrendered to UAE which raises a question on the work coach Igor Stimac has done so far with the team.