ISL 2017-18: From Jamshedpur FC finding their groove to ATK's disappointing show; talking points from Gameweek 10
Jamshedpur needed desperately needed the winning momentum and now since they've got it, the team should try to finish in the top four. ISL talking points from Gameweek 10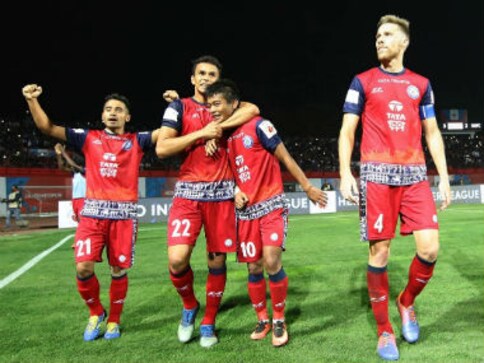 It has been quite a week of Indian Super League (ISL) in terms of goals and results. All the six matches ended up throwing a result, including a hat-trick and a terrific comeback. At the end of it all, Bengaluru FC are on top of the table thanks once again to skipper Sunil Chettri's brace while Chennaiyin FC, FC Pune City and FC Goa occupy the next three spots.
It was a familiar week for teams like Delhi Dynamos and ATK, who lost the plot in their respective matches and ended up being the second best. Delhi are still struggling at the bottom of the table after their defeat to Jamshedpur FC while ATK, who are eighth on the table, were hammered by Pune City. Despite their impressive 3-1 win over Chennaiyin, NorthEast United find themselves second from the bottom.
It was also a bad week for David James' Kerala Blasters who have played two matches but ended up losing both.
Apart from Chettri, there was also familiarity in terms of goal scorers. FC Goa's Ferran Corominas was on target while Bengaluru FC's Miku complemented Chhetri by scoring against Mumbai City.
Ahead of the new set of matches, here are some of the talking points from Gameweek 10:
Jamshedpur FC find their groove
Two home games and two fantastic victories for the Steve Coppell-led Jamshedpur side. Before the two matches, Jamshedpur had just two wins and four defeats from nine matches. Coppell would've known the importance of the week considering they were playing both the matches at home. This was their biggest chance to turn things around, and how well they have executed that.
Against Kerala Blasters, Jerry Mawihmingthanga made history by scoring the fastest goal of the league in just 23 seconds. Ashim Biswas struck one more before half-time and the dejected Kerala fans had to leave the stadium after watching their side score just one goal and it had come late into the injury time thanks to Mark Sifneo.
Three days later, Jamshedpur had an even better gift for their passionate fans. Delhi were off to a great start, scoring two goals inside 20 minutes. For a team that had faced enough tantrums for their defensive style of play, Jamshedpur staged a remarkable comeback as Tiri, Yumnam Raju and Trindade Goncalves found the net to give a memorable win to their team.
Coppell and his side desperately needed the winning momentum and now since they've got it, the team should try to push for a place in the top four.
Seiminlen Doungel dazzles for NorthEast
Before their match against Chennai, NorthEast United's only highlight of the season was sacking of their manager Joao de Deus. They did get a known face in former Chelsea boss Avram Grant as a replacement but the team was still plagued with inconsistency. After their defeat against ATK, NorthEast were in dire need of a win and on Friday, Doungel delivered it to them in a best possible way.
It was obvious that Chennai were clear favourites going into the tie and they were looking to maintain their top spot on the table. Well, unexpectedly, the usually reliable Chennai defence fell all over the place and ended up conceding three goals. Much of the blame goes to their goalkeeper Karanjit Singh.
For the first two goals, Karanjit was clearly at fault but that shouldn't take away the credit from Doungel. His movement was the key to all his goals. He was present at the right time and at the right place to score a hat-trick for his team.
Hopefully, this performance should lift the spirits up of NorthEast and they would hope to maintain consistency. It's still a long way to go in terms of top four finish.
Bengaluru FC ride once again on Chhetri's brilliance
Keeping his goal-scoring form intact, Indian football team captain Chettri scored twice against his former club Mumbai City as Bengaluru FC clinched the match 3-1. Bengaluru manager Albert Roca would have known by now that playing Mumbai at their home turf is always a tricky affair, and the key to this was to get the opening goal and put the home side under pressure.
Udanta Singh's pace was a constant threat to the opponent's full-backs as Mumbai were not up to the task, especially after left-back Raju Gaikwad suffered an injury and had to leave the field in the first half. Bengaluru's first goal came when Chhetri was fouled inside the box. Although the decision to award the penalty was soft. The skipper converted from the spot to give Bengaluru the lead.
In the second half, Chettri's finishing was once again on top when he converted a terrific cross from Udanta. After the second goal, it didn't look like Mumbai could stage a comeback as Bengaluru's Miku piled more misery by scoring his side's third through a free-kick.
Slipping Kerala Blasters
Kerala Blasters had to play four matches in a space of 12 days, so it was a tough task for them to maintain some kind of momentum. After back-to-back wins against Delhi and Mumbai, manager David James would've been content if his team came out with a draw in the next two games. Unfortunately, they came out with two defeats, one in front of their home fans.
As far as creativity is concerned, Kerala suffered against Jamshedpur on Wednesday. After a quick goal from Jerry, David James' team failed to break down the solid defensive setup of their opponents. Against a good defensive team, it takes the workings of a creative player to bring out something for his team. Somebody like Dimitar Berbatov has the ability but he wasn't playing the game due to injury.
Against FC Goa, similar problems persisted with Kerala as their midfield looked inept. With the class of Edu Bedia and Manuel Lanzarote, Goa easily dominated their opponents, and the 1-2 result in the favour of the Goans was a deserved one.
Kerala have to play six more games in the league. Currently, they are ranked seventh with 14 points but other teams have games in hand. Two defeats now have made things even more difficult for Kerala. With the competition heating up for the top four spots, Kerala need to find their rhythm or forget about a top-four spot.
Is ATK's season over?
ATK hired former Manchester United and Tottenham Hotspur midfielder Teddy Sheringham as manager and Ashley Westwood as technical director with great zeal and enthusiasm. It was all hyped up and for a good reason. After 10 matches, ATK are languishing at the eighth spot with yet another defeat last week. Ranko Popovic's FC Pune City ran riot against ATK, defeating them 3-0. It's highly unlikely that ATK will put up a great show in their upcoming matches and finish in the top four bracket.
So this is how football tells us that hiring the best management and top players doesn't always work. Just like how it is not working for another Kolkata-based club, playing in the I-League – East Bengal.
There's no doubt that injuries to key players have really hampered Sheringham's side but there is also the case of other important players not stepping up to the task.
Debjit Majumder signed for ATK following his brilliant performances with Mohun Bagan in last year's I-League. He has a reputation in the club and being the team's first choice keeper, he had quite a responsibility on his shoulders. But once again, he was disappointed in his outing against Pune.
Majumder couldn't have done much to stop Adil Khan's thumping header but he could've certainly done better in stopping Chennai score their second and the third goal. Such sloppiness from Indian goalkeepers has been a common sight in this season, including from Bengaluru's Gurpreet Singh Sandhu.
ATK, being the defending champions, have had a forgettable season so far and it will be interesting to see how long the owners will persist with Sheringham.