ISL 2017-18: FC Goa not all about Ferran Corominas, Manuel Lanzarote, says coach Sergio Lobera ahead of semi-final 2nd leg against Chennaiyin FC
With a total of 18 goals, Corominas is this season's highest scorer while Lanzarote has netted 13 times in the 18 matches he played.
FC Goa head coach Sergio Lobera doesn't think his team is over-reliant on two attacking players — Ferran Corominas and Manuel Lanzarote — and insisted both players have been successful in the league because of the help from other team members.
"In the last few games of the league, we had lot of players who missed out. But the team has always managed to compete depending on players who were available because the strength lies with the team. Corominas and Lanzarote are two decisive players in the team in terms of scoring the goals etc., but for them to be able to do that, there's a strong set of players behind them who are helping and the team is functioning as a group," Lobera said.
Both Corominas and Lanzarote have been in phenomenal form when it comes to goal-scoring. The duo has notched up as many as 31 goals in the league. With a total of 18 goals, Corominas is this season's highest scorer while Lanzarote has netted 13 times in the 18 matches he played.
When asked about his future with the club, Lobera said that he has still one more year left in his contract but right now, his sole focus is on winning the second-leg semi-final.
"For me, the most important thing is to win the semi-final tomorrow. I have a contract with the club next year as well, but a coach's future is always dependent on the present so all my focus is on winning the Tuesday's game," Lobera added.
Meanwhile Chennaiyin FC head coach John Gregory believes the away-goal advantage is not going to make a significant difference in the second-leg and the job is not done yet.
"The away goal really is a very very minimal advantage. It's not something that I will spend a lot of time thinking about. If they would go on and score against us then it would change the whole complexion of the game. All I can say is my players would be really aware if the match situation changes and they would know what to do," Gregory said.
The coach also spoke about the struggles of Jeje Lalpekhlua, saying he has all the faith on his striker and he will soon turn his form around.
"Jeje has my full support and backing. He's saved us and won matches on numerous occasions. For instance against ATK at home this season, he popped up with the winner. I have huge amount of faith in Jeje. Despite not scoring, he worked exceptionally hard in the first leg. He's going to get all the support from the team and the fans alike," Gregory said.
In the first-leg, FC Goa took the lead in the second-half after Lanzarote poked in a cross from Corominas. It looked for a while that Goa will indeed end the night on a winning note but Chennaiyin's Anirudh Thapa found the equaliser, hitting through Laxmikant Kattimani's legs. The match ended in a 1-1 stalemate but Chennaiyin got an important away goal.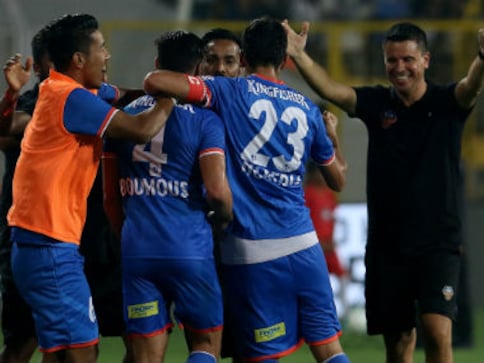 Sports
Goa rely on an attractive and direct brand of football, while Chennaiyin prefer to shut out opponents and break forward.
Sports
Handed the job of leading the line by coach John Gregory this season, Jeje Lalpeklua needs to prove his worth with a noteworthy display against Goa in the first leg of the semi-final on Saturday.
Sports
It's going to be tough for Chennaiyin FC in the final against Bengaluru FC, but there's no reason why coach John Gregory's tactics won't work again.