ISL 2017-18: Delhi Dynamos' Albino Gomes has proven calibre, but recovering from injury poses tough challenge
Albino Gomes showed that he has the talent and abilities to make it big in the game. Now he needs to display his mental toughness.
Often, when a team loses a game by a big margin, much of the post-match focus usually drifts between analysing the defensive failures of the losing side and the defeated manager's reaction. There's hardly any discussion on what must be going inside the mind of the goalkeeper, who conceded the goals. It's fair to say that a goalkeeper cannot stop all chances, but having failed to do the job, it's intriguing to know what the shot-stopper must be feeling. And how does the goalkeeper then prepare for the next match?
Delhi Dynamos' goalkeeper Albino Gomes had a similar experience in their Indian Super League (ISL) match against Bengaluru FC. Delhi lost the match 1-4. Before that, in their first match of the season, Gomes' team conceded two against FC Pune City, but Delhi eventually won that match 2-3.
Speaking exclusively to Firstpost, Gomes said the disappointment from the previous match's result doesn't stay with him for long. It's all about leaving behind the past and preparing to put the best show possible in the next game.
"The team and I, we prepare for the next match. We don't think about the past at all. We analyse the mistakes we committed and try not repeating them going forward. But mostly, it's all about preparing for the next challenge," Gomes said.
Hailing from Goa, Gomes had a standout season last year where he helped Aizawl FC clinch their first ever I-League title. Starting in every match, Gomes' stellar performances that included eight clean sheets, forced everyone to take notice of him. When the draft took place for the 2017-18 season of ISL in Mumbai on 23 July, Delhi Dynamos' management wasted no time in picking Gomes. The goalkeeper's reputation was sealed when Delhi side chose Gomes as their first buy.
It was a big step forward for the 23-year-old, who started his career in Salgaocar FC and then proceeded to Mumbai City FC. Having won a prestigious trophy like the I-League at such a young age, and then getting selected early in the ISL draft, underlines the stature of Gomes in the current Indian football scene.
Clearly, Delhi Dynamos consider Gomes a vital cog in bringing success to the team and when Firstpost asked him if that puts extra pressure, Gomes said, "I don't see it as any of kind of extra pressure on me. I will always try to give my best on field. In my opinion, that's how football works. You have to give everything you have and then the results will fall in place. I don't think about pressure at all."
Gomes oozes confidence when he answers the questions. This the same confidence that he shows when he stands between the goalposts. And it's this confidence that helped him pull off few scintillating displays during his time with Aizawl FC. At 6'3, Gomes has the massive advantage of height, but what also stand out are his positioning skills. He is at the right place at the right time.
When the then coach of Aizawl, Khalid Jamil, signed Gomes on loan from Mumbai City FC, the goalkeeper had almost no experience at top-level football. Despite signing for Salgaocar at an early age, he did not make any appearances for them. Then, with Mumbai City FC, he played four times in 2016.
At Aizwal, Gomes knew it was his chance to make an impact. It was also the right kind of team for him. The Mizoram club were relegated in the 2015-16 season but they were allowed to participate in the next edition because Goan football clubs Salgaocar and Sporting Club had backed out following disputes with the All India Football Federation (AIFF). Aizawl were looking for a fresh start under a new manager, bringing in youngsters to help them compete in the league.
Playing in front of passionate fans fueled Aizawl's ambition to achieve something special. From the days of getting relegated to winning the I-League, Aizawl's fairytale turnaround deserves more pages when the history of Indian football will be written.
Aizawl's history-making run will be associated with Gomes forever. Even though Gomes was there for one year, it was still long enough for him to fall in love with the city and its people. Gomes makes sure that he regularly tracks Aizawl's games. "I saw the highlights of their first match where they made a terrific comeback (Aizawl were down 0-2 against East Bengal but later scored two goals to end the match at 2-2). The goalscorer of both the goals (William Lalnunfela) was a saviour for us last season when we played title match."
He replied "sometimes" with a giggle when asked whether he misses his old team. "The fans, the people of Aizawl were amazing and I hope we get the same kind of support in Delhi as well."
Gomes' first brush with football started when he was 12. He attended his school's football trials wanting to be a striker, just like any kid at that age who only wanted to score goals. But the school coach realised two things on that day — that his team didn't have a goalkeeper and Gomes was unusually tall for his age.
"It's natural for Goans to fall in love with football. I went to the trials just to be in the team. Our coach told me that I can be a goalkeeper because I have the advantage of height and I will get the chance to play the games."
Talking about his idols while growing up, Gomes said he looked up to Subrata Paul when it came to Indian goalkeepers. Gomes was generous when it came to praise Paul. In his words, Paul is not a "great player on the field but also an amazing person." He picked Gigi Buffon's name as the other goalkeeper who he followed a lot.
After last season's display, there were murmurs about Gomes being the future of India. This year, he earned his maiden call-up to Indian national team, but couldn't make the cut in the playing XI. With the presence of Gurpreet Singh Sandhu in the Indian national setup, it becomes extremely difficult for other goalkeepers to make their way into the playing XI. After Gurpreet, Stephen Constantine prefers the likes of Subrata Paul and Amrinder Singh. Then, there is also Vishal Kaith, a youngster with calibre, who is also waiting in the wings.
It's a no-brainer that Gomes faces intense competition to make a mark in the national team and the Goan acknowledges that. He also mentions that he might not have achieved the levels of other senior team goalkeepers but he's not giving up easily on his dream to represent India on a long-term basis.
"At this moment, it is difficult get into the Indian camp also. I've work to very hard to get reach levels of like Gurpreet, Subrata Paul and Amrinder Singh. I'm hoping that I will get a chance and I'm also hoping that it will come after I do well in the current season."
Much was expected out of Gomes this season but it did not start brightly for him. After failing to keep a clean sheet in the first three matches, Gomes suffered a knock on his knee in a match against Jameshedpur FC and had to be stretched off from the match.
Now Gomes faces a long road to recovery. It's doubtful whether he will play any role in the reminder of the season. But for a professional athlete, making a successful return from injury is one of the many challenges. Gomes proved his mettle last year. He showed that he has the talent and abilities to make it big in the game. And now it's time for him to display his mental toughness.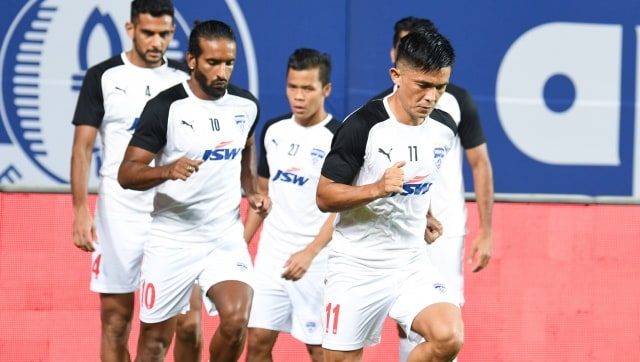 Sports
The AFC confirmed that the playoff and group stage (South) matches of the second-tier continental club competition will be held in the Maldives.
Sports
East Bengal's ongoing problems with their investors has put the team's participation in this year's Indian Super League in doubt
Sports
The 25-year-old, who most recently represented Ligue 2 side Chateauroux on loan from Belgian First Division A side Beerschot, joins on a two-year deal with an optional one-year extension.