ISL 2017-18: Chennaiyin FC coach John Gregory praises team's fortitude after title win; Albert Roca says 'not our day'
Chennaiyin FC coach John Gregory said: "We didn't let BFC back in the game. The third goal helped us relax more because we knew they needed to come at us more often and it allowed us space to attack. Their second goal made it a bit difficult in the end."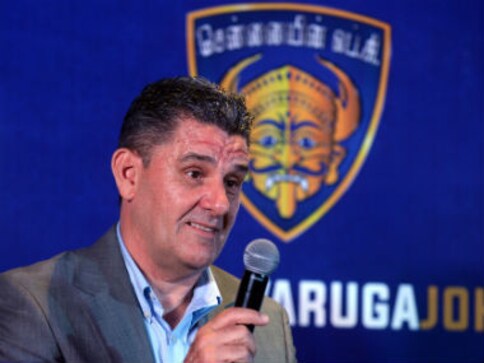 Chennaiyin FC manager John Gregory praised his players' mental fortitude to come back from a goal down and win the final of the fourth edition of the Indian Super League (ISL), against Bengaluru FC, in front of a hostile crowd at the Sree Kanteerava Stadium.
"We showed a lot of b***s today to come back and win. We tend to not allow anything to get to us. To come and play here in their home ground was a big obstacle. The players are just an incredible bunch of players," he said.
"When you go in at half-time and have taken the lead after being 1-0 behind, it's a good thing. It was great going in at 2-1 up. I have been on the opposite side going 2-1 down. Obviously your half-time team talk changes. I basically told the players to keep a clean sheet in the second half, (as) simple as that.
"We didn't let BFC back in the game. The third goal helped us relax more because we knew they needed to come at us more often and it allowed us space to attack. Their second goal made it a bit difficult in the end," Gregory said.
He also had words of praise for his match-winner Mailson Alves who scored twice to give Chennaiyin the lead at half-time.
"Alves (had) scored two goals this season before this match. But these two, he couldn't have placed them any better. It certainly gave us a huge advantage."
In a television interview after the match, Bengaluru goalkeeper Gurpreet Singh Sandhu said that he believed that his team were the champions as they had topped the league table.
"I want to congratulate Chennaiyin FC for winning the final but I believe we won the league and so we are the champions," Gurpreet said.
On asked about how he felt about Gurpreet's comments, Gregory said, "I don't know. I think in a huge amount of countries they play this format. Playoffs were first introduced in the UK 30 years back and you could finish sixth and still get promoted to the first division. I remember we finished sixth and we beat Portsmouth, who finished third.
"I am disappointed with the words that he used. We got the Cup today, didn't we?" the English coach said.
Bengaluru coach Albert Roca started with a three-man defence with Rahul Bheke and Boithang Haokip operating as wing-backs and Gregory admitted that it took time for his side to adjust to Bengaluru's tactics.
"To be frank, Albert changed his formation with three at the back and (Sunil) Chhetri playing a bit closer to Miku. They made it a bit difficult for us. (Gregory) Nelson and Francis (Fernandes) spent a lot of time in their own half.
"We were on the back foot after they scored. We gave it (the ball) back to BFC far too often and they pushed a lot in the first half. They pushed their full-backs ahead.
By leading Chennaiyin to the title, Gregory has become the first English manager to win the ISL and he admitted that the feeling of being a champion hadn't sunk in.
"I can't put it in words yet. It has not sunk in yet. I have not cried yet, but I might tonight when I talk to my players or maybe tomorrow," Gregory said.
'Not our day'
Roca, on the other hand, was visibly upset about losing the final after having dominating the league, but admitted that it wasn't meant to be for his team on Saturday.
"It was a very good season. The last step, it was not our day. We have not had enough strength to come back into the game when it was possible. Everybody knows we finished first, eight points above Chennaiyin FC. We are human beings and the players did an incredible job. I am sad for them and the fans. But that's football," the Spaniard said.
Roca said that conceding from set-pieces was not acceptable, especially given his team had prepared for it.
"They (Chennaiyin) were right in the two actions and we knew we had prepared for it. Set-pieces were always a strong point in our game. One of our best players (Dimas) was injured so we had to defend with one player less. It was a big disaster for us to concede that goal, knowing how Chennaiyin will defend," Roca said.
Bengaluru were also at the receiving end of a couple of glaring refereeing errors in the second half and the official was jeered by the Bengaluru fans as the game neared the end. An Udanta Singh goal was disallowed for offside but replays suggested that the winger was onside. The Blues were also denied a penalty when Nishu Kumar went down under a challenge from Inigo Calderon but the referee thought otherwise.
Roca, though, refused to comment on the refereeing decisions and instead took responsibility for his team's loss.
"I have nothing about the referee (sic). I have to see the replay to know if there was something wrong. After 50 minutes, I had to risk the changes. I can put the blame on me. It is my responsibility. Sometimes I am wrong, sometimes I am right," he said.
also read
Football
Victory left Newcastle third in the Premier League table and needing just one win from their remaining two league games this season to secure a place among Europe's elite.
Football
Lamela connected perfectly with Bryan Gil's cross in the 95th minute to delight the Ramon Sanchez-Pizjuan, and Sevilla held on to reach the final for the first time since 2020.
Football
For Roma, the victory not only means a shot at a maiden Europa League title, but also a chance at making next year's Champions League.