ISL 2016: Target fades for tepid FC Goa after goalless home draw with Mumbai City FC
If Zico's words after the goalless draw between Goa and Mumbai are a fair reflection, he knows the target is slipping away. The time to rouse itself is now.
"If we win all games we will be in the semifinals but we will have to depend on other results too, so it is a bit difficult. Every game for us is a final now."
Zico had made his feelings clear about the state of FC Goa's campaign ahead of its home match against Mumbai City FC. Four games left, three at home. 12 points out of 12 was the target. On Wednesday, though, things did not go to plan.
A tepid match finished goalless. Goa, like the previous match against NorthEast United FC, could have grabbed an unlikely victory in injury time. But Julio Cesar could not beat the 'keeper after being put through by Trinidade Goncalves. It was the closest Goa came to scoring all evening. Despite the must-win nature of the fixture, the host failed to grasp the initiative.
In fact, in his pre-match comments, Zico had dropped a hint that his side would not be able to stay true to his attacking philosophy against Mumbai. "Of course, the players are a little more cautious now. In the first half of the league stage, we never stopped attacking. Of course with new players, we have to play differently and be more cautious."
The spate of injuries and suspension had led to this situation. Goa's playmaker Joffre Mateu was unfit to play the whole 90 minutes. So, he was only used for about the last half an hour. It was a strange phase of play as well. Zico took his full-backs off and replaced them with midfielders in Joffre and Trinidade. This meant that Goa switched to a 3-4-1-2 formation from 4-4-2.
The change was necessitated by the home side's inability to seize control of the encounter. However, minutes later, Sanjay Balmuchu picked up an injury. He was playing as one of the three centre-backs. His replacement, though, brought an even more attacking dimension to Goa's play – striker Julio Cesar.
Hence, the home side adopted an unduly attacking system as it sought three points. This, of course, meant that Goa was relatively open at the back. The space between the defenders was an issue but Mumbai failed to exploit it adequately.
"Because of our mistakes, lots of wrong passes, sometimes in the distance of one metre or two metres… this left us open for counter-attack. I do not regret the team formation. Of course, we took a lot of risk against a team like Mumbai with [Sony] Norde, [Sunil] Chettri, and [Diego] Forlan [in their ranks]. We too had a lot of chances with Robin [Singh] and Julio Cesar, we could have won the game…" said Zico after the match.
The Robin Singh chance was another of those where Goa failed to make a good situation count. This has been a constant feature of the side's play this season. However, Zico had a strange explanation for the attacking decline of a team which was the highest goal-scorer in the ISL last season.
"The teams realise the competition, so they don't open too much. They play a little more at the back and wait for the counter-attack. I think our team just needed to adjust our aim, we had so many opportunities not only in this game but in so many games."
Ironically, it was Goa which sat back for most of the first half. If not for some crucial interventions by Kattimani and poor finishing by Mumbai City, the host might have fallen behind. Zico had made only two changes to the starting eleven which had featured nine Indians in the previous match. Eight began the game on Wednesday as Gregory Arnolin returned to the defence. Richarlyson replaced Trinidade in midfield.
The first period, however, saw no shots on target by Goa and only 44 percent possession of the ball. But the bevy of attacking talent at Mumbai's disposal—Diego Forlan, Sony Norde, Sunil Chhetri and Matias Defederico—hardly threatened as it failed to attack in numbers.
Before the match, Zico had felt that playing the majority of the remaining matches at home will work in his side's favour. But Mumbai City had collected 12 points out of its 16 on the road, only one less than the season record set by Goa last year. Home advantage did not seem significant on Wednesday evening.
Four straight corners at the beginning of the second period suggested that Goa was ready to take on the initiative. But the tendency of Rafael Coelho Luiz, arguably the host's best attacking player this season, to drop deep left Robin Singh isolated up front. This ensured Goa could not develop a constant threat at any point in the game.
With 11 points from as many matches, Zico's men can collect only 20. Last season, a team needed at least 22 to qualify for the playoffs. However, in 2014, 19 points were enough for a place in the semis. That was the season when Goa rode a wave in the second half of the campaign to make the playoffs. However, it is safe to say, such an onslaught looks beyond this side.
With home games against Atletico de Kolkata and Chennaiyin — the previous winners of the ISL — and an away game against the best side this season, Delhi Dynamos, still to come, prospects do not really shine for FC Goa. Nine points out of nine will be nothing short of miraculous, considering the position the team finds itself in. If Zico's words after the goalless draw with Mumbai are a fair reflection, he knows the target is slipping away. Goa's time to rouse itself is now.
Sports
The Antonio Habas-coached side, which didn't have much match practice, will start their Indian Super League season 8 against Kerala Blasters at the Fatorda Stadium in Goa on 19 November.
Sports
Tomislav is SC East Bengal head coach Manuel 'Manolo' Diaz's second foreign signing.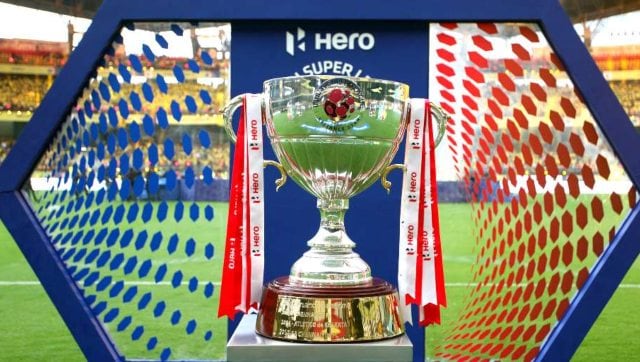 Sports
The 29-year-old has signed a contract that will run until the end of the 2021-22 season.