ISL 2016: NorthEast United FC's campaign continues to stutter, lose fourth straight match
With Alfaro back from suspension next week, NorthEast will have all the players at their disposal. There is absolutely no excuse now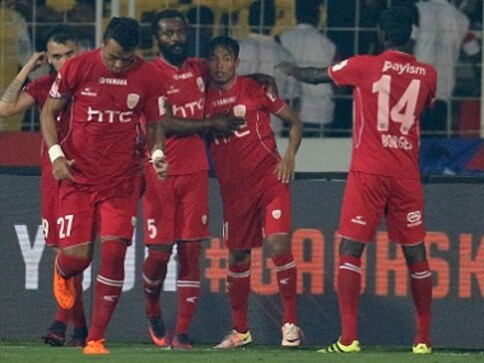 There is the distinct air here of a team showing the first signs of crisis. NorthEast United FC went down 2-1 against FC Goa on Friday, marking their fourth straight defeat in this season of the Indian Super League (ISL). Things are spiralling down for the Highlanders, and they just can't seem to shake things off. The days of them sitting top of the table seems like ages ago.
What makes the result even more humiliating for NEUFC is the fact that their opponents were hit badly by injury and suspension, missing several key players.
Goa became the first side this year to start a game with as many as nine Indian players. Moreover, they were playing with 10 men after Sahil Tavora got a second yellow in the 73rd minute. But NEUFC could still not take advantage. In fact, they went from being 1-0 up to conceding a late goal and losing the match 2-1.
Subrata Pal made his comeback but didn't enjoy a great night, as both goals he conceded were incredibly silly. Perhaps there was nothing he could do to keep them out because the defence in front of him faltered miserably. Reagan Singh was especially disappointing. It isn't the first time this season either, but his mediocre game was easily visible. He lost possession regularly and fumbled many times.
Mailson Alves started his first game of the season, and the Brazilian had a mixed performance. While he moved forward and drove the ball out of the defence with confidence, he left the rest of the backline vulnerable and exposed, and that played a part in helping Goa get the goals.
A persistent problem with NorthEast has been a lack of goals. This issue held them back in the first season, and even in the last campaign, when the Highlanders weren't prolific when they needed to be. Their early season form this time suggested that this problem had finally been remedied and the Guwahati outfit would go on to get the goals needed to go ahead in the competition. Katsumi Yusa, Nicolas Velez and Emiliano Alfaro formed an exciting attacking trio.
On Friday, while Yusa was the key playmaker, his pace and intelligence creating problems for Goa, Velez's much-anticipated return from injury was anti-climatic. With the side's leading goalscorer Alfaro suspended for the match, Velez failed to lead the attack and was largely unimpressive. Yusa troubled Goa with his trademark precise free-kicks and creative plays on the flank, but the end product was missing. The final passes weren't of enough quality either.
However, fortune favours the brave, and that was perhaps the reason why NEUFC couldn't get a lead in the first half. Two headers from Gustavo Lazzaretti and Alves hit the crossbar in the first half. Seityasen Singh's goal finally put them ahead, but Goa managed to restore parity within 12 minutes.
After going behind, NorthEast attacked in greater numbers, showed more invention, and unsettled the home side's defence with the pace of Yusa and Rowlin Borges, who played a more attacking role in this game and continues to impress. Including Narzary, NorthEast had two authoritative central midfielders on display. However, their attacks weren't enough to get them back in the match, and despite being a man down, Goa got their winner in injury time. Former Delhi Dynamos striker Robin Singh's through ball to Romeo Fernandes was precise, and Fernandes didn't make any mistakes and rounded off Subrata Pal to send the ball into the back of the net.
To say that Goa had excelled would be an exaggeration, but the reality is that they were able to capitalise on their opponents' shortcomings. It would be unfair to take away credit from the home side, and Zico's men were quick to the ball, strong on tackles and played with a competitive spirit that eventually got them the win.
Five matches remain, and there is still a chance for the Highlanders to qualify for the play-offs, something they couldn't manage in the two prior ISL editions. However, it would need something special from the coach and his players to turn this slump around.
Manager Nelo Vingada, who was very impressive in the earlier part of the season, has also disappointed with his tactics in the last couple of games. He is no longer able to find the best combination and coordination that is needed from the players on the pitch. In fairness, a short tournament like the ISL doesn't give one much room for improvement or to change tactics. However, NEUFC have been getting a week's rest in the last few games and should be doing much better.
With Alfaro back from suspension next week, NorthEast will have all the players at their disposal. There is absolutely no excuse now. With a degree of additional self-inflicted tension, they need to go and get the most points from the last five games. Else their wonderful supporters will have to wait another season for their side to get to the semi-final.
also read
Football
Lamela connected perfectly with Bryan Gil's cross in the 95th minute to delight the Ramon Sanchez-Pizjuan, and Sevilla held on to reach the final for the first time since 2020.
Football
For Roma, the victory not only means a shot at a maiden Europa League title, but also a chance at making next year's Champions League.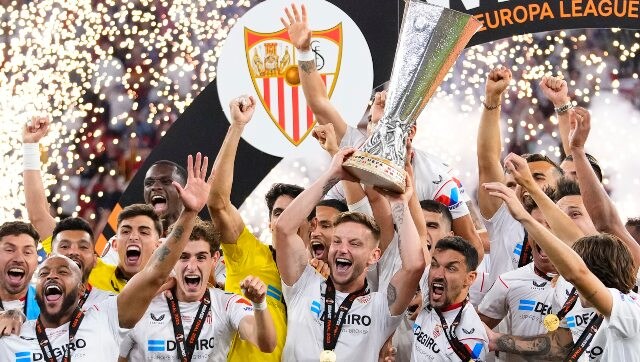 Football
Sevilla won the Europa League final on penalties after the game finished 1-1 following extra-time after Paulo Dybala's opener was earlier cancelled out by an own goal from Roma defender Gianluca Mancini.