ISL 2016: Mumbai City FC look to fight off fatigue, injury concerns against NorthEast United FC
While NorthEast United FC clearly have the advantage in this encounter, Mumbai City FC aren't second on the league table for nothing.
As the ISL 2016 saunters into its latter half, Mumbai City FC have already defied expectations and racked up 12 points and are one goal behind league leaders Atletico de Kolkata on the points table. The turnaround has been incredible after disappointing sixth and seventh place finishes in the two earlier seasons. But all their good work could go down the drain as a great start of the blocks has been derailed by a mid-life crisis of sorts smack dab in the middle of the campaign.
After an extended period of rest, Mumbai City FC faced Chennaiyin FC away on Wednesday and managed to somehow stop it from becoming their fifth loss in a row to the last year's winners, in all their campaigns in the ISL. A draw may have seemed like a win at that point, but almost a day-and-a-half later, they are faced with the challenge of taking on Nelo Vingada's NorthEast United FC.
On the other hand, NorthEast United FC have been thrown to the wolves in this ISL campaign – the wolves being the referees, and pure rotten luck in this case!
"We won 2-0 against Goa but we lost the last (two) games. We created much more chances and got more corners and set-pieces and had more ball possession in the last two matches. We played for a draw with Chennaiyin at least. But these (things) happen in football and the most important thing is the result and the result we look is to win. There is a matter of luck and we must have been unlucky. Mistake of the referees is a part of the game and there have been mistakes from our side as well," said Vingada.
Meanwhile, the major factor determining Mumbai City FC's football could be fatigue. With not even a day's time to recover, it seems like coach Alexandre Guimaraes would be facing bit of a crisis.
"We had light practice today and then we have the situation of the game tomorrow. We don't put excuses and we have to play well to get points from here," said Guimaraes with a shrug of the shoulders.
Clearly weathering storms has become the second nature for the former manager of the Costa Rican national team. From not having any striker for three matches to losing his best defensive midfielder Pronay Halder and now having to play without one of the league's best creative midfielders in Matias Defederico, Guimaraes has somehow managed to evade problem after problem thrown at him. But this could be one too many a situation to glide past.
When asked if he would stick to the same starting XI or chop and change the squad, Guimaraes said, "That will depend tomorrow morning after we talk to the players and the doctors who update me for players coming out of injuries. We are doing well right? So, you have got to see".
Guimaraes' opposite number Vingada, on the other hand, has had to face a different set of problems. Lady luck has not been kind to NorthEast United FC. In their last two matches, NEUFC were the better side but weren't rewarded for their performances.
"I am satisfied with my players even if we did miss many opportunities to score. I cannot regret the last two games. We played in our style and respected our opponents. We have not been lucky. If we had some more points, then tomorrow the game we will face would have had a different context," Vingada said.
The NorthEast United FC coach also talked about the first leg of their encounter at the Andheri Sports Complex in Mumbai and said, "It is a balanced league and till now no team has qualified. I have a certain feeling that tomorrow's match will be something more; it will be a crucial match. There will be an extra challenge that we start the second round of matches (with). In the first-leg we were undone by the penalty and I supported that. It was a good decision by the referee. I have no regrets."
One of the low points of ISL 2016 has been the poor quality of refereeing that teams and fans have had to suffer. Bad decisions after bad decisions have marred the game and robbed teams of crucial points. But Vingada managed to keep his cool and shut down the discussion as best as he could.
"Some mistakes are against you but till now, we haven't had the benefit of anything and I don't want to talk about those things now," said the Portuguese manager.
Coming back to Mumbai, there have been injury concerns. But Guimaraes was actually pleased with his team and how every player had some minutes under the belt. In a league where playing with the same set of players is believed to help in building rhythm quickly and maintain a balance, Guimaraes has found the perfect equilibrium between playing the same players and managing to hand fringe players some valuable minutes, should they ever need to take the place of one of the regulars.
"I am very pleased. I had talked to the whole squad before the season started that everyone has to be ready at all times in this kind of a league. They are all prepared and none of them have disappointed us. We can count on all players in each position. All of them have minutes under their belts and it speaks volumes," said Guimaraes.
While NorthEast United FC clearly have the advantage in this encounter, Mumbai City FC aren't second on the league table for nothing. Their tenacity has been worthy of note and it will be easier said than done for NEUFC to get points at home from one of the best travellers in the league.
A win or a draw will put Mumbai at the top of the table until Chennaiyin play there next match. NorthEast, on the other hand, need to push for a win in order to give some traction to their playoff hopes. And there is no better chance than against Mumbai right now.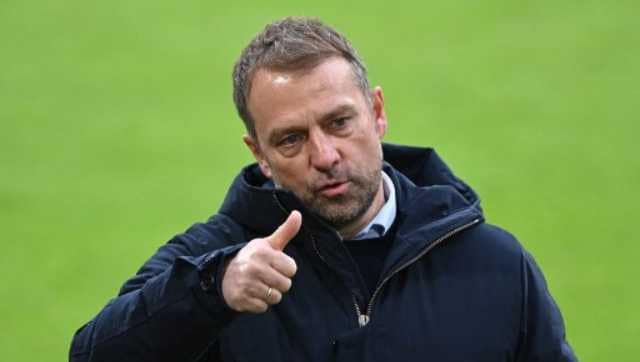 Sports
Flick will leave the reigning German champions at the end of the season after he asked Bayern to be released from his contract, with RB Leipzig coach Julian Nagelsmann named as his successor.
Lifestyle
The commitment of the footballers belonging to the San Chi ethnic minority group has earned them respect — plus a little money and fame — in football-mad Vietnam.
Sports
A Crown Prosecution Service spokesman said the former Manchester United winger would appear at Manchester and Salford Magistrates' Court on 28 April.