ISL 2016: Mumbai City FC look to deal Chennaiyin FC fatal blow while sealing semi-final slot
A win would all but guarantee Mumbai a place in the semifinals, but dealing a fatal blow to a Chennaiyin side that could pose a big threat later would also be an added motivation, especially considering the big prize that awaits them if they cross that hurdle.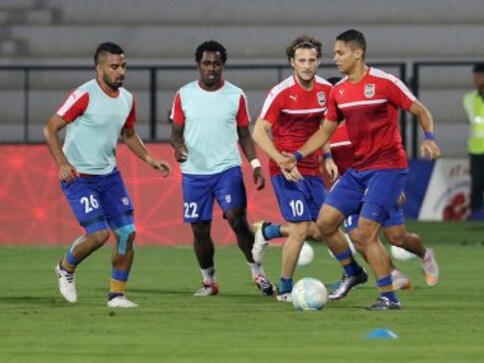 You know you are in an envious position when you can kill two birds with one stone.
After a 5-0 thrashing of the high-flying Kerala Blasters, Mumbai City FC have scaled to a height never seen before in the club's three-year history. The Ranbir Kapoor-owned franchise has already accumulated more points than each of their previous campaigns, with two games still to be played. More importantly, they are on the top of the Indian Super League (ISL) table and in all probabilities, a win away from making their first semifinal appearance.
But lying in their way are the defending champions, battered and bruised, but with their pride still very much intact. With 14 points from 11 games, they are caught in a corner, but that's exactly where they won the title from last year. It's also a team that has had Mumbai's number over the three seasons, and the outfit from the west coast have never beaten their opponents from the east.
In fact, their toil against the Marco Materazzi-managed side has been so severe that they have shipped in fourteen goals in five games against them, while conjuring up a mere two in reply. Mumbai are yet to score against Chennaiyin on home soil and would be hoping that a change of home ground proves to be a trend breaker.
However, Mumbai have more than just that to believe they can end the Chennaiyin hoodoo. Under new manager Alexandre Guimares, they have looked a completely different outfit. Solidity and collective defensive effort has been a hallmark of the team and the recent 5-0 win against Kerala saw their misfiring attack come to life. On the other hand, Chennaiyin have struggled to take their opponent to the cleaners, allowing them to pinch points of the defending champions regularly.
The reverse fixture this season that ended in a tight 1-1 draw perfectly sums up their season thus far. The hosts dominated from the outset at the Marina Arena, created a handful of chances, restricted the Mumbai attack to feed on scraps. An early goal by Jeje seemed to be taking them to all three points, until Leo Costa produced a moment of magic and scored a scorcher from thirty yards out. But it wasn't before the home side squandered a number of chances to double their lead, especially a big miss from striker Dudu who fired too close to goalkeeper Albino Gomes with the goal at his mercy.
This narrative has repeated on more occasion aside from this season, and their lack bite upfront with the absence of Stiven Mendoza and Elano has been palpable. The duo won the two golden boots in the two seasons thus far, and Marco Materazzi has just failed to fill their shoes.
In their absence, Jeje has been their biggest threat upfront. But an injury in the last game means he is set to miss the all-important game against a Mumbai side which boast the best defense in the league. Adding to Chennaiyin's difficulty will be a red-hot Mumbai strike force that found its mark in the last game after threatening to do so several times this season. The trio of Diego Forlan, Cafu and Matias Defederico wrecked havoc on the Kerala defense in the last game with their constant swapping of roles. This fluidity, with the constant threat of Sunil Chhetri upfront, meant Kerala had their hands full negotiating their threat.
Having played an exhausting game just three days ago, the Chennaiyin rearguard that has kept just one clean sheet in the last five matches will find it tough to run into Forlan and Co in such form.
So this presents Mumbai with not just a chance to finally get one over Chennaiyin, but also an opportunity to deal a potential title rival a knockout punch. It's no secret what Chennaiyin achieved last season when they got on a run at the business end of last season. Although their results suggest they won't repeat that feat, their performances have been promising. Like Mumbai did in the last game, Materazzi's men are in search of a result that would spark their season.
"As a team, I believe that we are playing better than last year with absence of a quality player like Stiven. As a team we are compact, we are giving good performances, but maybe we deserve a little bit more luck," Materazzi said at the pre-match press conference in Mumbai.
"I hope so (to qualify) as football is no science, no maths, so all we can do is try to collect as many points as possible. All that matters is try to get to the play-offs as once you get there everything starts all over again," he added reiterating the faith he has in his team's chances of making the semifinals.
His opposite number Guimares didn't show any signs of being carried away after his team's showing in the last game and felt they needed to better that performance to beat a champion Chennaiyin side. "First thing that comes to my mind is that we have to even play better than how we played in the last game to win this game. We saw the game Chennaiyin play against Kolkata and we know that they are still on course. They are very tough, they are champions and champions always like to fight till the end," Mumbai's Uruguayan manager said.
Mumbai played in a changed 4-3-3 system against Kerala and it's likely that Guimares will retain the system that yielded such a wonderful result. "I think that we played the right game to try to win in the way we try to play. I think that the difference was that we put it in. Other games we have created many chances, but we didn't score more than one goal," he said.
"Also what I'm very pleased is the team showed a very solid, collective defensive game. And this is very important," the Mumbai coach added.
The hosts have two injury concerns for the game against Chennaiyin, but Guimares was coy in naming them. But the Uruguayan didn't run the rule over them participating in the game on Wednesday with the final decision set to be taken in the hours leading up to kick-off. Otherwise, the coach expressed his happiness about the physical condition of his squad that has played three games in the last ten days.
A win would all but guarantee Mumbai a place in the semifinals, but dealing a fatal blow to a Chennaiyin side that could pose a big threat later would also be an added motivation, especially considering the big prize that awaits them if they cross that hurdle.