ISL 2016: Kerala Blasters suffer another trophy heartbreak, but will return with same verve next season
Three times over the past four years, Kerala has sought to get a trophy home (2012-13 Santosh Trophy runners-up, 2014 ISL runners-up), and three times they have denied, as much by fate as their opponents. And yet, they will return next season with same verve and energy.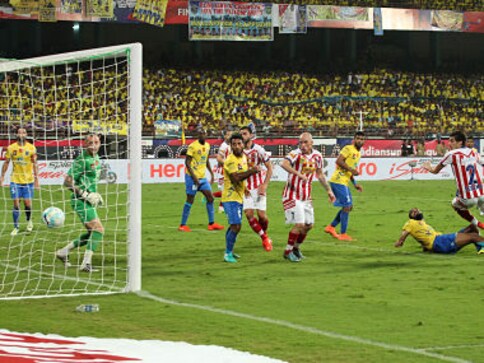 So close, yet so far. Not once, not twice, but three times. At the end of an extraordinary night in Kochi, there were tears at both ends of the pitch, players and supporters exhausted, but the emotions could not have been more different. Domestic titles have been the making of Kolkata — two ISL titles now — and the breaking of Kerala, the knife slipped in once more. Slipped in and then twisted. The trophy was back with a city that considers the game their possession.
At the end, there was applause from Kerala's fans and no reproach at all. Not for their players at least, whose eyes were drowned in tears and they stood motionless, staring into space, gripped with disbelief. There may be reproach for footballing competition though, so cruelly has it treated them. Three times over the past four years, Kerala has sought to get a trophy home (2012-13 Santosh Trophy runners-up, 2014 ISL runners-up), and three times they have denied, as much by fate as their opponents. And yet, they will return next season with same verve and energy; that is what they will do. And if they manage to get past the finish line next time, it will be an extraordinary portrait of an extraordinary team, and an exceptional state.
Kolkata too will return with renewed vigour, of course. This is their identity, their cause. It is they feel, their trophy, their tournament and their game. It has been their refuge and salvation too; while Indian football has constantly searched for a new identity, Kolkata have refused to let go.
If someone had told Kerala at their disastrous start to this season, that they would get this far, they may have taken it gladly. Again, knowing this bunch of players, and Steve Coppell the man, you can also be sure they probably expected to.
In 2012-13 at the Santosh Trophy, they lost the tournament on penalties to Services. That final was at home too. Within a year they were in the ISL final, and a ninetieth minute winner from Atletico left them reeling. Now, as before, another shootout. And the trophy has escaped them.
It has been over a decade since Kerala saw any footballing silverware, and a quarter of a century since any club from that land won a tournament of national prominence.
Before these finals, the country knew them as the jinxed state. They consistently produced great footballers, but seemed to never turn that silver into gold. Not that the fans are complaining. Not these, they packed the stadium in droves cheering, hooting and screaming at every touch of the ball, regardless of who made it.
So much of the build up was about redemption and the fans. Their colours, their hearts on their sleeves and the phenomenal atmosphere they had added to the ISL season after season. Football is nothing without the fans, Jock Stein had said, and one after another, the players reiterated that. The Blasters players spoke of winning the trophy back for their fans. Football was the back story.
There was the talk of redemption too. As it turned out, this was more pain, and more drama than before; a game that had it all. It was the first ISL final which didn't see a winner in regulation time.
Rafi, the local boy scored the goal that set Kerala on its way. Coach Coppell had been forced a change, and he brought in Ishfaq Ahmed to replace Jossu. Graham Stack came in the goal. Rafi, the man who pulled his hamstring four days back in Delhi, had evidently visited some Kerala shrines with supernatural powers, because here he was, scoring the opener!
Minutes later though, there was a deadly silence, as Kolkata leveled. With Aaron Hughes limping off, Kerala's resolve to attack also perhaps did. It was a frantic, a game of few open chances which mostly fell to Kolkata. Finals are often like that.
Nazon, Belfort and Vineeth tried, they knew their chances would be scarce, but such scarcity was unthinkable. Atletico held the game, controlling the possession and the play. Mehtab and Azarack were tasked with breaking up the play and did so admirably. Theirs though wasn't to create. Kerala played the setpieces, but more often than not were denied the space or accurate delivery. It was attack vs defence. One end swinging hooks, and the other using the ropes to bounce back with a jab. Both missing more often than not.
By the end of time, the game had turned into a proper slug fest, two pugilists swinging at each other in the 10th round, both unable to stand, but unwilling to fall. Many of them did, brought down by cramps, rehydrated, patted up and sent back in.
When Antonio German found the net in the penalties (the first time he has done so in a game this season) and Stack saved from Iain Hume it seemed like destiny, may be, had a plan for them after all. It ended unnaturally though, with their best player of the season Cedric Hengbart missing the one that would've put the pressure on Kolkata. And then they watched Kolkata celebrate.
Football
Indian football team received a boisterous welcome at the Khuman Lampak Stadium ahead of their first match ever in Manipur.
Football
A Brazil judge will now decide whether Robinho's nine-year rape sentence, handed down by an Italian court, can be served in the South American country.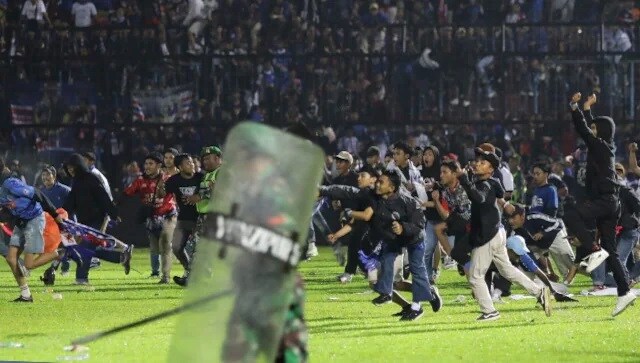 Football
Last year's crush in the city of Malang killed 135 people — including more than 40 children — after a 3-2 defeat for Arema FC by their fierce East Javan rivals Persebaya Surabaya.