ISL 2016: Kerala Blasters' mixed season saw them turn around slow start to finish as runners-up
This was a great ISL season for Kerala Blasters to build on, even if they ended runnesr-up. If they can keep the young core of this squad and mix it up with some of the veterans, there is no reason this can't be a long term project.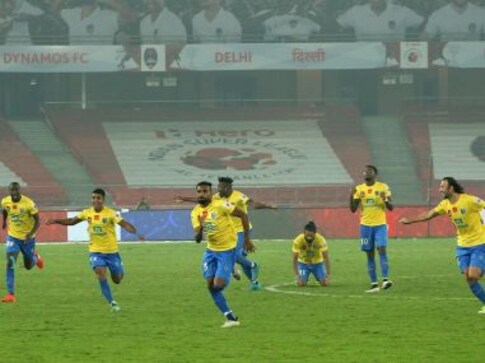 "We have to be strong, we have to be hardworking and we very much have to have the mentality that if we get knocked down then we jump back up and start again," Kerala Blasters' manager Steve Coppell had said before the first ball had been kicked this season, and he may as well repeat that at the end.
Disappointment is expectation driven. Psychology tells us that. Disappointment is defined as the psychological reaction to an outcome that does not match up to expectations. The greater the disparity between our expectations and the outcome, the greater is our disappointment.
If that was an accurate science, then Kerala fans' may end up being a 5/10. After all, this was a team that wasn't really expected to go this far this season. In the inaugural season they were surprise finalists too, but that was a season untouched by history, expectation, and even cohesive team dynamics. They got that far not just of their own merit, but also the unexpected nature of the league. That season, they had one of the biggest name marquee players to grace this league too — David James.
In sharp contrast this season, their marquee signing was a Northern Irishman fresh from the European Championships, a man who wasn't a household name, but would (as we would learn) get the job done. Aaron Hughes, in essence, defined Kerala Blasters the team itself. They weren't glamorous, beautiful, fanciful or filled with nostalgia. They were pragmatic. They knew what had to be done, and slowly discovered how to do it.
Coppell was all odds and ends in the first few games, the lack of a proper pre-season and practice matches showing, as the Englishman kept rotating players and formations routinely. In that beginning period Michael Chopra was the lynchpin of the side, providing that vision upfield. Their early games were settled without much net bulging. Two consecutive losses: 1-0 away to NEUFC. 1-0 to Kolkata at home. A 0-0 draw to Delhi, where Chopra actually came away looking like the best bet to break the deadlock. And then that first victory, against Mumbai, 1-0, when Chopra actually did. It may well be the only goal he scores in the ISL, but it kickstarted Kerala's season.
Coppell soon settled into a smooth 4-2-3-1 routine, tweaking it ever so slightly when necessary, by asking his pivots to drop deeper and provide extra cover. Jossu on the left was a marauding wing back, more unorthodox than anything before. Rafi played up front, with Rafique and Belfort drifting in from the lines.
When the Bengaluru boys came in, CK Vineeth immediately replaced Rafique, and after that flurry of goals, there was no way he was getting benched. He brought a certain speed and off the ball madness that had been missing.
One of Kerala's biggest problems though, one they will look to address next season, was their inability to find the net. The team were solid at the back, rarely conceding goals, and conceding more than one only twice in the season's league stage. But they hardly scored, and were the lowest scorers among the semifinalists. In fact, at the end of the league stage they were joint bottom for goals scored, with Pune City FC.
It was this that hurt them in the knockout stages. They were part lucky and part clinical against Delhi, holding strong for the most, and let off by an off colour Richard Gadze the others.
The lack of depth in the squad didn't help them either. Coppell admitted to not having the most balanced of squads to work with, and full credit to the Englishman for having gotten them this far with this lot. In simple situations, like for like replacements were hard to find. At the back, their lead four were irreplaceable, sure, but un-replaceable, surely not. Jossu's absence hurt them in the final, but the lessons were there from before. Hughes's absence saw them concede five at Mumbai. Mehtab's absence almost cost them against NEUFC and up front Belfort and Vineeth were forced to play 90 mintues at a stretch every game.
A deep bench wins titles. A quick check: Of the eleven who started Kerala's second leg in Delhi, nine were back on the field for the final after a four-day break. Kolkata on the other hand, made nine changes to their team playing the second leg. Their players landed in Kochi much fresher, raring to go.
This though was a great season for Kerala to build on, more so than 2014. If they can keep the young core of this squad, the likes of Belfort, Jossu, Vineeth, Jhingan and Rafique and mix it up with some of the veterans like Hengbart and Mehtab, there is no reason this can't be a long term project. Teams that have done so have had success.It has been key to the champions' success. For once, it can truthfully be said, look to Kolkata for footballing inspiration.
Football
Mohun Bagan fans had been protesting to remove ATK as the prefix of the club's name.
Sports
In six ISL encounters in the past, Bengaluru FC have only beaten ATK Mohun Bagan once and that came when the two sides last met at the Vivekananda Yuba Bharati Krirangan last month
Football
ISL has strengthened its position with every season, but ATK Mohun Bagan — a club that brings in century-old legacy and history — winning the league has to be their crowning glory.