ISL 2016: Kerala Blasters controlled match, but lacked ideas in draw with FC Pune City
The Kerala Blasters' problems have to do with keeping the pressure up. They switched off a bit after their opener at Balewadi.
There is perhaps nothing more depressing for an organised defence that has been in control throughout the match than to see a deflected shot stealing the points away from them. Kerala Blasters coach Steve Coppell had spoken about his team's bad luck against Atletico de Kolkata in Kochi, and on Monday, it was a deflection again that proved to be their undoing.
A point can here be made about a certain Chelsea player who made a career out of deflected goals, but while not unfair, that would digress from the larger point. Sometimes deflected goals can also point towards a larger defensive problem. That of defenders not closing down the opponent's ball players faster. It has been bit of a problem for Cedric Hengbart, Aaron Hughes and Sandesh Jhingan, who otherwise have been rocks at the back.
The Blasters needn't have looked further than their opponents to learn this lesson. It was a similar mistake by Pune on Monday that allowed Kerala to score the opener.
A weak clearance off a corner found Azrack Muhamat at the top of the box, and his deflected shot landed at Hengbart's feet, with the goal agape. He obliged. Kerala's fast start has been a feature over their past few matches and finally they got their reward.
They were the last team to open their account in the league. Now they have the quickest goal of ISL 2016.
Kerala, however, rarely won back possesion from cleared headers off corners, despite crowding the box. But when they did, they were rewarded. Unfortunately, it was one of the few times that they shook Pune in their area though.
These two teams couldn't be further apart right now. Kochi's stadium is a bubbling yellow cauldron of noise. Pune City's Balewadi stadium, on the other hand, is a bit more restrained. The Pune ground is smaller, and the supporters a lot less vocal. In such conditions, it can be a little devastating when the visitors take an early lead. To Pune's credit, they never let it bring them down though, and stuck to a gameplan that centred around their big man upfront. In the end, Pune managed to take their first point at home now.
Pune, in fact, posed a threat to the Kerala defence all evening. Dramane Traore was a bobbing, drifitng, moving target in the Blasters' box all match, and Jesus Tato, for the while he was on the pitch had just enough pace and skill to keep asking questions of Josue Currais' defensive abilities.
Criticism of Currais' defending is a bit unwarranted though, as he was the key to Kerala not having conceded in the first half itself; his timely slide forcing Traore to shoot wide. And then, immediately after the equaliser in the second half, he was the single obstacle between the pass that would've left Traore with a free run at goal. The Spaniard may have been outmuscled in this match, but more often than not, he was at the right spot at the right time.
When the equaliser did arrive, it came as a result of a weak clearance off a superbly curled in freekick from Kerala's left side. Mohamed Sissoko's shot caught Hughes and was deflected into the net.
In the first half, Tato volleyed from the top of the box, but missed by inches.
The goal was Pune's only shot on target. Kerala had the possession, the style and even - for the first time - more shots on goal. They lacked that killer instinct though.
The Blasters' problems have to do with keeping the pressure up. They switched off a bit after their opener at Balewadi, eerily similar to the way they did against Mumbai in the last round. It will concern Coppell. Forced to play at Pune's pace, they were often defending very deep, and relying purely on their defence's ball-playing skills to create attacks.
They wrested back control midway through the first half, but their game was mostly tiki-taka without objective. A large amount of possession melted into a back pass or a lofted shot from distance. This is a team still perhaps discovering themselves. They have had two goals this edition and both have been off lucky free balls in the box.
That is not to say they haven't created opportunites though. They have, by the dozens. And now they are even getting shots on target. A goal up, and in the ascendancy, playing against a team low on confidence at home, they should've killed them off early. It was a missed opportunity, and while they may not regret it - a point away from home is always welcome - it could've been better.
Coppell's substitutions were quite precise too. Farukh for Mohammed Rafi would've been a masterstroke, if not for the deflection. His introduction and the instructions to play deeper crowded the Blasters' midfield and made Pune's task of rotating the ball around a lot tougher. And then, of course, there was that well-taken header.
The Blasters are probably sick of the sight of Edel Bete. His finger tips are the reason they don't have an ISL title right now, and on Monday again, his reflexes denied Farukh right at the close.
It was a free-flowing, if at times ill-tempered, game of football. Coppell may be more restrained in his approach in the future when points become more precious, but against Goa and Chennai, there is no reason to do so. This team has the ability to keep clean sheets at the back. Their problems are more upfield.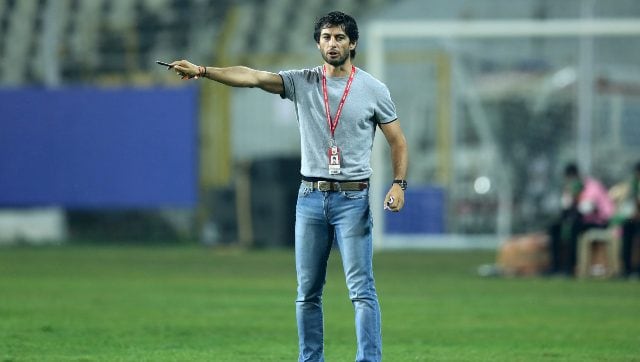 Sports
The loss against Mumbai City FC on Monday meant FC Goa's league-record 15-match unbeaten streak came to a crashing halt.
Sports
India are currently ranked 57th while Brazil are placed 50 spots above them. Citing the higher level of the opponents, India captain Ashalata Devi said it will be a "huge opportunity" for her side to play against a top team in the world.
Sports
The detractors reiterated their position in a letter sent to fellow league members, calling it "ruinous for Spanish football and, besides, with serious irregularities."