ISL 2016: 'I like the players, but love the team,' says Jose Molina praising champs Atletico de Kolkata
Coach Jose Molina hailed his side's togetherness and identified their team ethic as a key factor in achieving glory this campaign.
Atletico de Kolkata regained their lost crown by beating Kerala Blasters 4-3 on penalties in a tight final of the Indian Super League in Kochi on Sunday. Having qualified for the semifinals by a margin of just two points, few had tipped Jose Molina's men to cross the semifinal hurdle. But the 2014 champions peaked at the right time to emerge as winners again in 2016.
Atletico's run to glory was anything but an easy ride after they had to come through a tough semifinal in Mumbai, where they played an entire half with ten men, before getting the better of the Blasters in front of their fanatic fans.
Coach Jose Molina hailed his side's togetherness and identified their team ethic as a key factor in achieving glory this campaign.
"I think we are a team. That is most important. We attack as a team, defend as a team, fight together. I like the players. But what I love is the team. We have great players. But sometimes when you have great players, you don't have a great team. I like eleven players on the pitch who play well, and there are other players who try to get in the team. And I am proud about that. They all play as a team," Molina told the media after the game.
"I think we did great work from the first day. I think we played great tonight. We lost only two matches. In some matches, we could have played better. Finally, we reached the final and played great. We were playing well. Final touches were not good. But finally, we won on penalties." he added.
The Spanish coach, who replaced Antonio Habas at the helm at the start of the season, was particularly impressed with the Indian players and hailed their willingness to learn and work hard. "I think all Indian players are doing a great job from the beginning. I was absolutely impressed with them from the beginning. They want to work, they want to learn, want to improve from the beginning. That is what impressed me. The quality is there, you expect that from professional players," Molina said.
The former Atletico Madrid goalkeeper had special praise for his shotstopper Debjit Majumder whose crucial save off Cedric Hengbart in the penalty shootout gave Jewel Raja the chance to win it for the Kolkata side. "He wanted to improve. He worked every day and improved. I put him in the line-up because he won his place in the team. He worked hard from the beginning," he said.
Speaking about the penalty shootout, Molina revealed how he allowed his players to pick the position where they wanted to shoot as he felt it was important that his players go into the shootout with confidence.
"Jewel Raja came to me before the penalty shootout and said I want to shoot No 5 (fifth). Hume came and told me I want to shoot No 1 (first). So, I said okay, shoot. It is important for me to understand what the players feel in that situation, if they are under any pressure or not. If one player comes to you and says I want to shoot, I say okay. If ten players say I want to shoot, then you have to choose. All players who took penalties today wanted to shoot," the Spaniard divulged.
On being asked if the Indian players' progress will be stalled with them having no chance to play football at a similar level for the next nine months, Molina stressed the need for a longer league. "I don't know if the Indian players will have a problem or not. But it (not playing for nine months) is not good. Not for me, but for the Indian players, for Indian football. I hope there is a solution to this," he signed off.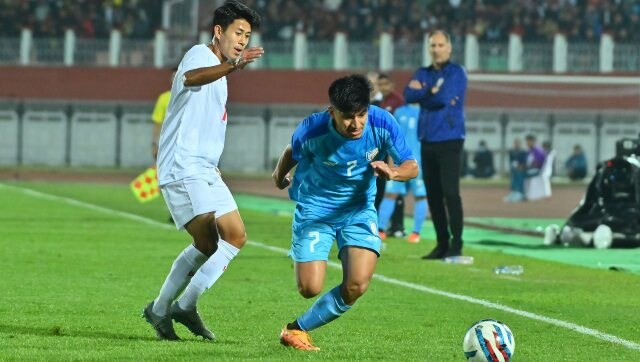 Football
India coach Igor Stimac was impressed with what he saw from debutant Naorem Mahesh against Myanmar and asked the fans in Manipur to be even more vocal against the Kyrgyz Republic.
Football
Manipur's long wait to host an international game ends on Wednesday as India start their tri-nation friendly tournament campaign against Myanmar.
Football
The game lacked goals but not intensity as India made their Manipur debut and the state put up a befitting welcome with dance & music show, firecrackers and Mexican waves.