ISL 2016: From Mumbai City FC's defence to Marcelinho's attacking exploits, takeaways from group stage
The group stages of ISL 2016 went right down to the wire with the last match deciding the top four clubs in league standings. Here are a few takeaways.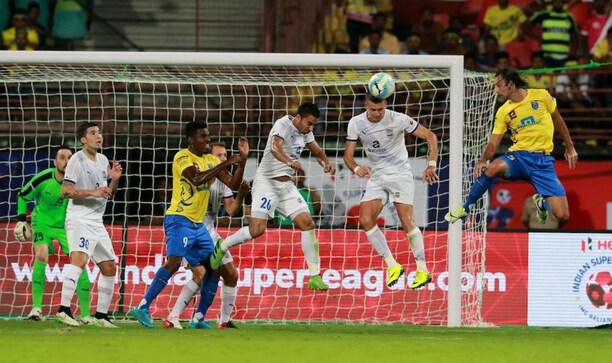 Fifty-six matches, nineteen draws, 134 goals, ten red cards — the group stages of the Indian Super League's third season went right down to the wire with the last scheduled fixture between Kerala Blasters and NorthEast United deciding the top four clubs in league standings. Here are a few takeaways:
Mumbai City FC's exemplary defensive record
'Goals win matches, but good defences win championships' — the age-old cliché rings true when it comes to Mumbai City FC's performance in the third edition of the ISL. Mumbai City had recorded the worst goal difference in the previous two seasons, having conceded 21 and 26 goals in 2014 and 2015 respectively. Contrast that to this season when Alexandre Guimaraes' men have conceded eight goals only — keeping eight clean sheets in the process.
As opposed to the other clubs who have found it difficult to a zero in on a settled 'back four', Guimaraes has fielded Sena Ralte, Lucian Goian, Anwar Ali and Aiborlang Khongjee together in five games. Three of these four defenders have manned the defence in all of Mumbai's matches. In a squad comprising of illustrated forwards like Diego Forlan, Sunil Chettri, Sony Norde and Matias Defederico, it is Mumbai's defence which has been instrumental behind them finishing top of the points table.
Last season's finalists fail to live up to expectations
Marco Materazzi had insisted "there is no pressure" on his team to defend the title, but only a few could have predicted that the two finalists from last season — Chennaiyin FC and FC Goa — would capitulate in such dramatic fashion en route to seventh and eighth-placed finishes.
After two wins in their first four matches, the Mariners could manage only one more victory from the following ten games. Zico's side, on the other hand, never garnered any sort of momentum and did not express their fluid style of play until the 5-4 win over Chennaiyin in their last home game. In a season when goals were hard to come by, these two clubs conceded 25 goals each, which represents a cumulative 37% of total goals.
FC Pune City, NorthEast United go down a familiar path
From two clubs with managerial stability to two clubs with a new gaffer at helm — NorthEast United and FC Pune City flattered to deceive as they once again came up short in the race for the knockouts. The Highlanders started strongly but eventually faded away, while the Stallions won three games in the second half of the group stage to make a late charge for the semi-finals but without much avail.
Nelo Vingada's reluctance to change his system and personnel even in face of a six-game winless streak cost NorthEast United dearly. The highly-regarded manager failed to sort out the issues with the Highlanders' tactical system even though the likes of Emiliano Alfaro, Romaric and Rowlin Borges put in impressive displays on a consistent basis. For FC Pune City, however, it was a case of poor form on part of majority of their players which let Antonio Habas down.
The only two clubs to have never qualified for the knock-outs in ISL's three-year existence, the Highlanders and the Stallions must cultivate a winning mentality to go the distance.
Kerala Blasters prove that 'slow and steady' wins the race
Kerala Blasters were struggling to put together wins at the halfway stage and only a miraculous recovery could help the Blasters qualify for the semi-finals. Enter CK Vineeth, whose return to the squad following his AFC Cup duties with Bengaluru FC rejuvenated Steve Coppell's side.
Vineeth scored five goals in six appearances as Kerala picked up thirteen points in their last six matches. Coppell admitted it took his team some time to find "an identity of their own" before the points started racking up, but now that the Englishman has all the pieces of the puzzle at his disposal, the Yellow Army are true contenders for the title.
Marcelinho leads Delhi's attacking exploits
"Marcelinho is very important to us," Gianluigi Zambrotta had declared after the Brazilian had come off the bench to help Delhi Dynamos to a win in late October. Having already played 1071 minutes, the most for a Delhi Dynamos foreigner and lesser than only Milan Singh and Souvik Chakraborty, the 29-year-old's significance to Zambrotta's side is unquestionable.
With nine goals and five assists to his name, Marcelinho has contributed to over 50% of Delhi's goals this season. The Lions have often struggled on the defensive aspect of the game and it is Marcelinho's attacking plaudits in addition to Florent Malouda's experience and Kean Lewis' youthful exuberance which has led Delhi into the last four.
Tactical diversity in the league
The third season of the Indian Super League may have suffered owing to the absence of goals across the ranks, but the tactical diversity on offer has made the league an intriguing watch for fans and pundits alike. While variations of 4-2-3-1 and 4-3-3 are commonly seen based on the clubs' individual styles and opposition profile, Guimaraes even deployed a successful 'three-man defence' early in the competition to end Atletico's unbeaten streak.
Just like possession-based football is giving way to pressing in most high-profile European leagues, the ISL fans also enjoyed their share of this frantic style of football, especially in matches involving Mumbai City FC. In a season when matches were won and lost in the midfield, the fact that the semi-finalists finished at the top as well as bottom of the 'passing' chart (Delhi Dynamos completed most passes followed by Atletico de Kolkata while Mumbai City and Kerala Blasters completed the least number of passes) is a testament to the variety on offer.
Same old Atletico, this time in a 'new' wrapping
A 90th minute Iain Hume goal helped Atletico to secure a draw against an opponent they dominated and earn a crucial point — even when playing at a different home stadium with a new manager at helm, Atletico managed to retain their identity as they qualified for the knockouts for the third consecutive season.
While most clubs would find it difficult to achieve results consistently based on mediocre performances, Atletico keep chugging along relying on their resilience and their opponents' misfortunes to accomplish a 'top four' finish.
Kochi's energetic crowd
Although the fan frenzy surrounding the ISL has dwindled a little this season, Kerala Blasters have always played to packed houses at the Jawaharlal Nehru Stadium in Kochi. With a spectator count over 50,000 in five of the Blasters' home games, it was hardly a surprise when Kochi was declared as the venue for the finals.
The Keralites love their football and the passion on display on the stands has been absolutely unmatched, with only the Highlanders' fan-base coming close. With two of the five knock-out matches set to be played at Kochi, the football fans in the city will be in for a treat.
Sports
LaLiga have suffered losses for the first time since 2012 but the league expects to recover completely in the next two seasons.
Sports
Napoli took advantage of fourth-placed Juventus's shock 2-1 loss at Genoa to move four points ahead with two matches left to play.
Sports
Jordi Alba's stinging injury-time volley snatched a 2-1 victory for Barcelona at the Benito Villamarin to ensure they will play in the Champions League next term