ISL 2016 Final, Highlights: Atletico de Kolkata defeat Kerala Blasters on penalties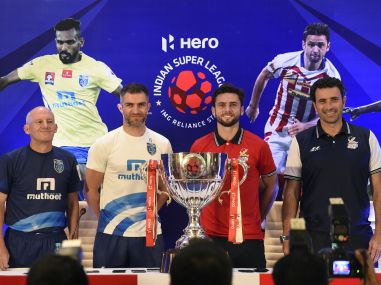 21:54 (IST)

Thank you for following our live coverage of the ISL 2016 final. Have a good night!

21:47 (IST)

This is Atletico de Kolkata's second ISL trophy. The won the inaugural edition in 2014 as well.

21:46 (IST)

Atletico de Kolkata win it! KER 3-4 ATK

21:46 (IST)

The Kerala captain hits it straight down and it's saved! KER 3-3 ATK

21:44 (IST)

Javi Lara evens it again! KER 3-3 ATK

21:44 (IST)

Rafique scores! KER 3-2 ATK

21:43 (IST)

Borja is on target. It's all even now! KER 2-2 ATK

21:43 (IST)

What a bad miss! N'Doye skies it. KER 2-1 ATK

21:41 (IST)

Doutie scores for Kolkata! KER 2-1 ATK

21:40 (IST)

Belfort scores! KER 2-0 ATK

21:40 (IST)

Iain Hume misses! Stack produces a brilliant save. KER 1-0 ATK

21:39 (IST)

German takes the first penalty and scores! KER 1-0 ATK

21:36 (IST)

PENALTIES to decide the ISL 2016 champions!

21:22 (IST)

15 more minutes for either team to find a winner. Otherwise, we head to penalties to decide the ISL 2016 champions.

21:19 (IST)

The first half of extra time ends with no further goals. It's still 1-1.

21:12 (IST)

ANOTHER YELLOW CARD! Sandesh Jhingan gets booked for a collision with Borja.

21:10 (IST)

SUBSTITUTION. Sereno goes off to be replaced by Nato.

21:06 (IST)

YELLOW CARD! Ishfaq Ahmed gets booked for a foul on Javi Lara.

20:58 (IST)

It ends 1-1 in the regulation 90 minutes!

The match is now headed into extra time!

20:54 (IST)

Prabir Das makes a run on the left and attempts a cross to Iain Hume, but Cedric Hengbart tackled it brilliantly.

20:52 (IST)

CHANCE for Kolkata! Hengbert saves Kerala the blushes with an excellent clearance.

20:52 (IST)

Five minutes of added time. And then extra time if it stays 1-1.

20:48 (IST)

Borja makes space for himself and he pulls the trigger from the distance but it goes wide.

20:46 (IST)

Kerala enjoying a mini period of dominance in the Kolkata box. Can they find a winner in 90 minutes?

20:44 (IST)

Kerala get a corner and the crowd tries to get behind their players. But Kolkata's defence easily clear the ball.

20:41 (IST)

Mohammad Rafique comes for Kerala Blasters. He netted a late winner for ATK the final of the first season. Can he do the same for Kerala now?

20:41 (IST)

DOUBLE SUBSTITUTION! Steve Coppell thinking of extra time, maybe?

Kerala Blasters' Nazon is off, German replaces him. And Rafique comes on for Rafi.

20:37 (IST)

Kaushal Shukla from Kochi: As we enter the last quarter of the game, the tempo has completely gone. No team willing to risk it now. The game needs a flash of brilliance or may be an error for it to end within 90 minutes now.

20:34 (IST)

With that substitution, both the marquee players do not complete the 90 minutes (or however long this final will continue) to see their teams through.

20:29 (IST)

SUBSTITUTION! Helder Postiga comes off for Atletico de Kolkata. Javi Lara comes on.

20:24 (IST)

Very even game in the second half so far. No clear-cut opportunities created by either side.

20:22 (IST)

An hour gone in the ISL 2016 final. The second half has seen both the teams hold up better defensively. It's still 1-1.

20:17 (IST)

Sereno needs medical attention after a nasty tackle on him. An unfortunate knock to his head and he had to be bandaged up thoroughly.

20:13 (IST)

The stadium is packed to the rafters for the final! What a brilliant sight to behold.

20:12 (IST)

20:09 (IST)

20:07 (IST)

Second half is now under way!

It's 1-1 in the Indian Super League 2016 final.

19:54 (IST)

HALF-TIME! It's 1-1 after the opening 45 minutes. Quite the frantic half but both teams struggled defensively. If this trend continues, we might see more goals in the second half.

19:53 (IST)

Kaushal Shukla from Kochi: 1-1! A carbon copy of Kerala Blasters' goal! Helder Postiga's movement inside the box creating the problem for the Blasters. Sereno left with an easy header.

19:51 (IST)

GOAL! Atletico de Kolkata equalise and it was another goal scored from a header. Henrique Sereno scrambles past the Kerala defence and heads the ball past their goalkeeper.

Kerala Blasters 1-1 Atletico de Kolkata.

19:49 (IST)

Another Injury-enforced substitution. Atletico de Kolkata's Keegan Pereira is taken off and Prabir Das comes on.

19:45 (IST)

Kaushal Shukla from Kochi: The stadium is jumping and the crowd has come alive now! Kerala Blasters take the lead against the run of play. Sandesh Jhingan's late run into the box completely unsettled ATK and Mohammad Rafi profited.

19:44 (IST)

GOAL! Kerala Blasters take the lead as Mohammad Rafi scores through a header.

Kerala Blasters 1-0 Atletico de Kolkata.

19:43 (IST)

SUBSTITUTION. Aaron Hughes comes off due to what looks like an injury. Kadio Nodye replaces him. Big blow for Kerala as he has been integral to their defence.

19:35 (IST)

Kaushal Shukla from Kochi: The crowd has gone a bit quiet here in Kochi. ATK pretty much the better team in the first half an hour. The home side struggling to deal with the visitors' pressing.

19:30 (IST)

YELLOW CARD! ATK captain Borja is booked by the referee for showing dissent. First player to go into the book.
Preview: Atletico de Kolkata (ATK) head coach Jose Molina will look to emulate former coach Antonio Habas in winning the Indian Super League (ISL) title in the first attempt, while Steve Coppell will try and satiate Kerala Blasters' ambitions of exacting revenge and clinching the first crown in the summit clash in Kochi on Sunday.
While Kerala will have the massive home support at the Jawarharlal Nehru Stadium in their favour, Kolkata have history strongly backing them.
Since November 21 two years back, the hosts have never beaten ATK with the final in the same year, which happened to be ISL's first edition, crowning the Kolkata outfit in glory and shoving the southern side to the backwaters.
This edition too, the former champions had the last laugh in Kochi in the league stages. But past form, as Molina had pointed out before leaving Kolkata on Friday, could count for nothing. Kerala go into the tie with a record six-match winning run at home to bank upon.
"It's two years ago and we have only a couple of players who were part of that match. In fact we have one player who scored the winning goal (in that match)," Coppell had said.
"I believe in the present. Past is past," was Molina's statement.
Mohammed Rafique will have special memories of the 2014 final where he came off the bench to head home the winner in fourth minute of added time to seal a historic victory for ATK.
Since then much has changed. Rafique is now with Kerala, incidentally scoring the winning penalty in the semi-final against Delhi Dynamos on Wednesday.
ATK, on their part, will be hoping to become the first team to win the competition twice in three years.
Coming to both the team compositions and key players, Kerala won't like to change too much and stick to the XI that has been winning games for them of late. They turned it around in the business end of the league stages after initially floundering.
In their defence, the likes of marquee player Aaron Hughes Cedric Hengbart -- who has been one of the best defenders this season -- will form the heart with Sandesh Jhingan a certainty at full back.
Seasoned camaigner Mehtab Hossain has been very good in midfield and winning the second balls while C.K. Vineeth, since coming from Bengaluru FC, has been a revelation by scoring five times in eight matches.
For ATK, the flanks have been their strength with in-form Javi Lara and the imperious Sameehg Doutie likely to man them. The duo have been the most consistent players for ATK besides Iain Hume who after a sedate start got back his scoring boots and in style.
Marquee player Helder Postiga is likely to play in the hole behind Hume and his industry in that area is what Molina will be keenly banking on.
Borja Fernandez in midfield has been a mainstay and with Stephen Pearson who will be given the role to move up front, ATK look settled there. Defence has been their Achilles heel and Molina knows he needs his back-four to be at the top of their game on Sunday.
India centre-back Arnab Mondal's injury means one option less and Tiri and Henrique Sereno are the likely options to be paired along wih Pritam Kotal, who picked up an eye injury in the fracas that broke out after the semi-final second leg, and Prabir Das playing wide.
Robert Lalthlamuana and Juan Belencoso picked up red cards in the last game and will sit out in the final.
The final is also being billed as a clash between former star cricketers Sachin Tendulkar (co-owner, Kerala) and Sourav Ganguly (co-owner, Kolkata), who formed one of the best batting partnerships in world cricket.
While cricket united the two sporting legends, the ISL final on Sunday will see them 'divided' as they try to inspire their respective teams to glory.
Firstpost is now on WhatsApp. For the latest analysis, commentary and news updates, sign up for our WhatsApp services. Just go to Firstpost.com/Whatsapp and hit the Subscribe button.
Updated Date: Dec 18, 2016 22:05:10 IST