ISL 2016: FC Pune City earn vital 1-0 win over Mumbai City FC despite being outplayed
Barring the result, the Maharashtra Derby turned out to be everything that was expected off the game. Mumbai City FC were the better team, but FC Pune City were the luckier. The result was the universe restoring balance after Mumbai managed to sneak a victory in Pune earlier in the season, despite the then home team being the better side of the two.
Other than the result, the second Maharashtra Derby of the Indian Super League (ISL) 2016 season was everything it was expected to be. Mumbai City FC were the better team, but FC Pune City were luckier. The 1-0 result going in the visitors' favour was the universe restoring balance, after Mumbai had sneaked a win in Pune earlier this season, a match that the Pune side had deserved to win.
Mumbai City FC wasted no time in bringing Sunil Chettri back, playing India's most successful striker in the playing XI on his first match back from his exploits with Bengaluru FC in the AFC Cup. Playing him alongside Diego Forlan, coach Alexandre Guimaraes was looking for the two to gel — and gel they did!
One of the key takeaways for Mumbai from this game can be the link up play between Forlan and Chettri. Quality found quality and, for the first time this season, Mumbai's attacking line-up was relying on playing as a team rather than surviving on individual moments of brilliance.
This then translated to Mumbai's entire attacking quartet. An early injury forced Leo Costa out of the game, and Mumbai had to play with substitute Thiago Cunha up front, Maty Defederico on the right and Chettri shunted to the left side of the pitch. But all three of them — with striker Diego Forlan — were exceptional in their ability to attack Pune's goal. All that was lacking was a finish befitting their forward play.
Another major positive that Mumbai can take from the game is their transitioning. Up until now, a ball won by Mumbai's defence would normally be passed about or punted upfront without any real purpose. But a couple of interceptions from Sehnaj Singh were quickly passed up front, and the transition from defence to attack was when Mumbai looked at their best.
There was a particular moment in the game, when Sehnaj intercepted the ball in the middle of the park and within six passes, Mumbai City FC had a shot on goal. That is the kind of fast, attacking football that has the ability to bring in viewers and also alleviate the quality of play on display.
A major criticism about Mumbai has been the ball playing ability of some of their defenders. On Thursday, Lucian Goian put in yet another flawless defensive performance, but his ball distribution needs to improve — especially with the type of football that Mumbai tried to play. The same stands for Hungarian midfielder Krisztian Vadocz, who played it safe with his passing.
Now that Mumbai have a good chance of qualifying for the play-offs, they must work on becoming a better team. And to be fair, they did show signs of doing so against Pune. The first half in particular was an indication of things to come.
For Pune coach Antonio Habas, the height advantage his men enjoy will be a major advantage all season. On Thursday, FC Pune City looked like a team of giants, and it can only be to their advantage if they can capitalise on their height and athletic advantage. While most of the fouls awarded went in Mumbai's favour, Pune's midfielders like Moussa Sissoko won the midfield physical battle.
As much as it pains one to say this, it might be time to drop Diego Forlan; he is a striker well past his prime. But the moment Sunil Chettri came on to the field on Thursday, Mumbai's line-up started defending from the top. This is vital in top-level football and it's clear that those are Bengaluru FC tactics which ideally need to be employed by all coaches everywhere. Playing a 37-year-old Forlan means that all the tracking back done by Defederico and Chettri goes to waste, since one member of the team doesn't defend as well.
The other reason for this argument is the sheer number of chances he got. Substitute Cafu made a glorious opening for Forlan, but the Uruguayan's shot hit the 'keeper's legs and thus ended yet another night in frustration for the 2010 World Cup Golden Boot winner. Is it true that he isn't getting good service from his providers? Yes. Is he doing enough when Mumbai City FC's players do create chances? No.
Leo Costa's substitute Thiago Cunha, on the other hand, showed some pedigree and could be a great option upfront should Guimaraes want to make an unlikely change and put Forlan on the bench. Mumbai have the options to take tough calls now, but the question remains — Do you fix something that's not broken, or do you let things run the way they are? The answer to this question could decide the fate of the third edition of the ISL.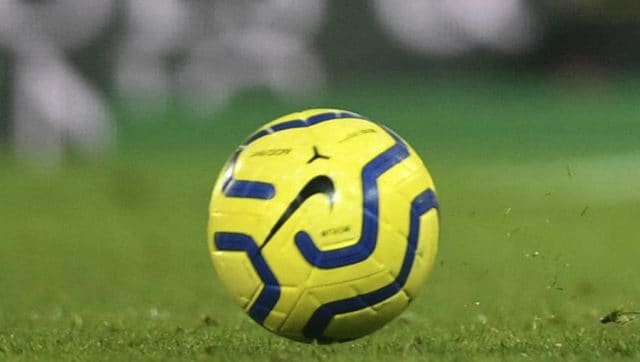 Sports
The players signed a letter making the allegations against Kenneth Zseremeta, who led the women's national teams at various levels in Venezuela for nine years until he was fired in 2017.
Sports
The Euro 2020 final between England and Italy on 11 July was marred by chaotic scenes as ticketless fans forced their way through security cordons to gain entry to the at Wembley Stadium.
Sports
The evacuation, especially of women footballers, was necessitated by the Taliban's takeover of the strife-torn country in August this year.