ISL 2016: FC Goa claim first win of season with a special goal, hope it's start of turn in fortunes
While there will be the lingering disappointment that this game could've been won more emphatically, FC Goa go home with the three unexpected points.
We call it the thudda; the mass audience calls it the toe-poke. A techinque associated with the playground philistine, but embraced equally by the beach aesthete. For all their natural technical brilliance, one country that seems to use it very frequently is Brazil: Ronaldo won them a World Cup semi-final with one, while Ronaldinho's was more a moral victory. Why use the inside or outside of the foot, when you can just use the inside or outside of the toe? And why think inside the box when you can think so gloriously outside it?
On Friday night, Julio Cesar and Richarlyson used the toe-poke for a superb goal, both feet off the ground, hitting a volley into the roof of the net. It was a brilliantly improvised, instinctive goal. FC Goa coach Zico would be pleased with the effort, especially since it was straight out of the training ground.
There was a crowd in the box, with Robin Singh, Gregory Arnolin and Rafael Dumas' physical presence diverting traffic to the posts. Cesar and Richarlyson had a different plan though. The run, the ball and the finish gave Goa their third goal of the ISL, and for the first time in this edition, the lead. If Robin was Robinho and his toes twinkled, they would've had a second straight out of half time.
There was a distinct South American, if not out-and-out Brazilian, flavour to the encounter. Goa and Mumbai City FC both lined up to attack, ready to play with flair and finesse.
But it took them a while to get started, and the initial exchanges resembled pinball more than football. Zico dropped Lucio but stuck to his three-man defence. The Brazilian, once a rock in his prime, leader of every defence he played in, now lacks speed and his age is showing.
Once the football did start, it came mostly from Goa. They passed the ball around neatly, but were not quite the finished product in the final third. In the early part, Cesar was at fault a lot, shooting from distance without range or motion. But their midfield had Mumbai strangled, and an off-colour Diego Forlan didn't help the home side either.
Goa's five men in midfield meant Richarlyson and Keenan Almeida effectively had lots of chalk to run on, and the latter was a menace in the first half, constantly running around Sena Ralte on Mumbai's left.
The hosts had brief flashes of brilliance, but they were curbed easily, despite Almeida and Richarlyson not being brilliant at the back. Once playmaker Defederico limped off, there was a lingering suspicion that Mumbai's early run to the top of the table may have halted for now.
Goa looked nervous and edgy in the opening quarter of the game, and it was the only time when Mumbai looked like troubling them. The Gaurs' defensive structure looked brittle, and more often than not, they were caught in awkward areas. It is a concern Zico will look to iron out.
The Goans have had worse starts before; in 2014, they had a single point from their first four games and yet went on to make the semi-finals. It takes a while for a team with such natural attacking instincts to click, but when they do, it is all oohs and aahs. And though they haven't reached that stage yet, they have managed an effective — and much-needed — victory.
Early losses and limp displays seem to have taken a toll on Zico and it told quite clearly when he abandoned all pretence and style in the final 10 minutes, bringing on his marquee signing Lucio, for Jofre. A defender for a midfielder, when his team was in the lead, was a blasphemy that his 1982 Brazil side would've shuddered to think of. But it was a much needed blasphemy. Dropping points here could have spelt doom.
While there will be the lingering disappointment that this game could've been won more emphatically, they go home with the three unexpected points.
More often than not on Friday, Goa's creators, Cesar and Trindade, were guilty of searching for glory rather than the correct pass. Robin's physicality was utilised and looked effective for a while, but there is the feeling that once the Goans start playing with a swagger, he will be benched. He is that Olivier Giroud-like phenomenon: Capable of getting goals and holding up possession, a great player to seek the layoff from, but also equally capable of looking inappropritate in a side that plays with speed and skill on the counter. Goa have scored more goals than their next opponents, but have also conceded more often.
It always takes moments of genius or madness for form to turn abruptly. FC Goa started off badly with a goalkeeping error in an otherwise decent display. Now they have their thudda volley — a sure contender for goal of the season — and hopefully with it the confidence to turn things around.
Sports
The Antonio Habas-coached side, which didn't have much match practice, will start their Indian Super League season 8 against Kerala Blasters at the Fatorda Stadium in Goa on 19 November.
Sports
Tomislav is SC East Bengal head coach Manuel 'Manolo' Diaz's second foreign signing.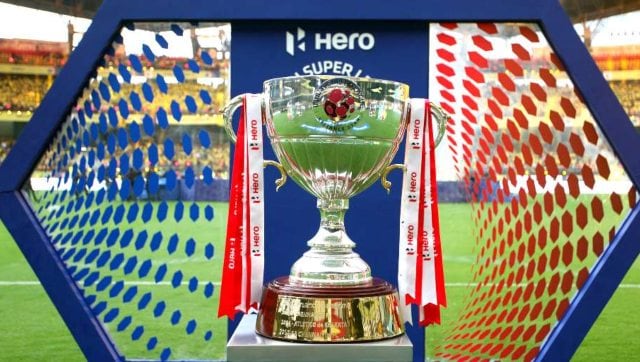 Sports
The 29-year-old has signed a contract that will run until the end of the 2021-22 season.