ISL 2016: Chennaiyin FC coach Marco Materazzi slams refereeing, 'dishonest journalism' after Mumbai City FC loss
Marco Materazzi's side fell to a 2-0 defeat to Mumbai City FC in Mumbai on Wednesday. While Mumbai's defensive organisation and fluid attack made it tough for the visitors, their insipid performance hardly aided the cause.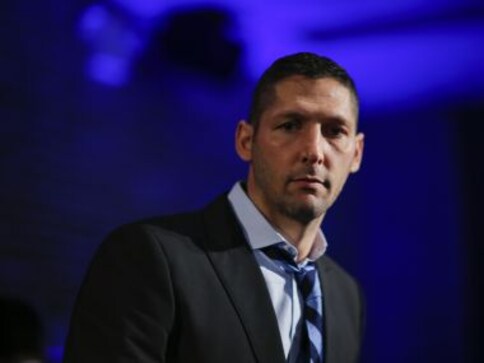 Mumbai: The dethronement of Indian Super League's (ISL) defending champions Chennaiyin FC gathered pace when Marco Materazzi's side fell to a 2-0 defeat to Mumbai City FC in the latter's home turf on Wednesday. While Mumbai's defensive organisation and fluid attack made it tough for the visitors, their insipid performance hardly aided the cause.
However, Materazzi saw a completely 'different game' and slammed the referee for failing to see Mumbai City FC's Gerson Viera playing 'volleyball' in the box.
"We knew we were in a must-win situation and now we know that we have to win the next two games to get six points, and we have shown (in the past) we can battle every team, but if the referee does not see that a player is not playing football and playing volleyball (referring to Gerson Vieira's handball), then there is not much we can do," said Materazzi without mincing words at the post-match press conference.
After being quizzed about Mumbai's famed set of attackers making the life of his defenders difficult, the Italian quickly brushed off any such suggestions and chose to once again focus on that one refereeing error that according to him completely changed the game.
"I don't think that (Mumbai's strike force) is the reason. I think in the first half apart from the goal, they had two chances and in the second half they had chances when we were one against four. I think the whole game changed when the referee made that mistake. I admit my mistake when I do and I think the referee must do the same in this case," the former Italy international added.
Materazzi's conviction that the referee robbed them off the three points was such that one reading his quotes would be forced to view an incident like this to be as decisive as the one which saw him being knocked down to the floor by a certain Zinedine Zidane.
"We conceded a goal and then we were not awarded a penalty, and in the second half they were very good in counter-attacks and that is only because we were attacking all the time. Once you are 1-0 down, it is very tough but we still believe that we can win the last two matches and make it to the semis," the former Inter Milan defender said.
However, Materazzi did eventually concede that his opponents were very good on the day and have been playing some good football this season. "Yes, they are a very solid team and they do not concede many goals and they are also very good in the attacking department and you have got to admit when the opponent is good and in this case, they were really good," he admitted.
Materazzi left hurt by exit rumours
The defeat left Chennaiyin FC's campaign hanging by a thread as the defending champions have just 14 points after 12 games. The 'Super Machans' will now need to win both their remaining games and wait for other results in the league to learn their fate.
With the dark clouds surrounding Chennaiyin's season, questions were raised about Materazzi's future with the club. The Italian came down hard on journalists spreading rumours of him expressing the desire to leave Chennaiyin at the end of the season.
"This a really good question because one of your dishonest colleagues actually was saying that we had said something like that. He said that if our team doesn't make to the semifinals, we are not going to be here next year. I have never said these words," the 43-year-old coach told reporters in Mumbai.
"This really hurts me because I thought football in India is not like many other countries. I thought at this place these things don't happen. I haven't said that and I will never say that. I think your colleague should step up and say that he was thinking when he said those words," he added.
On his future, Materazzi suggested that it was not for him to take the call and the club would assess the situation at the end of the season before coming to a decision. But the Italian accepted full responsibility of his team and their on-field performances.
"About my future, I'm really not the person to decide. It is my full responsibility as I have chosen this squad. I know that it is my responsibility, but apart from that it's not my job to take a call. If the club will be still happy with my choices and all that I have done then maybe we can talk about it. But it's not only for me to say that and we will see in the future," he said.
The manager though made it clear that he is a Chennaiyin man through and through. "In any case or whatever happens, I will always cheer for Chennai," he signed off.
also read
Football
All India Football Federation President Kalyan Chaubey had recently said that the national team is expected to get 20-25 international matches at the end of the Asian Cup in January 2024 in Doha
Football
Iglesias Villanueva was in charge of VAR during Valencia's 1-0 La Liga win over Real Madrid on Sunday, in which Los Blancos forward Vinicius was racially abused by home supporters at Mestalla.
Football
Barcelona said in a statement that Cruyff would not be renewing his contract "due to his wish to embark on new professional endeavours".