ISL 2016: Atletico de Kolkata overcome recurring woes to script win in 1st leg of semi-finals
Atletico de Kolkata (ATK) turned the tables on a strong Mumbai City FC side with a 3-2 win over the table-toppers at Rabindra Sarobar Stadium in the first leg of the semi-finals.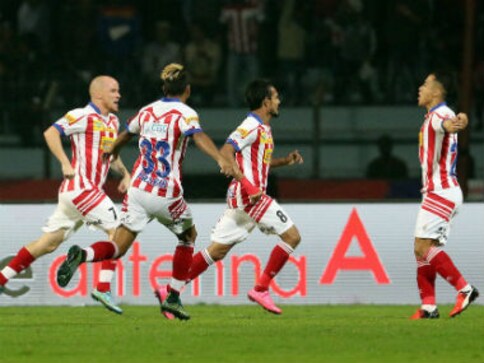 Atletico de Kolkata (ATK) turned the tables on a strong Mumbai City FC side with a 3-2 win over the table-toppers at Rabindra Sarobar Stadium in the first leg of the semi-finals.
Scoring goals, as well as protecting leads, has been a problem for ATK all season, especially at home where they had failed to score more than once in 90 minutes since their opening draw against Chennaiyin FC.
It appeared Jose Molina's men had succumbed to a familiar conundrum when Gerson Vieira lost his marker to direct Diego Forlan's set-piece delivery into the back of the net and put the visitors in the lead in the nineteenth minute. After all, Mumbai City FC had lost only one game away from home this season.
As it turned out, Vieira's goal was the last clear-cut chance Mumbai created. With the odds heavily stacked against them, the ATK frontline produced a performance of the highest pedigree to hand themselves a slender advantage going into the second leg.
ATK were on the front foot right after kick-off as Iain Hume found a pocket of space behind the Mumbai defence. Although a shout for handball against Sehnaj Singh in his own penalty box yielded no response from the referee, Lalrindika Ralte's deft header off Borja Fernandez's cross gave the home side an early goal.
The lead lasted only seven minutes as Leo Costa pounced on a loose ball to deny Dani Mallo a second clean sheet in as many games, after the Atletico defence had failed to clear a Diego Forlan free-kick. Nine minutes later, Vieira's header would force the vocal 12,500-strong Kolkata crowd into a stunned silence – with over seventy minutes to play, it seemed a long night ahead for the makeshift Kolkata defence which had lost the plot in both of Mumbai's forays into their defensive third.
Undeterred by the early deficit, Atletico stuck to their strategy, pressing Mumbai high up the pitch and closing down passing options in the midfield with an intensity hitherto unseen from Molina's men this season. As Helder Postiga kept Krisztian Vadocz occupied and Iain Hume positioned himself to take advantage of Mumbai's high line, Sameehg Doutie and Dika Ralte found themselves in ample of space on either flank.
ATK's equalizer came through a similar attacking manoeuvre six minutes from half-time. Hume had drawn away the two Mumbai centre-halves Lucian Goian and Anwar Ali while Dika went on an overlapping run on the left wing. In spite of two poor touches, the youngster's well-measured cross could only be tipped away by Amrinder towards Doutie, who teed it up for Hume to bury it in the back of the net with a precise volley.
Mumbai's exemplary defensive record, courtesy the understanding between the back four which helped them maintain a solid defensive shape, took them to the league summit. Against ATK, the entire Mumbai backline was taken to the cleaners, none more so than Sena Ralte. The young left-back could barely contend with Doutie's pace and was lucky to still be on the pitch after the first half, for the referee let him get away with two cynical challenges (while he was already on a yellow), the second of which denied Postiga a clear goalscoring chance.
ATK's South African winger has rarely seen minutes in the second half of this season due to his injury, but put on an elegant show for the home team's supporters on Saturday. With 45 passes, five crosses and two shots on goal, Doutie's silky touch made all the difference on a night when Mumbai lost the midfield battle. His work-rate shone through as Doutie put in five tackles and four blocks on the opposite spectrum, completely shutting down Mumbai's left channel with his brilliance.
The 27-year-old was aided by Prabir Das who put in yet another impressive performance at right back. Not only did Das join in on ATK attacks with his incisive crosses and energetic runs through the middle third, he ensured Sunil Chhetri was unable to influence Mumbai's gameplay.
Alexandre Guimaraes admitted after the match that Mumbai were outplayed on all aspects. "The important thing after that is, we understood how we have to play this kind of game. You have to reduce errors as much as possible. The goals we conceded today, we have to manage to not concede in our next game. Collectively and individually we can expect better. I am sure today was a lesson for the whole team," a disappointed Guimaraes told reporters.
It was surely a lesson for the visitors, even for the acclaimed Forlan, who went for an early shower after a rash challenge on Jewel Raja in the second half. "I think we dominated 90 minutes. Forlan was frustrated, like he couldn't do anything. We left him frustrated. We did a great job," Jose Molina put it in perspective.
Guimaraes had placed his trust on the Uruguayan's presence ahead of the match, but it was Forlan's lesser renowned opposite number who stole the show. Iain Hume, similar to ATK's other strikers, had struggled with his form for majority of the regular season, but unlike Forlan (whose actions ensured Mumbai would go into the second leg with a serious disadvantage), the Canadian led the line with absolute aplomb.
Although a difficult reverse fixture follows, Kolkata will fancy their chances on Tuesday for their away form has been pretty consistent all through the season. When Firstpost asked the ATK manager about his team's mindset while going into the second leg, a circumspect Molina proclaimed, "The job is still not finished. It's a small advantage. We have to be calm. We need to have clarity in mind. We have to play with same intensity to go to the final."