MI: 170-9 after 20 overs
RP Singh not out 1
Crushing defeat for Mumbai. For a brief moment when Karthik and Rayudu were going great guns, it looked like they had a chance but after that the cookie crumbled pretty quickly. Delhi batting but superb and their bowling was up to the job. DD won by 37 runs.
Off twitter, @rgcricket: #DD become first team to win both home & away games against the same opponent in #IPL5.
MI: 144-7 after 16.3 overs
RJ Peterson run out 2 (2b)
No Peterson miracle this time round. He was run out by a good throw from the deep. MI in deep trouble.
MI: 139-6 after 15 overs
KA Pollard b Nadeem 16 (9b, 1x4, 1x6)
AT Rayudu c Jayawardene b Nadeem 62 (39b, 5x4, 3x6)
Rayudu and Pollard fall within quick succession of each other. And this is over for MI now. They don't have the big enough players to make it from here. Tendulkar needed to fire for this one.
MI: 115-4 after 12.5 overs
KD Karthik b Agarkar 40 (28b, 7x4)
Agarkar strikes, wonders never cease. MI 115-4. Karthik was cleaned bowled by a wonderful yorker. Hit the base of off-stump. Pollard in next and he needs to fire. Mumbai Indians require another 93 runs with 6 wickets and 43 balls remaining.
MI: 97-3 after 11 overs
Karthik 38, Rayudu 38
Some pretty crazy hitting happening in the middle. Karthik and Rayudu have found the pitch to their liking and are taking the Delhi attack apart with ease.
MI: 77-3 after 9 overs
Karthik 23, Rayudu 14
DD were 88 after 10 overs. But they had lost no wickets. MI, on the other hand, have recovered well through Karthik and Rayudu. They are making a match of this but they will need to go completely nuts. Pathan 4-0-46-2. Enough said. The rest of the DD bowlers will need to do better for sure.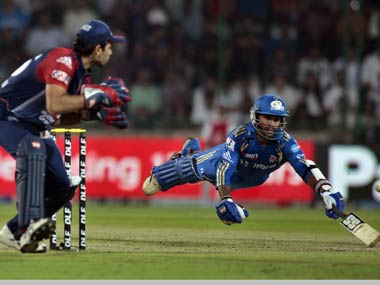 MI: 57-3 after 7 overs
Karthik 23, Rayudu 14
Good fightback by MI. When Karthik gets going, he looks so good. There is a touch of class in his batting when he gets going. It seems so easy and the same can be said of Rayudu.
MI: 19-3 after 3.1 overs
R Sharma c Agarkar b Pathan 12 (6b, 1x4, 1x6)
This is over now unless Pollard goes nuts. And he is such a hit and miss batsman that you don't quite know how he will play anymore. With the bat he has been disappointing. Mumbai still have batsmen but now, they need a partnership.
MI: 19-2 after 2.4 overs
SR Tendulkar c Pietersen b Morkel 7 (7b, 1x6)
The master is walking back. He is finding it difficult to slog now. The odd shot comes off but on the whole, he just look uncomfortable. He still tries the steer and the glance but the switch-hit is beyond him. Nothing too manic from him. Anyway, he was caught at mid-off.
MI: 18-1 after 2 overs
Tendulkar 7, Rohit 11
Sharma immediately got into the act. The first ball he faced was dispatched for six and then another four. Tendulkar found some vigour as well.
Mumbai Indians
MI: 0-1 after 0.3 overs
AC Blizzard c Jayawardene b Pathan 0 (3b)
First man is down. Tendulkar is still there but there will be no 'Blizzard' in the headlines tomorrow. Rohit Sharma walks in next and he has been in good form.
DD: 207-5 after 20 overs
K Pietersen 50, N Ojha 5
Great batting by DD -- KP and Sehwag in particular were deadly but Mahela wasn't bad either. The others didn't do much but they really didn't need to. Mumbai's problems with their bowling continue.
Off twitter, @mohanstatsman: #IPL : DD (207/5) third team after CSK (208/5 in 2008) and RR (208/7 in 2010) to make 200+ against MI
DD: 195-3 after 18 overs
K Pietersen 43, R Taylor 15
Wow. That was some crazy hitting by Pietersen against Peterson. He even hit a switch hit for six there. It was an amazing shot.
DD: 154-3 after 15.3 overs
IK Pathan c sub (NLTC Perera) b Peterson 0 (1b)
Wow. Peterson is Mumbai's lucky charm. He gets another wicket. Irfan didn't hit it too well, end of the bat, caught at long-on.
DD: 153-2 after 15.1 overs
V Sehwag c Singh b Peterson 73 (39b, 8x4, 4x6)
Sehwag falls. It was always going to happen. But he's done too much damage already. MI will not hope to keep DD to less than 200.
DD: 153-1 after 15 overs
V Sehwag 73, K Pietersen 16
One slow over and Pietersen found his feet again. Some splendid hitting being done.
DD: 135-1 after 13.1 overs
M Jayawardene c Sharma b Peterson 55 (42b, 8x4)
Finally a wicket. Harbhajan was running out of options there. Jayawardene had rendered Malinga ineffective. But his reverse sweep attempt off Peterson didn't quite come off. Easy catch for Rohit Sharma.
DD: 135-0 after 13 overs
Mahela 55, Sehwag 72
This is pure mayhem. Both batsmen have hit 8 fours and Sehwag has even hit 4 sixes! This is looking tough for MI. Can they recover from this!
DD: 111-0 after 11 overs
Mahela 41, Sehwag 65
Sehwag has taken over now. The Pollard over read: 1wd-6-1-1-4-6-4. Some really big-hitting there. Pollard may do the same later but for the moment, he would not have liked this at all.
DD: 88-0 after 10 overs
Mahela 40, Sehwag 44
Delhi continue to roll on. Harbhajan has been fairly economical but all the other bowlers have been hammered -- with ease. It's quite scary -- Delhi have an amazing amount of firepower at their displosal and they should be aiming for at least 200.
DD: 70-0 after 8 overs
Mahela 32, Sehwag 34
Sehwag starting to turn it on in some style now. This is really bad for MI. Their bowlers are looking very ineffective. Mumbai are lost and they need a way out of this quickly.
DD: 54-0 after 6 overs
Mahela 30, Sehwag 21
Sachin must be wishing he was in the Parliament already. Mumbai are getting hammered on the field and he might find safe refuge in the Rajya Sabha. Just kidding but Mumbai need to get their act together. Delhi have some big hitters to follow and Sehwag is just getting started. Harbhajan's team needs to get some wickets.
DD: 34-0 after 4 overs
Mahela 24, Sehwag 10
Mahela is looking so good and striking the ball with sublime ease. So far, he has been a spectator as the other batsmen had done the big-hitting but now it looks like he is ready to light it up.
DD: 8-0 after 2 overs
Mahela 3, Sehwag 5
Slow start by Delhi. But it's not like they have an option. After a long time, Malinga is back and it isn't easy to get him away. But bowling has been Mumbai's weak spot. After a good start to the tournament, they have struggled to take wickets. But they will need to get Sehwag early.
Pre-game
Mumbai Indians won the toss and elected to bowl first against the table-toppers Delhi Daredevils. Mumbai haven't really set the tournament on fire and have struggled ever since Lasith Malinga got injured. But today, the Sri Lankan is back. That might change things around.
Delhi, on the other hand, have been more consistent. And their superb batting strength assures that you can never count them out. For this game, they have Ajit Agarkar back in the mix. Left-arm spinner Pawan Negi has been left out of the squad.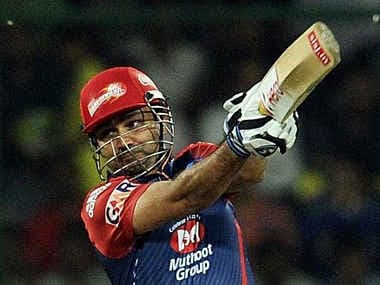 Mumbai, on the other hand, are without James Franklin. He is replaced by Aiden Blizzard.
Tendulkar has been back for a few games and will be itching to play his best cricket. So far, he has been slow off the blocks and that usually makes things difficult for batsmen coming in after him.
Squad:
MI XI: A Blizzard, S Tendulkar, RG Sharma, D Karthik, K Pollard, A Rayudu, R Peterson, H Singh, L Malinga, R Shukla, R Pratap Singh.
DD XI: M Jayawardene, V Sehwag, K Pietersen, R Taylor, N Ojha, I Pathan, Y Nagar, A Agarkar, M Morkel, U Yadav, S Nadeem.
Updated Date: Apr 27, 2012 23:36:36 IST