IPL 9, Mumbai Indians vs Gujarat Lions; as it happened: Finch stars as Lions edge Mumbai in thriller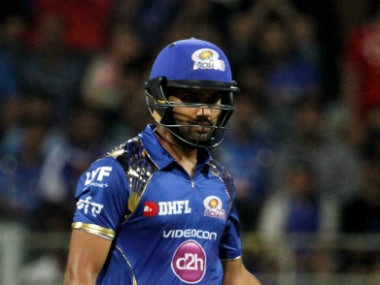 00:03 (IST)

Aaron Finch is named the Man of the Match.

23:49 (IST)

Second consecutive loss at Wankhede for Mumbai Indians. They had two lost their first 2 games of the 2015 season as well at Wankhede.

— Bharath Seervi (@SeerviBharath) April 16, 2016

23:43 (IST)

Now, that's a dream start for Aaron Finch. 3 MOMs in 3 games. A few days to rest the hamstring now

— Harsha Bhogle (@bhogleharsha) April 16, 2016

23:43 (IST)

3 wins out of 3: Gujarat heading for place in the play-offs by leaps and bounds

— Cricketwallah (@cricketwallah) April 16, 2016

23:42 (IST)

One Mumbaikar, 2 Ex-Mumbai Indians players - Dhawal Kulkarni and Aaron Finch win it for the Gujarat Lions against Mumbai Indians. #MIvGL

— Aditya (@forwardshortleg) April 16, 2016

23:41 (IST)

That's it! Lions win by 3 wickets!

Finch finishes it off in style as he pulls a short one through mid-wicket for four. Incredible innings. Ponting can't believe it in the dug out. Lions have won 3 in a row.

23:39 (IST)

A big conference out in the middle.

23:39 (IST)

Mumbai have never been involved in a super over ..

— - (@ExtraGaaji) April 16, 2016

23:38 (IST)

Ball 5: Finch thumps it down the ground and som brilliant running fetches them 2. Scores are level.

1 needed off the last ball. Finch on strike.

23:37 (IST)

Ball 1: Some good fielding from Rayudu means he saves two runs.

Ball 2: Finch gets just a single.

Ball 3: Kulkarni hits the killer blow. He hammers a low full toss over extra cover for four.

Ball 4: Another low full toss and Kulkarni sensibly takes a single.

3 needed off 2 now.

23:34 (IST)

Sensational over. Can see why McCleneghan was preferred to Southee and Boult by New Zealand.

— Harsha Bhogle (@bhogleharsha) April 16, 2016

23:33 (IST)

After 19 overs, Gujarat Lions 133/7 ( Aaron Finch 58 , Dhawal Kulkarni 1)

What a brilliant over from McClenaghan. 2 wickets and just 2 runs. Finch could have been back in the pavilion had Harbhajan scored a direct hit at the non-striker's end. Finch had given up. 11 needed off the last over.

23:32 (IST)

OUT! McClenaghan strikes for 2nd time in the over.


Good length delivery outside off, Praveen Kumar looks to steer but ends up getting an outside edge. Parthiv dives full length to his right and pouches a brilliant catch.

Dhawal Kulkarni is the new batsman.

23:29 (IST)

OUT! There is sill life left in this game. JP Faulkner c Patel b McClenaghan 7 (8b 1x4 0x6)

It's that slower bouncer again that does the trick. Faulkner backs off and looks to slash but gets an edge to the keeper.

Praveen Kumar is the new batsman.

23:27 (IST)

Finch pulled up after the last ball of the 18th over and straightaway threw his helmet on the ground in anger. He was attended to by the physio. He seems okay to continue.

23:25 (IST)

After 18 overs,Gujarat Lions 131/5 ( Aaron Finch 57 , James Faulkner 7)

Finch has kept the scoreboard ticking and has played a crucial innings so far. Lions have the upper hand now. Finch clobbered Harbhajan over deep mid-wicket for a six. Then earned four leg byes off McClenaghan and then cuts one very late through backward point in the same over to bring up fifty. Bumrah then committed a cardinal sin as he overstepped and the free hit resulted in a four from Faulkner. 13 needed off 12 now.

23:18 (IST)

Best part about Finch this #IPL9 has been his ability to play both quick and spin bowling equally well.#IPL9 #MIvGL

— Suneer (@suneerchowdhary) April 16, 2016

23:17 (IST)

FIFTY for Finch!

He gets there in style with a four through point off a cut. Six fours and one six in his innings so far.

23:14 (IST)

OUT! McClenaghan strikes. AD Nath c HH Pandya b McClenaghan 12 (11b 1x4 0x6)

The slower ball does the trick. It's slower and short outside off, Akshdeep goes for a pull but gets a top edge. Hardik Pandya at mid on settles under it and pouches it safely.

James Faulkner is the new batsman.

23:07 (IST)

After 15 overs,Gujarat Lions 99/4 ( Aaron Finch 38 , Akshdeep Nath 11)

Mumbai have pulled it back a bit. Krunal finished off with a very good spell 4-0-20-1. Bumrah got the wicket of Bravo and gave away just 3 runs. Krunal gave away just 4 in his last over. Akshdeep then released some pressure as he pulled one over mid-wicket for four. 16 runs off last 3 overs. 45 needed off 30 now.

22:58 (IST)

OUT! Bumrah gets Bravo with a snorter! DJ Bravo c Patel b Bumrah 2 (6b 0x4 0x6)

But Bravo might be unlucky. Bouncer outside off, it's quick, Bravo at first shapes for a pull but then looks to sway away. The ball whizzes past the bat as Bravo falls over. They all go up in a huge appeal, Bravo shows umpire he never really touched anything but the umpire still lifts his finger.

Akshdeep Nath is the new batsman.

22:56 (IST)

After 12 overs,Gujarat Lions 83/3 ( Aaron Finch 33 , Dwayne Bravo 2)

Krunal Pandya is doing a decent job. He got the wicket of Karthik. Mumbai have hit back to jolt Lions. 17 runs and a wicket off the last three over. MI need to remove Finch now.

22:53 (IST)

Some incredible fielding in Mumbai tnite. Aspiring cricketers take note. So important if you want to play at the highest level. Wow! #MIvGL

— Isa Guha (@isaguha) April 16, 2016

22:51 (IST)

OUT! Krunal gets his maiden IPL wicket. KD Karthik c Harbhajan Singh b KH Pandya 9 (11b 1x4 0x6)

Karthik gets down for a slog sweep and helps it straight straight to long leg where Harbhajan takes a very good catch.

Dwayne Bravo is the new batsman.

22:41 (IST)

After 9 overs,Gujarat Lions 66/2 ( Aaron Finch 29 , Dinesh Karthik 0)

It was turning out to be clever cricket from Raina and Finch until Raina suffered a moment of madness. Taking minimal risks and getting maximum rewards was their mantra. Raina lofts one straight back over sightscreen for a six off Hardik Pandya and then Finch cuts a couple of deliveries very late for consecutive fours off Harbhajan. But then Raina succumbs to his perennial weakness - the short ball. 24 runs and a wicket off the last 3 over.

22:39 (IST)

OUT! Raina out to that short ball again! S Raina c Patel b McClenaghan 27 (22b 3x4 1x6)

Short on off from McClenaghan, Raina goes for a full blooded pull but gets a top edge high in the air. Parthiv Patel settles under it and takes an easy catch.

Dinesh Karthik is the new batsman.

22:32 (IST)

Average speeds of #MI seamers (in mph):

Bumrah: 84.79
McClenaghan: 82.48
Southee: 82.21
H Pandya: 73.90#IPL #MIvGL

— The Cricket Prof. (@CricProf) April 16, 2016

22:28 (IST)

Hardik Pandya into the attack now.

22:27 (IST)

After 6 overs, Gujarat Lions 42/1 ( Aaron Finch 17 , Suresh Raina 17)

Finch is looking ominous. He is looking to attack, Raina too showed some attacking intent. He hit McClenaghan for two fours in the fourht over, one over backward point and one over extra cover off a fabulous loft. Finch then cracked one through covers off Southee. Krunal Pandya is then brought into the attack, Raina hammers one over his head for four. But Pandya bounces back with clever changes in lines and lengths to concede just one run off the next three balls. 22 runs off the last three overs.

22:11 (IST)

After 3 overs, Gujarat Lions 20/1 ( Finch 11, Raina 2)

Good start for Mumbai Indians. Southee starts off with a brilliant outswinger off the first ball of the innings but then Finch bounces back to hammmer the next one through mid-wicket for a four. McCullum then slashes at one and misses. A bal later, he hammers a pull over deep mid-wicket to end the first over in style with a six. Bumrah then started off well with the wicket of McCullum and giving away just 3 runs. There was an appeal for a catch against Raina but it was a bump ball. Finch continued to be aggressive as he drove one uppishly through mid off for four.

22:07 (IST)

OUT! Brilliant catch by Harik Pandya. Bumrah gets McCullum. B McCullum c HH Pandya b Bumrah 6 (4b 0x4 1x6)

It's a low full toss on off, McCullum backs away and looks to slash but doesn't connect it well, Pandya dives forward and pouches it inches above the ground. The umpire goes upstairs to check for a no ball but replays show it was clean.

Suresh Raina is the new batsman.

22:05 (IST)

Back for the chase. Brendon McCullum and Aaron Finch are the openers. Southee will start off proceedings.

21:43 (IST)

Mumbai Indians have posted 143/8

Some brilliant hitting from Krunal and Southee has made sure that Mumbai Indians have posted a respectable target. Southee hammers Faulkner over deep mid-wicket for a six and then Krunal gets an outside edge for a streaky four to third man. The Faulkner over yielded 17 runs. Southee then got an outside edge to third man for a four off Bravo in the last over befire spanking one straight back over the bowler's head for a six. Southee is then run out trying to go for a risky single. Krunal heaved the final ball to deep mid-wicket where Akshdeep Nath made a slam dunk type save to deny a six. 14 runs off the last over. 55 runs off the last four overs.

21:34 (IST)

After 18 overs,Mumbai 112/7 ( Krunal Pandya 12 , Tim Southee 5)

Another three-over period where MI have lost at least a wicket. They have lost two here. That of Harbhajan and Rayudu. But Krunal has impressed on his debut. He steers one very late to third man for four to third man and then heaves one wide of short fine leg for a bour of Bravo. The pair of Southee and Krunal ran well bewteen the wickets which achieved then three twos in the 18th over of Bravo which yielded 13 runs. 30 runs and two wickets off the last 3 overs.

21:25 (IST)

Mitchell McClenaghan has been demoted from No.4 to No.10 in one match. #MIvGL

— Saurabh Somani (@saurabh_42) April 16, 2016

21:25 (IST)

Bravo should start MRF Change of Pace academy. Who would have thought rolling your arm fast and bowling it slow would become bowling weapon.

— cricBC (@cricBC) April 16, 2016

21:24 (IST)

OUT! Faulkner gets Rayudu! AT Rayudu b Faulkner 20 (19b 0x4 1x6)

Mumbai losing wickets at regular intervals and it has hampered their progress heavily.

It's a length delivery on middle and leg, Rayudu shuffles way across and swings but misses. The ball hits the top of the stumps. Rayudu trudges off in disappointment.

Tim Southee is the new batsman.

21:20 (IST)

Too captaincy by Raina today...Dhawal finished & PK almost finished in the first 10. #GL on top and how. #MI must play 1 more batsman #MIvGL

— Aakash Chopra (@cricketaakash) April 16, 2016

21:17 (IST)

OUT! The slower one does the trick again! Harbhajan Singh c Karthik b Bravo 8 (13b 1x4 0x6)

Good length delivery outside off, it's that slower cutter. Harbhajan goes for a wild swing across the line but done in by the change of pace. He is early into his shot and ends up edging it to the keeper. Bravo, for a change, doesn't erupt in the Champion Dance. It's the Akhtaresque Airplane celebration.

Krunal Pandya - the debutant - is the new batsman.

21:11 (IST)

After 15 overs, Mumbai 82/5 ( Ambati Rayudu 15 , Harbhajan Singh 2)

Rayudu tried to bring some cheer to the home crowd with a huge six over deep mid-wicket off Tambe but the leg spinner removed Parthiv off the last ball of same over. Jakati and Faulkner then bowled disciplined lines to give away just 5 runs off the two combined overs. 14 runs and a wicket off the last 3 overs.

21:04 (IST)

OUT! Tambe strikes again. Parthiv's stay ends. P Patel c Faulkner b Tambe 34 (29b 2x4 2x6)

Parthiv gives his wicket away off an innocuous delivery. It's a short one outside off, a half-tracker, Parthiv rocks back and pulls it straight into the hands of the deep mid-wicket fielder. Poor shot!

Harbhajan Singh is the new batsman.

21:01 (IST)

Parthiv's poignant journey: plays for India as a prodigy; has a heartbreaking meltdown; and then watches as the Age of Dhoni begins & ends.

— Amit Varma (@amitvarma) April 16, 2016

21:00 (IST)

After 12 overs,Mumbai 68/4 ( Parthiv Patel (W) 34 , Ambati Rayudu 3)

Regular wickets have meant that Mumbai haven't got any momentum going at all. Parthiv hit one six off Dhawal's slower one over deep mid-wicket but then MI lost Pollard. Bravo is brought into the attack and he varied his pace beautifully. 17 runs and a wicket off the last 3 overs.

20:53 (IST)

OUT! Tambe strikes first ball! K Pollard c Bravo b Tambe 1 (3b 0x4 0x6)

Loopy outside off, Pollard looks to go downtown first ball, doesn't connect well and helps it straight into the hands of Bravo at long off. What next ? The champion dance. This is a huge wicket though.

Ambati Rayudu is the new batsman.

20:51 (IST)

4-1-19-2, brilliant spell from Kulkarni. Only problem with him is his inconsistency. #MIvGL

— jigar mehta (@jigsactin) April 16, 2016

20:47 (IST)

Dinesh Karthik (25) now has the most stumping in the #IPL history. He overtakes MS Dhoni (24)#MIvGL #IPL2016

— Sarang Bhalerao (@bhaleraosarang) April 16, 2016

20:45 (IST)

After 9 overs, Mumbai 51/3 ( Parthiv Patel 21 , Kieron Pollard 0)

Buttler and Parthiv struggled to connect off the middle. And Buttler's struggles finally ended. The 50 is up but it has taken them 9 overs. Buttler got numerous leading edges. He looked to loft one but gets an outside edge over cover-point for streaky four. Parthiv then finally got going when he heaved one over deep mid-wicket for a six. 20 runs off the last 3 overs.
Preview: Pumped up after back-to-back wins in their debut season, a positive Gujarat Lions will aim to extend their winning steak when they take on hosts Mumbai Indians in an Indian Premier League (IPL) encounter at the Wankhede Stadium here on Saturday.
Gujarat, the newcomers in the IPL family, defeated Kings XI Punjab by five wickets followed by a comfortable victory over Rising Pune Supergiants by seven wickets on Thursday and now sit on top of the points table.
While Mumbai after losing to Pune in the tournament opener, the side came back strongly with an all-round show to thrash Kolkata Knight Riders by six wickets on Wednesday and are currently placed in the fifth spot in the table.
But on Saturday, it will be a fresh start for both the sides and Rohit Sharma-led Mumbai will look to take advantage of the home conditions and halt Gujarat's winning streak.
Mumbai will miss their star batsman Lendl Simmons, who was ruled out of the rest of the tournament due to lower back injury. New Zealand's Martin Guptill who went unsold in the cash-rich T20 league auction will come as a replacement for the West Indian.
But with Rohit and his opening partner Parthiv Patil giving a good start to the side against KKR and in-form hard-hitter Jos Buttler, Kieron Pollard, Hardik Pandya, Ambati Rayudu to follow, the batting line-up looks strong on paper.
Kiwi pacer Tim Southee will lead the bowling attack alongside his compatriot Mitchell McClenaghan and India's promising young gun Jasprit Bumrah. Experienced off-spinner Harbhajan Singh and youngster Jagadeesha Suchith will form the spin duo for the side.
On the other hand, Gujarat Lions will depend on their swashbuckling openers Aaron Finch and Brendon McCullum to do the job at the start.
Finch with 124 runs in two matches is the leading run scorer and the Australian will aim to pile on some more runs under his belt against Mumbai.
With skipper Suresh Raina, Dinesh Karthik and all-rounders Dwayne Bravo, James Faulkner, Ravindra Jadeja later on in the batting line-up, the side has the depth to topple any bowling attack like they did in the past two matches.
Experienced Praveen Kumar, Faulkner and Bravo with his variations and slower balls make a formidable bowling unit. Bravo leads the leading wicket-taker chart with five victims. Jadeja will lead the spin department alongside Pravin Tambe and Shadab Jakati.
With two wins under their belt from as many matches and keeping in mind their current form, the visitors will surely have the upper hand when they take the field against Mumbai on Saturday.
Squads:
Mumbai Indians: Rohit Sharma (c), Harbhajan Singh, Hardik Pandya, Jasprit Bumrah, Jos Buttler, Kieron Pollard, Corey Anderson, Lasith Malinga, Martin Guptill, Mitchell McClenaghan, Marchant de Lange, Tim Southee, Unmukt Chand, Vinay Kumar, Parthiv Patel, Shreyas Gopal, Nathu Singh, Jagadeesha Suchith, Ambati Rayudu, Akshay Wakhare, Deepak Punia, Jitesh Sharma, Kishore Kamath, Krunal Pandya, Nitish Rana, Siddhesh Lad.
Gujarat Lions: Suresh Raina (c), Sarabjit Ladda, Akshdeep Nath, Amit Mishra, Dwayne Bravo, Paras Dogra, Eklavya Dwivedi, James Faulkner, Aaron Finch, Ishan Kishan, Ravindra Jadeja, Shadab Jakati, Dinesh Karthik, Shivil Kaushik, Dhawal Kulkarni, Praveen Kumar, Brendon McCullum, Pradeep Sangwan, Jaydev Shah, Umang Sharma, Dwayne Smith, Dale Steyn, Pravin Tambe, Andrew Tye.
IANS
Firstpost is now on WhatsApp. For the latest analysis, commentary and news updates, sign up for our WhatsApp services. Just go to Firstpost.com/Whatsapp and hit the Subscribe button.
Updated Date: Apr 17, 2016 09:27:46 IST