IPL 2016, MI vs RCB as it happened: Rohit, Pollard power MI to six wicket win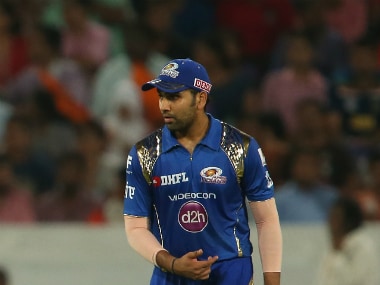 23:42 (IST)

Rohit Sharma is named the Man of the Match

23:33 (IST)

Mumbai Indians win by 6 wickets!

Thumping win. Pollard lets up a roar punching his fist in the air. He swings and gets an outside edge to third man for a streaky four to hit the winning runs. Mumbai Indians dealt in sixes in the end. Buttler, at first, hit two off Abdulla, one over long on and then the second one through the same region again before getting out on the next ball. Pollard then got into the act, lofting Richardson over long off and then pulling one over deep square leg for consecutive sixes. He got stuck into Watson with a heave over deep square leg for another six. 5 sixes and one four in the last three overs.

23:21 (IST)

Jos Buttler in #IPL2016:

Batting first: 0(2), 16(21), 11(11)
27 runs at SR of 79

Chasing: 41(22), 28(14)
69 runs at SR of 192#MIvRCB

— Deepu Narayana (@deeputalks) April 20, 2016

23:20 (IST)

OUT! Abdulla hits back hard. JC Buttler c Watson b Iqbal Abdulla 28 (14b 2x4 2x6)

Buttler hit Abdulla for consecutive sixes, goes for the third, gets an outside edge to backward point for an easy catch.

Hardik Pandya is the new batsman.

23:17 (IST)

After 15 overs,Mumbai 128/3 ( Jos Buttler 16 , Kieron Pollard 12)

Despite Rohit's wicket, MI haven't let the run rate drop. Rohit hit Abdulla for a huge six over deep mid-wicket and then whipped one through wide long on for four before heading back to pavilion off the last ball of the over. Aaron bowled a tight over up next, giving away just 6. Pollard and Buttler then launched into Watson with three fours in the over, Pollard with a couple of pulls and Buttler cutting one through point. 31 runs and 2 wickets in the last three overs.

23:05 (IST)

Rohit Sharma in IPL 2016:

Batting first: 7, 7, 5
Batting second: 84*, 62#MIvRCB

— Bharath Seervi (@SeerviBharath) April 20, 2016

23:05 (IST)

OUT! Abdulla strikes again! It's a HUGE wicket. RG Sharma c de Villiers b Iqbal Abdulla 62 (44b 4x4 3x6)

Loopy and full outside off, Rohit looks to loft, but the bat turns in his hand and he ends up holing out to long off. A very good innings ends but a wicket at a crucial juncture for RCB.

Kieron Pollard is the new batsman.

23:00 (IST)

After 12 overs, Mumbai 97/2 ( Rohit Sharma 51 , Jos Buttler 8)

Rayudu was starting to look dangerous but Abdulla struck at the right time to remove him and break the 76-run stand. Rayudu had hit consecutive fours off Harshal Patel - a slap over mid off and a flick behind square leg. Abdulla got him in next over but Buttler got his first four as he late cut one to third man off Abdullah. Sharma then got a top edge on his pull off Binny and it raced away for four. 37 runs and one wicket off the last 3 overs. Mumbai have done well not to get bogged down after losing a wicket.

22:58 (IST)

FIFTY for Rohit!

He is leading from front again. 50 off 38 balls and it's a crucial innings so far. Three fours and two sixes in his innings so far.

22:51 (IST)

OUT! Abdulla breaks the partnership. Rayudu holes out. AT Rayudu c Richardson b Iqbal Abdulla 31 (23b 5x4 0x6)

It's full outside off, Rayudu gets down for a slog sweep, doesn't connect it well and helps it straight into the hands of Richardson at deep mid-wicket.

Jos Buttler strides out to the middle.

22:49 (IST)

Mumbai Indians always realize Rayudu's worth when 3 games are left in the season. Good, they did it this season just after 3 games.

— Vibhor (@VibhorDaga) April 20, 2016

22:45 (IST)

After 9 overs,Mumbai 70/1 ( Rohit Sharma 40 , Ambati Rayudu 23)

Things have slowed down. Just one boundary in the last three overs. Rohit with a six over long leg off a pull. 13 more singles make it 19 runs off the last three overs.

22:29 (IST)

After 6 overs, Mumbai 51/1 ( Rohit Sharma (C) 26 , Ambati Rayudu 18)

MI have upped the ante big time. Rohit gets a top edge to fine leg off Richardson for four and then Rayudu hammers a cut through point for another one. Rohit then hits a front foot pull over deep mid-wicket for six off Aaron. He then scoops one over short fine leg for four three bals later. Rayudu makes it a huge over for MI as he crashes one over point for four to end with 19 runs in the over. Watson then bowls five good balls where he beats Rayudu's outside edge off one but Rayudu ends the over well as he charges and hammers it through extra cover. 36 runs off the last 3 overs. A decent Powerplay for Mumbai Indians.

22:14 (IST)

Rohit Sharma's strike rate at Wankhede while chasing in Twenty20s: 109.75! #MIvRCB

— Sampath (@SAMPATHB24) April 20, 2016

22:14 (IST)

After 3 overs,Mumbai 14/1 ( Rohit Sharma 7 , Ambati Rayudu 2)

A good start for RCB. MI would have lost Rayudu too after Parthiv but for a direct hit missed. It would have been 27th time Rohit Sharma would have been involved in a run out in IPL. Parthiv had spanked the fourht ball of the innings through covers for the first four of the innings off Aaron. But then Richardson struck off the first ball removing Parthiv. This pegged MI back and Richardson gave away just 2 and then Aaron gave away just 6 which included four overthrows because of the missed run out.

22:04 (IST)

MI opening, IPL 2016.
Rohit, Lendl- 8
Rohit, PP- 53
Rohit, PP- 7
Guptill, PP-2
Rohit, PP - 6#IPL9

— Nikhil (@CricCrazyNIKS) April 20, 2016

22:03 (IST)

OUT! Richardson strikes first ball. Parthiv back in the hut! P Patel c de Villiers b Richardson 5 (6b 1x4 0x6)

Short outside off, Parthiv goes for a pull but it's quicker than he expected. He gets a top edge high in the air. De Villiers at backward point nearly lets it through as he ends up holding the ball amidst fingers. He heaves a sigh of relief.

Ambati Rayudu is the new batsman.

21:57 (IST)

Right! Back for the chase. Rohit Sharma is back as the opener, he strides out along with Parthiv Patel.

21:45 (IST)

170 gives RCB a fighting chance to make something of this, but at the halfway mark it's still Mumbai's to lose.

— Prem Panicker (@prempanicker) April 20, 2016

21:44 (IST)

RCB have posted 170/7

RCB have ended well thanks to Head and Sarfaraz. But MI pulled it back a bit in the last over with three wickets. They gather 18 runs off the penultimate over from McClenaghan. Sarfaraz pulls one over mid-wicket for four. Head then clobbered a slower one over deep mid-wicket for a humongous six. Sarfaraz then followed up with another spanking shot over deep mid-wicket for a six. Head was run out off the first ball of the final over but a ball later, Sarfaraz hemmered another pull over deep mid-wicket for six. Bumrah bounced back to scalp two wickets in two balls and did well to give away just 9 runs in the last over. Sarfaraz made 18 off 18 while Head scored 37 off 24.

21:33 (IST)

After 18 overs,Bangalore 143/4 ( Travis Head 29 , Sarfaraz Khan 12)

Krunal gives away 11 runs in his final over thanks to five wides - A ball which he bowled with almost Malinga's action - and no one could reach it. He still ends up with impressive figures of 4-0-27-2. Some good running helps RCB earn 11 runs from the McClenaghan over as Head and Sarfaraz run three 2s and Head hits one straight back down the ground for four. Sarfaraz then gets into the act as he flicks one wide of short fine leg for four. 31 runs off the last 3 overs.

21:16 (IST)

After 15 overs, Bangalore 112/4 ( Travis Head 10 , Sarfaraz Khan 5)

Krunal gives away just 2 runs in his second over which builds the pressure and results in Watson's departure in the next over as Bumrah has him caught behind. Bumrah then bowls a brutal bouncer to Sarfaraz who ducks under it at the last moment but then plays a really good upper cut over the keeper's head for four off the very next ball. Travis Head then makes sure Hardik Pandya's over finishes off on a good note as he hammers a pull over deep mid-wicket for a six off the penultimate ball to make it 9 runs off the over. 16 runs and a wicket in the last 3 overs.

21:08 (IST)

OUT! Another bowling change works. Bumrah sends back Watson. SR Watson c Patel b Bumrah 5 (10b 0x4 0x6)

Good length delivery outside off, holds its line and zips through. Watson stays in his crease and looks to cut but ends up getting an outside edge. Parthiv dives full length to his right and pouches a brilliant catch.

Sarfaraz Khan is the new batsman.

21:03 (IST)

Kunal Pandya pulls Mumbai back in game with double strike. Kohli's wicket trifle fortunate, but delivery that got AB stumped was a beauty!

— Cricketwallah (@cricketwallah) April 20, 2016

21:03 (IST)

After 12 overs, Bangalore 96/3 ( Shane Watson 4 , Travis Head 0)

Mumbai have pulled it back really well thanks to Krunal Pandya. De Villiers was starting to look dangerous as he hammered Hardik Pandya over deep mid-wicket for a six. But then Krunal struck two crucial blows - that of Kohli and De Villiers - to peg RCB back. Southee was brought back and he gave away just 3 runs. 17 runs and two wickets in the last 3 overs.

21:00 (IST)

OUT! Krunal is bowling a dream spell here. Kohli and de Villiers in one over. AB de Villiers st Patel b KH Pandya 29 (21b 3x4 1x6)

It's a touch full outside off, De Villiers leans forward for a drive, he's committed to it but the ball spins away a tad. The forward force draws De Villiers out of the crease. He misses and Parthiv whips the bails off in flash.

Travis Head is the new batsman.

20:53 (IST)

Breaking:

Virat Kohli finally dismissed for less than fifty in T20....

— Broken Cricket (@BrokenCricket) April 20, 2016

20:52 (IST)

OUT! Krunal Pandya gets the HUGE one. Kohli departs. V Kohli c Southee b KH Pandya 33 (30b 3x4 0x6)

It's full outside off, Kohli charges down the track and looks to go downtown, doesn't connect it well and helps it straight into the hands of Southee at long off.

Shane Watson is the new batsman.

20:50 (IST)

Chahal's exclusion is the most puzzling. Considering the success of legspinners in T20, diffficult to fathom why he was left out. #MIvsRCB

— Mohammad Kaif (@KaifSays) April 20, 2016

20:50 (IST)

Vital for RCB to have one of these two playing through. Slowed down last game towards the end.

— Nikhil (@CricCrazyNIKS) April 20, 2016

20:49 (IST)

RCB's large-scale changes r the talk of the town!With Gayle gone it makes sense to strengthen the batting,trying diff. combinations.#MIvsRCB

— Mohammad Kaif (@KaifSays) April 20, 2016

20:48 (IST)

The last time these two teams faced off at Wankhede, ABD scored 29 runs off 9 balls against Hardik Pandya. Kohli scored 22 off 9. #MIvsRCB

— Soham Sarkhel (@Sarkhailovic) April 20, 2016

20:48 (IST)

Hardik Pandya into the attack now.

20:48 (IST)

After 9 overs,Bangalore 79/1 ( Virat Kohli 30 , AB de Villiers 20)

De Villiers and Kohli have upped the ante a bit. Krunal didn't concede any boundaries in his first over but bowled three wides and that took his tally to 10 runs in the over. Harbhajan then concedes a couple of fours, one each off Kohli and ABD. He missed his lines and both the batsmen pounced on it. 23 runs off the last two overs.

20:36 (IST)

After 7 overs,Bangalore 56/1 ( Virat Kohli (C) 19 , AB de Villiers 12)

Harbhajan into the attack for the seventh over, and MI make a mess of a run-out chance in the first ball to grant AB de Villiers a second life. Single off the second delivery for RCB to bring up the 50-run mark. FOUR! Reserve-swept off a fuller delivery from Bhajji by de Villiers as seven runs come off it.

20:30 (IST)

After 6 overs,Bangalore 49/1 ( Virat Kohli (C) 18 , AB de Villiers 7)

Good fielding by the players in the deep helps prevent boundaries on a couple of occasions, but de Villiers gets his first anyaway with a pull off a short delivery from Southee that is hoicked away towards deep square-leg at the end of the fifth over! Bumrah in for the sixth over, and concedes eight off the over, including a boundary off an outside edge from Kohli's bat in the final delivery.

20:24 (IST)

After 4 overs,Bangalore 32/1 ( Virat Kohli (C) 8 , AB de Villiers 0)

SIX! Short and wide outside off, and Rahul despatches it high over the cover boundary after streching his arms out for the shot! SIX MORE! Short, this time along the middle stump, and Rahul simply uppercuts it over the long-stop boundary rope! FOUR! Glanced down the leg-side, with the ball running away towards the short fine-leg. OUT! Edged to Bhajji at the slips as Rahul departs for 23. De Villiers comes in now!

20:23 (IST)

OUT! McClenaghan has the last laugh, as Rahul edges a length ball pitched between middle and off that moves away from the batsman. Harbhajan takes the catch at the slips as the opening batsman departs for 23, with RCB losing their first wicket with 32 on board.

20:21 (IST)

After 3 overs,Bangalore 15/0 ( Virat Kohli (C) 7 , Lokesh Rahul (W) 7)

Kohli gets the first boundary of the innings with a full delivery outside leg that is flicked away towards backward square-leg by the red-hot Kohli! Should ease off some of the pressure for the RCB skipper. Four! Rahul gets a top-edge off a bouncer which proves too high for Patel to collect.

20:20 (IST)

After 2 overs,Bangalore 6/0 ( Virat Kohli (C) 2 , Lokesh Rahul (W) 3)

OUCH! Rahul banged on the helmet! Short one from McClenaghan, batsman looks to duck it. The ball however, shapes in, and knocks him on the helmet! McClenaghan sticks to the short length for the most part in the second over. Just two runs off the second over.

20:07 (IST)

After 1 overs,Bangalore 4/0 ( Virat Kohli (C) 1 , Lokesh Rahul (W) 3)

Kohli walks out to bat with KL Rahul, who replaces Kedar Jadhav for this match. Southee to bowl the first over of the innings. Kohli off the mark off the first ball. Rahul gets his first runs in the ongoing IPL with a double after sending the ball down towards backward point. Meanwhile, Southee is getting movement early in the innings. Four off the first over.

19:59 (IST)

The batting performances of MI and RCB have been poles apart in the IPL so far.

19:58 (IST)

Mumbai Indians choose to bat first after winning the toss, and that automatically makes them favourites at the start of the match.
PREVIEW: Under-confident Mumbai Indians (MI) will aim to get back to winning ways when they come up against an explosive batting power of Royal Challengers Bangalore (RCB) in an Indian Premier League (IPL) match at the Wankhede Stadium in Mumbai on Wednesday.
After getting off to a losing start to their campaign against Rising Pune Supergiants (RPS), defending champions Mumbai came back strongly with a thumping win over Kolkata Knight Riders (KKR), but suffered two consecutive loses against Gujarat Lions (GL) and Sunrisers Hyderabad (SRH) to have them tottering in the seventh position in the points table with just two points from four games.
Failure to get their team combination right has resulted in a series of losses for Mumbai.
On the other hand, the Virat Kohli-led Bangalore have only played two games, winning convincingly against Hyderabad but losing to Delhi Daredevils (DD) in the last match and sit fourth with two points from as many games.
But on Wednesday, it will be a fresh start for both the sides and Mumbai will look to make the best use of the home conditions and get their third IPL title hopes back on track.
New Zealand's hard-hitting opener Martin Guptill who made his IPL debut against Hyderabad on Monday failed to make an impact as the right-handed batsman managed only two runs.
Except Rohit's unbeaten 84 against KKR, the side has been inconsistent with the bat in all three games, failing to post competitive totals which resulted in giving their bowlers very less to bowl at.
Parthiv Patel, despite getting starts failed to convert it into big scores, while Jos Buttler, Ambati Rayudu, Kieron Pollard, Hardik Pandya have not been among the runs.
The side's batting has been too dependent on the skipper and the extra burden on his shoulders proved costly in most occasions this season.
The absence of veteran pacer and death overs specialist Lasith Malinga is hurting Mumbai. The Sri Lankan has been ruled out of the tournament after knee injury.
In the absence of Malinga, Mumbai has been too dependent on Kiwi pacers Tim Southee, Mitchell McClenaghan to give the team an early breakthrough and this combination is expected to continue against RCB.
Off-spinner Harbhajan Singh will aim to get back his form in a ground where he does comparatively well.
On the other hand, RCB's top three comprising consistent AB de Villiers, skipper Virat Kohli and all-rounder Shane Watson make an explosive batting line-up.
The West Indian, Gayle who is yet to fire for his team will miss out on the match against MI, as well as the game after that as he flies back home to Jamaica following the birth of his first child.
Bangalore will hope to get their bowling combination right against Mumbai after being hammered by Delhi opener Quinton de Kock, who scored the first ton in the ongoing tournament.
Squads:
Mumbai Indians: Rohit Sharma (c), Harbhajan Singh, Hardik Pandya, Jasprit Bumrah, Jos Buttler, Kieron Pollard, Corey Anderson, Lasith Malinga, Martin Guptill, Mitchell McClenaghan, Marchant de Lange, Tim Southee, Unmukt Chand, Vinay Kumar, Parthiv Patel, Shreyas Gopal, Nathu Singh, Jagadeesha Suchith, Ambati Rayudu, Akshay Wakhare, Deepak Punia, Jitesh Sharma, Kishore Kamath, Krunal Pandya, Nitish Rana, Siddhesh Lad.
Royal Challengers Bangalore: Shane Watson, Chris Gayle, AB de Villiers, Virat Kohli (c), Stuart Binny, Samuel Badree, Iqbal Abdulla, Sreenath Aravind, Kedar Jadhav, Vikramjeet Malik, Kane Richardson, Varun Aaron, Mandeep Singh, Abu Nechim, Adam Milne, Mitchell Starc, Yuzvendra Chahal, Harshal Patel, Travis Head, David Wiese, Sachin Baby, Lokesh Rahul, Parvez Rasool, Vikas Tokas, Sarfaraz Khan, Praveen Dubey, Akshay Karnewar.
Firstpost is now on WhatsApp. For the latest analysis, commentary and news updates, sign up for our WhatsApp services. Just go to Firstpost.com/Whatsapp and hit the Subscribe button.
Updated Date: Apr 20, 2016 23:46:46 IST