Always want to play under pressure because I enjoy it: Chris Morris and the art of finishing
Disbelief gripped social media when Christopher Henry Morris was bought by Delhi Daredevils for a whopping seven crores in the 2016 Indian Premier League (IPL) auction. Six days later, he had already started to change perceptions as he guided South Africa to a win from with a whirlwind 38-ball 62 against England in an ODI in Johannesburg.
A week after that, his steely nerves were in action again as he dragged South Africa past the finish line with a seven-ball 17 in a nerve-wrecking thriller in the Cape Town T20I.
And 94 days after that, he ended up as Daredevils' most valuable player, finishing the IPL with the highest average (65), second-highest strike-rate (178.89), joint-highest wickets (13), best bowling average (23.69) and best economy rate (7). He also conjured the third-fastest IPL fifty, off 17 balls, in a breathtaking innings that almost steered DD past the finish line, only missing out by one run against Gujarat Lions.
Ever since making his debut in 2012, Morris' career has gone through a topsy-turvy ride, fraught with injuries and frustrations. But of late, he seems to have gained much-needed stability. His ability to perform under pressure has stood out, especially when death batting and bowling.
Firstpost caught up with the South Africa all-rounder to discuss the art of finishing.
FP: From a bowler, who could bat a bit, to a decent all-rounder, how did this transformation take place?
Chris Morris: I think I've always been an all-rounder. I made my first-class debut as a No.4 batsman. The potential has always been there to be a competitor. When I was playing B-side cricket, I was batting at no. 4 and opening the bowling. So I was an all-rounder. But naturally, you make the team either for your bowling or batting. For me, it was as a fast bowler. I was never told to neglect my batting but I was always going to get into the team as a fast bowler. I obviously paid more attention to my bowling. I am the first person to admit that I underachieved with my batting in the last couple of years.
When I made my move from the Lions to the Titans, I spent quite a few months with our coach Rob Walter, working really hard on my batting — hitting a lot of balls, working on different zones of hitting and angles of where to hit the ball. Slowly and surely, it's coming together. But still, I've a lot of work to do and I want to push for the all-rounder spot. So, I keep working on my batting as much as I can.
FP: How difficult is it to perform the job of finisher in limited overs cricket? Could you tell us about the mentality needed to excel in that role?
Morris: The biggest thing for me is that you've got to want to do it. Especially bowling at the death. If you don't want to be bowling at the death or handling the pressure, then I think that's when you are struggling a bit. The first thing for me was that I wanted to do it. I quite enjoy pressure and I quite liked it because it tests me as a cricketer and as a person. For me, it's me against me, or me against the guy running in, or me against the guy I am bowling to. We've all got our strong zones where we hit. I just try to keep it as simple as possible when it comes to hitting. When you overcomplicate a few things, you just don't play your normal game. So the biggest thing is to have a bit of fun.
FP: Before international cricket, did you perform the role of a finisher for your club or domestic sides?
Morris: I don't think I was pigeonholed as a finisher; I was pigeonholed as a hitter. Because I do tend to hit big sixes, they used me as a pinch hitter or towards the end of the innings to hit sixes when the guys are trying to bowl yorkers. When you are playing the game of cricket, it's all the same. If you hit sixes, you could be considered a finisher. I just managed to win a couple of games and people think I am a finisher (laughs).
FP: You mentioned that you enjoy playing under pressure. Is this something innate or have you developed it over a period of time?
Morris: It didn't develop over time, I liked to be tested as a person first and then as a cricketer. It's the test of my ability to perform under pressure. It didn't matter what sport I was playing — be it hockey or soccer, I always wanted to be under pressure because that's where you get tested as a person. It's a character I've got from my family, off my dad when he played. I just enjoyed it and it was always a good feeling when you came out on top.
FP: You generally bat lower down the order, how do you approach an innings?
Morris: It's dictated by the situation. If I need to soak up balls and rotate the strike, I try my best to do that; or if I need to go from ball one and attack straightaway, I try to do that. So whatever the team needs, I try my best and play according to the situation. In the game against Gujarat, (Morris came out to bat with 116 needed off 56) it was basically very simple what I needed to do. Not trying to spend too much time having a look, I had to go from pretty much ball one or two. (He ended up scoring 82 off 32 balls, but DD fell short by one run). However, out in the middle, you've got a lot more time than you actually think. If you give yourself one or two balls to have a look, you can always catch up, especially if you can hit big sixes. You need to stay calm when you're trying to finish a game. If you've got a cool head under pressure then what do you think your opponents are feeling like? (laughs). So it's (staying calm) quite a big thing for me.
FP: How much has your death bowling helped your end-overs batting and vice versa?
Morris: It did play a big part because I tried to bowl where, if I was facing, I wouldn't want the ball to be. I would bowl where no one would want it. And that's how I would go. You've just got to ask yourself — where would you not want the ball to come if you were hitting? So that's helped quite a lot.
FP: What goes through your mind when you're in the dressing room, especially if the team is in a difficult situation and you know you will be out batting soon?
Morris: It's quite chilled. I sit quite a lot in the changing room. I stay indoors for a bit just to cool myself down. When it starts getting closer to my time, I just go down to the dug-out and relax. I am one of those people who talk a lot of rubbish when I get nervous. I sit next to our physio and just start blabbering because that's how I release my nerves. I release the nervous tension by talking absolute rubbish on the side of the field. I've always got Rahul (Dravid) and the boys around me, talking about the match conditions, overs left and things like that.
FP: How difficult is it to decide when to take a risk, especially when you know that one more wicket and the match is lost?
Morris: I think that's where training comes in. Look, you can hit the ball straight up in the air one day and the next day you can hit it out of the park off exactly the same ball. So it's all about where your hitting zones. You've got to back your skills, doesn't matter what you do. While batting if you are going to decide you want to hit it out of the stadium, you've got to go for it 100 per cent, you can't doubt yourself at all.
We always say this thing in T20 about taking the game as deep as possible and I think that's where it (training) comes to the party. You've got to look at the game of cricket and say, "Right! I've got four overs left, maybe I should take it down to the last two before I start expressing or try and hit sixes." That's very situation-based. But look, there is responsibility on my shoulders to get runs. How often have you seen tail-enders come in and score 40 in between them? There's is always a little bit more behind you than you think. You've always got lot more time in T20s.
FP: How do you decide which bowler to target?
Morris: Every player's got a guy that, if you look at the bowling attack, you back yourself to take down. To give you an example, if a left-arm orthodox spinner or leg-spinner is bowling to a left-arm batter — it's a no-brainer that he's got to go after him because it's spinning into the arc. It's obviously what bowler you prefer facing in terms of whether it's spinning or not, or if it's at a certain pace, or you just back yourself against that player, or if there's a history between you two where you've done it before, which helps quite a lot. It's quite an easy decision when you look at it on the field.
FP: How much did those crucial innings against England give you confidence as a finisher?
Morris: A lot of confidence! I had been doing well in the domestic circuit. But I think I got a lot more confidence from my runs in the England Test series (69 on debut) than ODI. Because knowing that I can do a bit of batting in Test cricket made me back my ability a little bit more. The debut runs helped quite a lot. It was very good for my personal mindset knowing that I can actually bat at that level in terms of finishing of a cricket game. It was a great day for South African cricket (win against England in Johannesburg ODI). It was a good day to contribute. I could have been out on 14 (catch dropped), so sometimes luck falls your way and you've got to run with it. I was just happy that I could contribute and win the game for my country. It was pretty much one of the best days of my career.
FP: In your time at Chennai Super Kings, did you watch MS Dhoni closely when he was batting during the end-overs?
Morris: I did watch a little bit of Dhoni — he is an unreal cricketer in terms of hitting the ball in the weirdest zones possible. How he plays that 'Helicopter Shot' still amazes me. MS is such a strong guy and hits the balls that shouldn't be hit for six. He was incredible to watch in the nets. It's how calm he stays that sets a very good example.
FP: How has working with Rahul Dravid helped you?
Morris: Rahul is always good — doesn't matter whether it is batting, bowling, mindset, off the field, on the field. He is brilliant. He is very good at analysing situations, (asking you) to just take things as deep as you can. I always had a lovely chat with him before going out to bat about things like the wicket, which bowler to target etc.
FP: Do you like the role of a finisher who can win from any position or do you want to take it as it comes?
Morris: I don't see myself as a finisher. I see myself as a guy who comes and plays the game of cricket and if I am there when the game finishes, then so be it. I don't want to label myself as a finisher because sometimes when you get labelled something that probably stays. I am just the guy who tries to win games for my team — at the end of the game or 10 overs in, any which way, I am happy.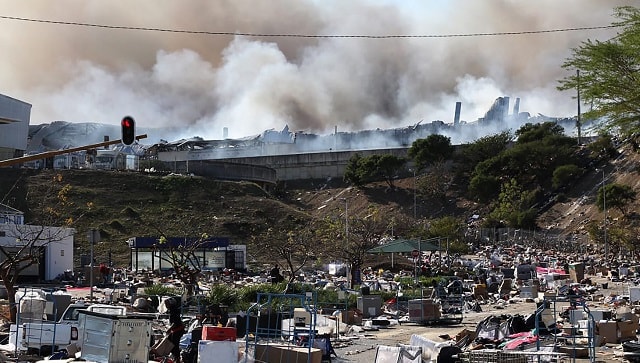 World
According to official figures, 72 people have died and more than 1,200 people have been arrested, while over 800 shops have been plundered
First Cricket News
Chahar hit an unbeaten 69 and stitched an unbroken match-winning 84-run stand with Bhuvneshwar (19) for the eight-wicket to help India take an unassailable 2-0 lead in the three-ODI series.
First Cricket News
The left-handed opener was given the reins of the team after Virat Kohli and other key players were sent to England for the WTC Final against New Zealand and the five-Test series against the hosts.