IPL 9, GL vs DD as it happened: Pant, De Kock help Daredevils crush Lions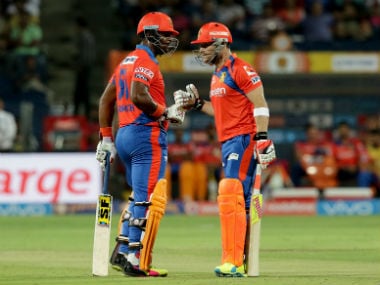 23:35 (IST)

Rishabh Pant is named the Man of the Match.

23:19 (IST)

Superbly crafted win. Congrats Delhi...and Pant and other team members...and skipper Zak...and Dravid of course!

— Cricketwallah (@cricketwallah) May 3, 2016

23:19 (IST)

Delhi Daredevils win by 8 wickets

Samson finishes it off in style with a thumping six over deep mid-wicket. It was all too easy for the visitors. The bowlers helped restrict the Lions to 149. But then the openers Pant and De Kock came out all guns blazing and added 115 and that took the game away from the Lions. Lions' batting was to blame again. samson remained not out on 19 while Duminy on 13.

23:06 (IST)

After 15 overs,Delhi 121/2 ( Sanju Samson 4 , JP Duminy 0)

Lions have pulled it back really well but DD are still ahead. 17 runs and two wickets off the last 3 overs. Two new batsmen at crease with Samson and Duminy.

23:04 (IST)

OUT! De Kock misses out on his fifty! Q de Kock c Smith b Kaushik 46 (45b 4x4 1x6)

It's full on off, De Kock gets down for a slog sweep but doesn't connect it well. Helps it straight into the hands of Smith at deep square leg.

JP Duminy is the new batsman.

22:56 (IST)

OUT! Jadeja finally provides the breakthrough. Pant back in the hut. RR Pant c Karthik b Jadeja 69 (40b 9x4 2x6)

It's flatter and full on middle and leg, Pant gets down for a slog sweep but gets an inside edge onto his pads, the ball lobs up in the air and Karthik accepts a simple catch.

Sanju Samson is the new batsman.

22:52 (IST)

After 12 overs, Delhi 105/0 ( Quinton de Kock 37 , Rishabh Pant 66)

Just when it seemed Lions has slowed down the proceedings a bit, Pant releases the pressure with a thumping six over Faulkner's head. 20 runs off the last 3 overs. De Kock has been pretty quite and playing a sensible innings. The 100 is up. Nothing happening for Gujarat Lions.

22:40 (IST)

18 years old Rishabh Pant just smashed a 25 balls half century with proper cricket shots let me say again " with proper cricket shots "

— Broken Cricket (@BrokenCricket) May 3, 2016

22:39 (IST)

After 9 overs,Delhi 85/0 ( Quinton de Kock (W) 32 , Rishabh Pant 51)

DD are running away with this. De Kock got a lifeline as Karthik missed a stumping off Raina but Pant is going at a rapid pace. He reverse sweeps one off Kaushik for four and then take son Raina with a couple of fours and a huge six over long on to bring up his 50. 24 runs off the last 3 overs.

22:37 (IST)

FIFTY for Pant! His maiden IPL 50. He brings it up in style with two 4s & a 6. Stunning hitting so far. Eight fours and one six in his innings so far.

22:24 (IST)

After 6 overs, Delhi 61/0 ( Quinton de Kock (W) 29 , Rishabh Pant 30)

Terrific batting from the DD openers. Both are looking in good touch. The 50 has come up. De Kock pulls one over deep square leg for a six. Pant then swings one over square leg for a four and then heaved another over mid-wicket off Kulkarni. In between, Pant cut one through point for a four. 30 runs off the last 3 overs.

22:18 (IST)

Off beat selections and bowling and batting orders by Delhi seem to have Gujarat flummoxed so far

— Cricketwallah (@cricketwallah) May 3, 2016

22:11 (IST)

After 3 overs, Delhi 31/0 ( Quinton de Kock (W) 14 , Rishabh Pant 16)

Daredevils are off to a breezy start. De Kocks plays a couple of powerful wristy flicks for two fours in the first over. Pant then gets into the act and thumps three consecutive fours off Dhawal Kulkarni. One - a pick-up shot over square leg, second a cover drive and third and cut through point. Raina then brings himself on and does a good job giving away just 7 runs off the over.

22:00 (IST)

Right! Back for the chase. Quinton de Kock and Rishabh Pant are the openers. Praveen Kumar will start off proceedings.

21:46 (IST)

Fine hand played by Jadeja and fine effort by Delhi too. Target 150 on this pitch, what do you think?

— Cricketwallah (@cricketwallah) May 3, 2016

21:46 (IST)

After 20 overs,Gujarat Lions 149/7 ( Ravindra Jadeja 36)

Jadeja's late burst has helped Gujarat Lions pile on 149/7. Morris bowled a good penultimate over giving away just 8 runs and picking up the wicket of Faulkner who missed his scoop and found his stumps shattered. Jadeja then hammered Shami over long on for a six in the last over but shami hit back to concede just 5 more runs. There was a run out of Ishan Kishan off the last ball too. 19 runs and two wickets off the last 2 overs.

21:34 (IST)

After 18 overs,Gujarat Lions 130/5 ( Ravindra Jadeja 25 , James Faulkner 2)

Jadeja has finally looked like he used to know some batting. He crunches a cover drive for four off Shami, then hammers one over Zaheer's head for another four and then cuts one through backward point for consecutive fours off Zaheer. Karthik then swats one to deep mid-wicket for a four to bring up his fifty. 31 runs and one wicket off the last 3 overs.

21:32 (IST)

OUT! Fifty and out! Shami strikes. D Karthik b Mohammed Shami 53 (43b 5x4 0x6)

It;s full on off, Karthik backs away and looks to slash. But it's too full. He misses and the ball clips the off stump. A very good innings ends.

James Faulkner is the new batsman.

21:30 (IST)

Fifty for Karthik! He's looked in very good touch tonight. He's played sensibly and found gaps in regular occasions. Five 4s in his innings so far. He would look to up the ante now.

21:19 (IST)

After 15 overs,Gujarat Lions 99/4 ( Dinesh Karthik (W) 44 , Ravindra Jadeja 6)

Karthik has looked in good touch throughout the innings so far. He thumps one through point for four and then pulls one through square leg. Jadeja then gets into the act as he hammers a pull through mid-wicket. However, three fours in the last three overs is not enough. Lions need to up the ante big time. Just 18 runs in the last 3 overs.

21:04 (IST)

After 12 overs, Gujarat Lions 81/4 ( Dinesh Karthik 31 , Ravindra Jadeja 1)

Karthik has made sure that the coreboard is kept ticking. The fifty-run stand with Raina was finally broken by Mishra. Just one four in the last 3 overs. 24 runs and one wicket in the last 3 overs.

21:01 (IST)

OUT! Really clever from Amit Mishra. SK Raina st de Kock b Mishra 24 (20b 1x4 1x6)

Mishra sees Raina charge down the wicket and pushes a quicker googly wide outside off, Raina looks to chase but it further turns away. De Kock whips the bails off in a flash. The third umpire checks for the front foot no ball and then whether De Kock had collected the ball in front of the stumps but everything looked Okay. Dinesh Karthik needs to bat through now.

Ravindra Jadeja is the new batsman.

20:47 (IST)

After 9 overs, Gujarat Lions 57/3 ( Suresh Raina 20 , Dinesh Karthik 12)

Things have slowed down a bit. Mishra has bowled two frugal overs giving away just 9 runs. Morris, however, hasn't got his lengths right so far. Karthik hits him for a couple of fours in the 8th over. A flick to fine leg and a pull to deep square leg. 22 runs off the last 3 overs.

20:36 (IST)

35/3 - Lowest powerplay score for Gujarat Lions. First time they lost more than 2 wickets in the Powerplays. #IPL2016 #GLvDD

— Bharath Seervi (@SeerviBharath) May 3, 2016

20:33 (IST)

After 6 overs, Gujarat Lions 35/3 ( Suresh Raina 10 , Dinesh Karthik 1)

Nadeem's two wickets in the fourth over as pegged back the Lions. It would have been far worse for them if Billings had scored a direct hit with Karthik struggling. Raina then releases some pressure as he slashes one over 3rd man for a six off Shami. 18 runs and 2 wickets in the last two overs.

20:27 (IST)

#GujaratLions got their batting order right, but not the fall of wickets!

— Harsha Bhogle (@bhogleharsha) May 3, 2016

20:26 (IST)

OUT! Nadeem gets the second in the over. Finch back in the hut. AJ Finch c Pant b Nadeem 5 (5b 1x4 0x6)

Length delivery on the leg stump, goes straight on. Finch gets down for a slog sweep but gets a top edge to short fine leg fielder.

Dinesh Karthik is the new batsman.

20:19 (IST)

Delhi couldn't hope for a better start than getting both Smith & McCullum within four overs. How's Raina going to approach this inning?

— Cricketwallah (@cricketwallah) May 3, 2016

20:18 (IST)

OUT! Nadeem is brought back and he strikes straightaway. D Smith c Morris b Nadeem 15 (14b 3x4 0x6)

Length delivery on the leg stump, it stops on the batsman. Smith rocks back and looks to loft but is done in by the sloweness of the delivery. He ends up carrying through with the shot and helps it straight into the hands of Morris at long on.

Suresh Raina is the new batsman.

20:16 (IST)

After 3 overs, Gujarat Lions 17/1 ( Dwayne Smith 15 , Aaron Finch 0)

A decent start for Delhi Daredevils.
Smith has started off in blistering fashion but Brendon McCullum's luck ran out. Smith gets the first four of the innings as he flicks one wide of short fine leg for four. Nadeem then bowls a straighter one, McCullum is pushed on the back foot and misses his defense. There is a huge appeal for an LBW but the umpire saus no reckoning there was an inside edge. Smith then hits a couple of crunching fours, one through mid-wicket and then covers. Zaheer Khan then brings himself on and scalped the prized wicket of McCullum.

20:15 (IST)

OUT! Zaheer disturbs McCullum's furniture. B McCullum b Khan 1 (4b 0x4 0x6)

It's that cutter that does the trick. Good length delivery on middle, shapes away a touch after landing. McCullum stays in his crease and looks to pull but misses. The ball disturbs the furniture.

Aaron Finch is the new batsman.

20:02 (IST)

Right then! The Lions openers - Brendon McCullum and Dwayne Smith have made their way out to the middle. Left-arm spinner. Shahbaz Nadeem will start off proceedings.

19:44 (IST)

DD XI: de Kock (wk), Pant, Nair, Billings, Samson, Morris, Duminy, Nadeem, Zaheer Khan (c), Shami, Mishra.

19:44 (IST)

GL XI: Finch, McCullum, Smith, Raina, Karthik, Kishan, Faulkner, Jadeja, Kaushik, Kulkarni, Kumar

19:36 (IST)

Aaron Finch is back for the Gujarat Lions. He replaces injured Dwayne Bravo

19:35 (IST)

Delhi Daredevils have made two changes to the side. JP Duminy and Shabaz Nadeem come in for Carlos Brathwaite and Shreyas Iyer

19:32 (IST)

Delhi Daredevils have won the toss and elected to bowl first. Zaheer Khan feels it is better to know what score to chase on the Rajkot wicket

18:18 (IST)

Hello and welcome to the coverage of the IPL 9 match between Gujarat Lions and Delhi Daredevils in Rajkot. Match starts at 8 PM IST. Follow this space for live scores and updates.
Preview: Gujarat Lions will aim to bounce back from a shock defeat in their last match and cement their position at the top of the table when they meet Delhi Daredevils in an Indian Premier League (IPL) match at the Saurashtra Cricket Association Stadium here on Tuesday.
Bottom-placed Kings XI Punjab brought Gujarat's three-match winning streak to an end with a 23-run win here on Sunday. But despite the shock loss, Gujarat are still at the top of the standings with 12 points from eight matches.
Chasing a moderate target of 155 runs, the Gujarat batting line-up suffered a rare dip in form. Gujarat's strength has been consistent performances from their top order which has seen them ahieve scores of around 200 runs on a regular basis.
Openers Brendon McCullum and Dwayne Smith have formed a formidable combination while skipper Suresh Raina and Dinesh Karthik have made useful contributions in the middle-order. But all four came up short against Punjab and will be eager to prove themselves against Delhi in their last home match of the current season.
All-rounders Dwayne Bravo and Ravindra Jadeja have been useful with the ball, but have yet to contribute with the bat. They continued their poor batting form against Punjab as well, which should be a concern for the Gujarat think tank.
Bravo has taken 10 wickets in eight matches so far, but has contributed just 52 runs with the bat. Jadeja, on the other hand, has claimed five wickets from seven matches, but has managed to score only 53 runs.
Australian all-rounder James Faulkner however, has been quite consistent in the lower down the order and can be relied upon to come up with the bit hits late in the innings.
Among the bowlers, left-arm spinner Shivil Kaushik had impressive figures of 3/20 against Punjab and will be hoping to take his form into Tuesday's match. Pacers Dhawal Kulkarni and Praveen Kumar have been doing well while Faulkner will hope to do better after going for quite a few runs against Punjab.
Delhi, meanwhile, are upbeat after beating former champions Kolkata Knight Riders (KKR) in their last match. They have been quite impressive so far this season and are currently third on the table with eight points.
Quinton de Kock's form has petered off somewhat after a quickfire century in his first match while fellow opener Shreyas Iyer is also struggling for runs.
South Africa star Jean-Paul Duminy, Karun Nair and Sanju Samson have done well in the middle-order while English import Sam Billings showed promise with a 34-ball 54 against Kolkata in what was his first match for Delhi this season.
West Indies all-rounder Craig Brathwaite made a successful return to the team with an 11-ball 34 against the Knight Riders. South African all-rounder Chris Morris has contributed with both bat and ball.
In the bowling department, captain Zaheer Khan has struggled to re-capture his best form. But the former India left-arm pacer enjoyed a successful outing against KKR, returning figures of 3/21. Brathwaite also bagged three wickets against KKR, although he was quite expensive, giving away 47 runs in his four overs.
The squads:
Gujarat Lions: Suresh Raina (captain), Sarabjit Ladda, Akshadeep Nath, Amit Mishra, Dwayne Bravo, Paras Dogra, Eklavya Dwivedi, James Faulkner, Aaron Finch, Ishan Kishan, Ravindra Jadeja, Shadab Jakati, Dinesh Karthik, Shivil Kaushik, Dhawal Kulkarni, Praveen Kumar, Brendon McCullum, Pradeep Sangwan, Jaydev Shah, Umang Sharma, Dwayne Smith, Dale Styne, Pravin Tambe, Andrew Tye.
Delhi Daredevils: Zaheer Khan (captain), Mayank Agarwal, Khaleel Ahmed, Sam Billings, Carlos Brathwait, Nathan Coulter Nile, Quinton de Kock, Jean-Paul Duminy, Akhil Harwardkar, Imran Tahir, Shreyas Iyer, Manipal Lamror, Chama Milind, Amit Mishra, Mohammad Shami, Chris Morris, Shahbaz Nadeem, Karun Nair, Pawan Negi, Rishabh Pant, Pratyush Singh, Sanju Samson, Pawan Suyal, Jayant Yadav.
Updated Date: May 03, 2016 23:36 PM