IPL 8 Qualifier 2 CSK VS RCB as it happened: Hussey, Nehra star as CSK enter final
LIVE NEWS and UPDATES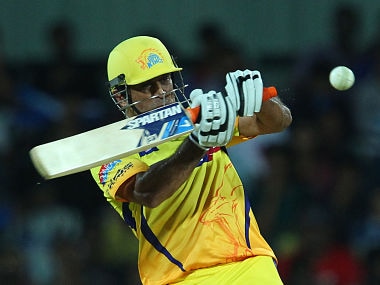 00:18 (IST)

That's it from us. Good bye and take care................

00:10 (IST)

Nehra: I have been in good rhythm and luck is also my way. I am working hard and I had a good Champions League. I have been bowling well before, but now I am picking wickets and everybody is noticing it.This Man-of-the-match award I am sharing with Hussey. This was not an easy wicket. I was just bowling wicket to wicket and trying to keep him quiet and that puts pressure on Gayle. It was slow but still new ball comes onto the bat.

00:06 (IST)

Dhoni: 140 is that kind of a score where you don't know whether to go after the bowlers or keep wickets in hand. I feel Hussey batted really well. I thought if we had scored 70 in the first 10 overs, we were in with a chance. Ashwin bowled really well against Gayle, who would have taken the game away. The fast bowlers backed him up well. Used Raina as we had to hold back the left-arm spinners till Gayle was there. It's very difficult to say what is the par score on this wicket. I think they were 10-12 runs short. We have improved with each and every game. We have to play sensibly and have to pick our moments. That's one area we need to improve.

00:04 (IST)

Ashish Nehra is named the Man of the Match.

00:02 (IST)

Kohli: I thought we were 15-20 runs short. Credit to the CSK bowlers. They squeezed us. It was a good recovery from Karthik and Sarfraz. But again CSK were too good with the bat. I always think low totals were very tricky. Against top-quality sides like CSK, you have to grab your chances whey they come your way. It would have been a different result had we held onto our chances. I don't think the dew played much of a role. It stayed the same. I am proud of the way we fought. The team that was better on the day and showed composure has gone to the finals.

23:58 (IST)

Where do you think Bangalore faltered? Obviously 15-odd runs short, but I think it was in the field. Too many fumbles, in my opinion...

— Cricketwallah (@cricketwallah) May 22, 2015

23:55 (IST)

RCB restricted CSK to 139 thanks to Nehra whose two wickets in the 5th over - De Villiers and Kohli - set the tone for the rest of the CSK bowlers. Gayle lingered to 41 off 43 but then Ashwin choked the scoring alng with Bravo and Mohit. Sarfraz provided a late burst with 31 off 21.

Chasing the target, Smith failed again but then Hussey (56 off 46) paced his innings to perfection and scored 56. Chahal bowled a lovely spell to bring RCB back into the match but Dhoni (26 off 29) and Negi (12 off 6) kept their cool and made sure CSK crossed the finish line. RCB dropped a couple of catches and were poor in the field overall and that cost them dearly!

23:51 (IST)

That's it! CSK beat RCB by three wickets to enter IPL 8 final!

Ashwin charges down the track and flicks it through square leg for a single to win it for CSK.

23:50 (IST)

OUT! Oh boy! Dhoni departs! MS Dhoni c Karthik b Patel 26 (29b 1x4 0x6)

The scores are tied but Harshal has Dhoni caught behind. Is there another twist in the tale? Full outside off, tailing away. Dhoni looks to flick but gets an outside edge to the keeper. He has a word with jadeja as he walks off.

Ravichandran Ashwin is the new batsman.

23:47 (IST)

After 19 overs, CSK 135/6 (Dhoni 22, Jadeja 0)

8 runs and to wickets off the Starc over. Dhoni finally shows some signs of aggression. Hammers the first ball over mid off for a bounadry. He then jams one to extra cover, Negi sets off but is sent back, Sarfraz misses a direct hit. Negi would have been a goner but he gets a single on the overthrow. But then Negi gets run out and then Bravo is cleaned up. 5 needed off the last over.

23:46 (IST)

OUT! 2 in 2 for RCB. Is this match still alive? D Bravo b Starc 0 (1b 0x4 0x6)

A brilliant yorker from Starc. On off, Bravo looks to drive but misses and the off stump gets knocked out.

Ravindra Jadeja is the new batsman...

23:44 (IST)

OUT! Brilliant fielding from Sarfraz.P Negi run out 12 (6b 0x4 1x6). 5 needed off 7 now....

Dhoni jams it to extra cover and they go for a non-existent single. Sarfaraz hammers knocks down the stumps at the striker's end and Negi has already given up.

Dwayne Bravo is the new batsman.

23:39 (IST)

After 18 overs, CSK 127/4 (Dhoni 15, Negi 11)

Negi doing it for CSK. Launches the second ball over deep mid-wicket for a six and then takes a couple of twos. 14 runs off the over in all. Dhoni is still dealing in singles. Clever from him, he's given the license to Negi to go after big shots. 13 needed off 12 now. This should be easy for CSK.

23:32 (IST)

After 17 overs, CSK 113/4 (Dhoni 13, Negi 0)

A very good over from Wiese. 7 runs and the important wicket of Hussey off it. 27 needed off 18 now.....

23:30 (IST)

OUT! Wiese gets Hussey at a crucial juncture. M Hussey c Patel b Wiese 56 (46b 3x4 2x6)

Short of a length delivery on middle and leg, Hussey is late onto his pull and gets a top edge to short fine leg. A very good innings comes to an end. Onus on Dhoni to finish this off now.

Pawan Negi is the new batsman.

23:27 (IST)

Wiese back on.....

23:26 (IST)

FIFTY for Hussey!

A brilliant innings so far. Three fours and one six in his innings. He's paced his innings to perfection.

23:25 (IST)

After 16 overs, CSK 106/3 (Hussey 55, Dhoni 10)

Hussey finally opens up. Charges down the track and clobbers it over long off for the first six of the innings. After a couple of singles, Hussey again hammers a six over wide long on. A single off the last ball makes it 15 runs off the over. A big over for CSK. They need 34 off 24 now...

23:21 (IST)

Chahal into his last over now.......

23:21 (IST)

After 15 overs, CSK 91/3 (Hussey 41, Dhoni 9)

CSK playing the safe game so far. They took 6 singles off the Starc over without taking any risks. 49 needed off 30 now.

23:17 (IST)

Kohli brings back Starc......

23:16 (IST)

After 14 overs, CSK 85/3 (Hussey 38, Dhoni 6)

Another fantastic over from Chahal. Dhoni is struggling to connect it off the middle. While Hussey too is struggling to pick Chahal. Just three singles off the over. 55 needed off 36 balls now. The required rate has gone over 9 now. 9.16 to be exact. Dhoni is 6 from 12 balls. He needs to get going now.......

23:12 (IST)

Chahal back on. This could be a crucial over.....

23:10 (IST)

After 13 overs, CSK 82/3 (Hussey 37, Dhoni 4)

Hussey is playing clever cricket. Takes a couple of twos off the first three balls. Then pulls the next one to fine leg for a boundary. He takes a single and then Dhoni takes one to make it 10 runs from the over. Minimal risks and decent output. They should play calculated game from here on. Dhoni has looked calm and hasn't shown any signs of aggression.

23:07 (IST)

After 12 overs, CSK 72/3 (Hussey 28, Dhoni 3)

Hussey finally releases some pressure. Leans and caresses it through covers for a boundary. Four more singles make it 8 runs off the over. 68 NEEDED OFF 48 NOW.

23:02 (IST)

After 11 overs, CSK 64/3 (Hussey 22, Dhoni 1)

Good tight over from Harshal. Just two runs off it. The pressure is building on CSK. 76 needed off 54 now.

22:59 (IST)

After 10 overs, CSK 62/3 (Hussey 21, Dhoni 0)

If RCB are to win, this could be their match changing over. Just four runs and two big wickets off it. Chahal beat Hussey's outside edge off the penultimate ball. CSK need 78 from 60 balls.

22:57 (IST)

OUT! Chahal gets second wicket in the over. SK Raina c Wiese b Chahal 0 (2b 0x4 0x6)

Flighted and full outside off, Raina, for some unfathomable reasons, charges down the track and looks to go downtown but ends up mistiming it to long off. Another flop show from Raina.

MS Dhoni is the new batsman.

22:53 (IST)

OUT! Chahal strikes! F du Plessis b Chahal 21 (22b 2x4 0x6), after 9.2 overs, CSK 61/2

Du Plessis departs. He is bowled round the legs. Loopy and full o middle and leg, Du Plessis gets down for a paddle but misses it and the off stumps is uprooted.

Suresh Raina is the new batsman.

22:47 (IST)

After 9 overs, CSK 58/1 (Hussey 17, du plessis 21)

Du Plessis finally provides some momentum. After three runs off first four balls, Du Plessis scoops one over short fine leg for a boundary and then drives it straight back past the bowler for back-to-back boundaries. 11 runs off the over. RCB need a wicket now. This partnership is starting to look ominous. CSK need 82 from 11 overs.

22:43 (IST)

After 8 overs, CSK 47/1 (Hussey 15, du plessis 12)

Poor fielding from RCB. Now they miss a run out. Then Abdulla misfields at wide long off. Then Mandeep is slow onto the ball and the batsmen take a quick single. Du Plessis tucked it to mid-wicket and both the batsmen set off for a single but they stop in the middle due to miscommunication and then decide to complete the run. De Villiers responds with a poor throw. A direct hit would have had Hussey back in the hut. 6 runs off the over.

22:39 (IST)

Yuzvendra Chahal into the attack now..

22:38 (IST)

After 7 overs, CSK 40/1 (Hussey 13, du plessis 7)

Another DROP from RCB. This time it's Karthik. Hussey looked to steer but got an outside edge and Karthik fluffed it. A good over from Wiese, 6 runs off it. With a mediocre total to defend, they can't afford to drop catches!

22:33 (IST)

After 6 overs, CSK 34/1 (Hussey 11, du plessis 5)

Another good over from Aravind. Du Plessis tried to loft one straight back but ended up mistiming it over mid on for three. Three more singles make it 6 runs from the over.

22:31 (IST)

Aravid continues.....

22:29 (IST)

After 5 overs, CSK 28/1 (Hussey 9, du plessis 1)

Hussey completes 4000 runs in T20s as he pulls one to fine leg for a boundary. Harshal bounces back to concede just one off the next four balls. 5 runs off the over.

22:24 (IST)

Harshal Patel into the attack now.

22:24 (IST)

After 4 overs, CSK 23/1 (Hussey 4, du plessis 1)

Excellent over from Aravind. He could have had wicket of Du Plessis too but Gayle DROPPED a sitter at first slip. The next ball Hussey pulled it uppishly and it just fell short of Harshal Patel at fine leg. 2 runs and a wicket off the over.

22:22 (IST)

OUT! Smith flops again! DR Smith c Starc b Aravind 17 (12b 3x4 0x6), After 3.1 overs, CSK 21/1

Good length deliver on middle and leg from Aravind, Smith stays in his crease and looks to heave but helps it straight into the hands of Starc at deep square leg. Smith grimaces as he walks back.

Faf du Plessis is the new batsman.

22:17 (IST)

After 3 overs, CSK 21/0 (Smith 17, Hussey 3)

An expensive over from Starc. He was unlucky though. Smith lofted one over covers for a boundary. He then went for a pull but got a bottom edge between the keeper and first slip for a streaky four. Three singles more in the over make it 11 from the over. Starc looks in some discomfort, looks like he's carrying that back injury from the last match.

22:13 (IST)

After 2 overs, CSK 10/0 (Smith 7, Hussey 2)

This is a decent start for CSK so far. After two singles off four balls, Smith chips one wide of mid off and it races away to the fence. He ends with a single off the last ball. 7 runs off the over.

22:10 (IST)

Sreenath Aravind will share the new ball.

22:09 (IST)

After 1 over, CSK 3/0 (Smith 1, Hussey 1)

A very good first over from Starc. He beat Smith's inside edge off the first ball and then beat Hussey's outside edge. He's getting good movement in the air. Excellent start.

22:04 (IST)

Right then! The CSK openers - Dwayne Smith and Michael Hussey have made their way out to the middle. Mitchell Starc will start off proceedings.

21:50 (IST)

CSK have restriced RCB to 139/8

Brilliant last over from Bravo. 7 runs and two wickets off it. Sarfraz had hit a four through extra cover in that over but Bravo hit back hard.

OUT! Clever from Dhoni, knocks down the stumps as the batsmen attempt to run for a bye. Harshal departs.

OUT! The slower ball works for Bravo as Sarfaraz cuts one straight to point.

21:45 (IST)

Bravo will bowl the final over.

21:45 (IST)

After 19 overs, RCB 131/6 (Sarfraz 26, Harshal 1)

A very good over from Mohit. Just 7 runs and a wicket off it. Sarfraz got a boundary in that over as he flicked one over mid-wicket. Mohit has hit back hard in this tournament. He's bowled well in the last two matches.

21:41 (IST)

OUT! Mohit gets Wiese! D Wiese c Bravo b Sharma 12 (7b 0x4 1x6). After 18.2 overs, RCB 125/6

A touch short on off, skids on, Wiese goes for a pull but gets a top edge to long on where Bravo makes no mistake.

Harshal Patel is the new batsman.
Preview: The Qualifier 2 clash here on Friday between Chennai Super Kings (CSK) and Royals Challengers Bangalore (RCB) will not only be a battle between two heavyweight Indian Premier League (IPL) teams but also of high-profile skipper duo of Mahendra Singh Dhoni and Virat Kohli.
Kohli succeeded Dhoni as the Indian Test captain after the latter's exit following the third Test match of the Australia series last year. India lost the four-match series 0-2.
The two skippers employ a vastly different mode of leadership which adds an intriguing sub-plot to the contest.
While Kohli's brash, aggressive, meeting fire-with-fire persona -- and flaunting his high-profile relationship with Bollywood actress Anushka Sharma -- often lands him in trouble on-and-off the field, Dhoni is the embodiment of calmness, earning global praise for captaining in a composed manner. Their each move will be as keenly followed as the outcome of the match.
CSK will approach the match at the JSCA International Stadium, the first one at the ground this season, psychologically in a better position after beating RCB in both the group stage matches. The winner of the match will meet Mumbai Indians in the final in Kolkata on May 24. Mumbai beat Chennai in Qualifier 1 by 25 runs on Tuesday.
Two-time champions CSK's proven record of winning crunch matches also holds them in good stead. But Friday's match is a one-off game with the current form of the vast array of star players of both teams crucial in determining the end result.
The loss against Mumbai was demoralising but Chennai must shake off the disappointment as they are getting another chance at biting the cherry.
Meanwhile, RCB are in hot form, beating Rajasthan Royals comprehensively by 71 runs in the Eliminator in Pune on Wednesday night.
Their 'holy trinity' of blasters Chris Gayle, Virat Kohli and AB de Villiers have given a good account of themselves in the competition. Besides, Punjab batter Mandeep Singh has provided good support, chipping in with crucial runs at important junctures.
They will again look to posting a strong total and then successfully defending it through a combined bowling effort of pacers, led by Aussie Mitchell Starc and spinner Yuzvendra Chahal.
CSK need to find a solution to the departure of their batting mainstay, Kiwi Brendon McCullum, who has left the team after the group phase to fulfil his national commitments.
His departure, was amply evident in the Eliminator where they failed to chase down a 188-run target. They are, though, not short of batting firepower with Faf du Plesis, Suresh Raina and Dwayne Bravo all having the skill and experience to come good in a knockout match.
But it's their tendency to give away runs when under pressure that Dhoni will be more concerned about. Veteran pacer Ashish Nehra has been steady, but he has been a lone fighter without the necessary backing from the rest of the bowlers.
IANS
Updated Date: May 23, 2015 00:18:09 IST