IPL 8 Final MI vs CSK as it happened: Simmons, Rohit power MI to second IPL title
LIVE NEWS and UPDATES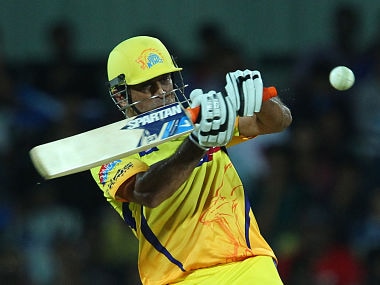 00:47 (IST)

That's it from us here. Hope you enjoyed out coverage. Until next time, goodbye and take care.

00:46 (IST)

Rohit Sharma lifts the trophy and the MI players go berserk in celebrations.................................

00:46 (IST)

Rohit: It's always been good here. I have taken a lot of memories back. I would love to keep performing like this here and entertain the crowd. To bounce back from the situation we were in in the first half I have hardly seen that. It has been a great journey and I couldn't ask for anything more. I was important to show character and we have got guys in the team to do that. We always talked that we have to show character as we are the champion team. All we wanted to do was to concentrate on our processes and forget what's going around. I was important right from game one we keep build momentum but we picked up ourselves really well in the second half and I can not take anything away from the boys.

00:42 (IST)

Dhoni : They got too many on the board. The first onver was good but the second over wasn't and that's where we gave them the momentum. We were not really to get into the game and then get back. It was a land slide moment. It was a good wickets with no uneven bounce. If we were able to get them to 180 or 185 then the game was on. When it comes to a team effort, I don't think we ever reached 100% effeciency level. But as a team we did well. Losing McCullum just before the knockouts was a big blow. We need to go back tot he drawing board and see where are the areas we need to work on to win the IPL again.

00:37 (IST)

Rohit Sharma is the second captain to win Man of the Match in #IPL final after Anil Kumble for #RCB in 2009 (lost)

— Bharath Seervi (@SeerviBharath) May 24, 2015

00:32 (IST)

Shreyas Iyer is named the emerging player of the IPL.

00:27 (IST)

Rohit Sharma is named the Man of the Match.

00:24 (IST)

T20 success is about taking care of top & tail #MI did well in both departments. Opening combo of Simmons-Parthiv & then Malinga-McClanaghan

— Aakash Chopra (@cricketaakash) May 24, 2015

00:16 (IST)

Sachin: I wasn't so nervous. It was just another game for us and that's what we discussed. The support staff was doing a good job. I would share something with the batters, I was there when my inputs were needed. It was a terrific turnaround. We didn't have a good start but it's how you finish that matters. We stuck together and from there on, we started to play good cricket. The bowlers did well and then the batting also picked up. You work hard, get the results and get the confidence in the kitty.

00:14 (IST)

Jonty: We caught some we dropped some. We saved best ground fielding for the final.

00:14 (IST)

Pontng: It's been extremely satisfying. It's been a special couple of months for me. It's been terrific to be part of a young group and we probably played out best game today. Rohit has got fond memories of this place and he was really keen to get out today.

00:11 (IST)

Players who have won three IPL titles: Rohit Sharma, Pragyan Ojha and Yusuf Pathan #IPL2015

— ESPNcricinfo (@ESPNcricinfo) May 24, 2015

00:08 (IST)

Kumble: Rohit lead from the front and he showed it today. Credit to the support staff. It was a fantastic team effort.

00:07 (IST)

#MI worthy winners...Rohit Sharma's captaincy was the highlight of this season. #IPL

— Aakash Chopra (@cricketaakash) May 24, 2015

00:05 (IST)

Simmons: "When we lost the first wicket, we needed to consolidate a bit. Rohit came on and played a very good innings. We assessed the pitch really well and got a good score on the board."

00:03 (IST)

MI posted a mammoth 202 thanks to Rohit (50) and Simmons (68). Chasing the target, Hussey departed early and CSK slowed down considerably. Smith got into a shell and then when the run rate kept climbing up he hit a few lusty blows but couldn't last long. CSK never got the momentum going and fell short by 41 runs. A comprehensive win for MI. This is their second title.

00:00 (IST)

50th defeat for MS Dhoni in #IPL. He becomes first captain to both win and lose 50 matches in tournament's history. #MIvsCSK #IPLFinal

— Rajneesh Gupta (@rgcricket) May 24, 2015

23:57 (IST)

That's it! MUMBAI INDIANS WIN BY 41 RUNS. THEY ARE THE CHAMPIONS OF IPL 2015!

Mohit Sharma cracks a couple of 6s and a four off the over but no one is bothered. The MI players erupt in celebrations..........

23:54 (IST)

Vinay Kumar will bowl the final over.

23:54 (IST)

After 19 overs, CSK 140/8 (Jadeja 10, Mohit 1)

McClenaghan finished with 3/29. He's been a revelation for MI. Just 3 runs and a wicket off this over.

23:50 (IST)

OUT! Ashwin perishes. R Ashwin c Suchith b McClenaghan 2 (4b 0x4 0x6)

A slower one on middle and leg, Ashwin looks to heave but mistimes it to deep mid-wicket where Simmons makes no mistake.

Mohit Sharma is the new batsman.

23:49 (IST)

After 18 overs, CSK 137/7 ( Jadeja 8, Ashwin 2)

Another fantastic over from Malinga. 5 runs and a wicket off it. 66 needed off 12. MI are enjoying it out in the middle. They know it's all over now.

23:46 (IST)

OUT! Negi back in the hut. MI close in on big win. P Negi c Pandya b Malinga 3 (5b 0x4 0x6)

Good length delivery on off, Negi looks to flick but gets a leading edge to point where Padya makes no mistake.

Ravichandran Ashwin is the new batsman.

23:44 (IST)

After 17 overs, CSK 132/6 ( Negi 6, Jadeja 3)

A successful over from Vinay Kumar. 7 runs and a wicket off it. 71 needed off 18. Meanwhile, Matthew Hayden is busy taking selfie with Sachin Tendulkar near the dug out.

23:40 (IST)

OUT! Another one bites the dust. Du Plessis back in the hut. F du Plessis c Sharma b Vinay Kumar 1 (3b 0x4 0x6)

Full outside off, Du Plessis stays in his crease and smashes it but straight to extra cover where Rohit leaps in the air and pouches a very good catch.

Ravindra Jadeja is the new batsman.

23:37 (IST)

After 16 overs, CSK 125/5 (Du Plessis 1, Negi 2)

An expesive over from Malinga but most importantly he got the wicket of Dhoni who launched him over long on for a six early in the over. 13 runs and a wicket off the over. 78 needed off 24. It's almost out of reach until a miracle happens!

23:36 (IST)

OUT! Malinga strikes with a killer yorker. Probably the last nail in CSK's coffin as Dhoni departs. MS Dhoni b Malinga 18 (13b 1x4 1x6)

Yorker on middle and leg, Dhoni goes for a wild swing but misses. The ball hits the pads and ricochets onto the stumps.

Faf du Plessis is the new batsman.

23:31 (IST)

India couldn't win the WC. At least a team called Indians is winning the #IPL

— cricBC (@cricBC) May 24, 2015

23:30 (IST)

After 15 overs, CSK 112/4 (Dhoni 9, Negi 0)

A mixed over for MI but they got the wicket of Bravo from it. Bravo hammered the first ball over the sightscreen for a six but McClenaghan hit back to take his wicket. Dhoni then pulled one behind square leg for a boundary. 10 runs and a wicket off it. 91 needed off 30.

23:27 (IST)

OUT! Bravo departs now. The CSK ship is sinking. D Bravo c Simmons b McClenaghan 9 (6b 0x4 1x6).

A touch short outside off, Bravo goes for a slash but gets an outside edge to third man. Simmons makes to mistake.

Pawan Negi is the new batsman.

23:25 (IST)

McClenaghan back on.....

23:24 (IST)

Bhajji's bowling: 4-0-34-2 Big wickets of Smith and Raina. #CSKvMI #IPLFinal

— HoldingWilleyCricket (@holdingwilley) May 24, 2015

23:24 (IST)

After 14 overs, CSK 102/3 (Dhoni 5, Bravo 3)

Fantastic over from Harbhajan. Just 4 runs and a wicket off it. He beat Bravo too and it flew inches past the off stump. The game is slipping away from CSK. They need 101 from 36. Dhoni needs to go berserk from here on.

23:21 (IST)

OUT! Harbhajan strikes! S Raina st Patel b Harbhajan Singh 28 (19b 3x4 1x6). After 13.3 overs, CSK 99/3

Raina departs. Clever bowling from Harbhajan. Sees Raina dance down the track and bowls a faster one outside off. Raina fails to dig it out and misses. Parthiv is quick and clips the bails off.

Dwayne Bravo is the new batsman.

23:19 (IST)

Harbhajan continues......

23:17 (IST)

After 13 overs, CSK 98/2 (Raina 28, Dhoni 4)

Clever batting in that over but they need much more. Dhoni and Raina take a couple of twos and then Raina launches it over extra cover where McClenaghan puts in a lazy effort and makes a mess of it. 9 runs off the over. But CSK need 15 runs an over now.

23:15 (IST)

Looks like Dhoni wants to take this into the 50th over...

— Nitin Sundar (@knittins) May 24, 2015

23:13 (IST)

Pandya continues......

23:12 (IST)

After 12 overs, CSK 89/2 (Raina 22, Dhoni 1)

A successful over from Harbhajan. 8 runs and a wicket. Dhoni has walked out to the middle and he needs to play a captain's innings here. He's been off color throughout the tournament.

23:11 (IST)

OUT! Harbhajan strikes at a crucial juncture. D Smith lbw b Harbhajan Singh 57 (48b 9x4 1x6), After 11.5 overs, CSK 88/2

Flighted and full on middle, spins back in a tad. Smith gets down for a slog sweep but misses and gets hit right in front. The umpire raises his finger straightaway.

MS Dhoni strides out to the middle.

23:08 (IST)

After 11 overs, CSK 81/1 (Smith 52, Raina 20)

An eventful over that! Smith pulls the first one through mid-wicket for a boundary. Raina then shuffles and pulls one behind square for the second boundary in the over. Harbhajan then misses a run out chance. There is a huge shout for an LBW against Raina but the umpire says no, the ball rolls over to short third man, Raina sets off but is sent back. Harbhajan misses his direct hit. Had he hit, Raina was a goner. Smith then guides one through point for a boundary to bring up his fifty off 45 balls. 14 runs off the over.

23:03 (IST)

Pandya back into the attack now....

23:03 (IST)

After 10 overs, CSK 67/1 (Smith 43, Raina 16)

Raina finally gets going. After just four runs off the first five balls, Raina charges down the track and hammers it over deep mid-wicket for a six. 10 runs off the over. CSK need much of these. CSK need 136 from 60 balls.

23:00 (IST)

Harbhajan Singh continues........

23:00 (IST)

After 9 overs, CSK 57/1 (Smith 41, Raina 9)

After two runs off the first two balls, Smith smacks one through extra cover for a boundary. There is a huge appeal for an LBW off the penultimate ball but the height saved Smith. It looked close though. Just 7 runs off the over. Smith has picked up the scoring but they need more than that. Raina needs to up the ante.

22:53 (IST)

After 8 overs, CSK 50/1 (Smith 36, Raina 8)

Smith finally looking to attack. He reverse sweeps the first ball wide of the short third man for a boundary. He then ends the over with a heave over mid-wicket for the second four of the over. Raina, in between, mishit his loft to deep cover for a single. He isn't looking confident. 12 runs off the over.

22:48 (IST)

Harbhajan Singh into the attack now.
Preview: In what could be deja vu from 2013, Eden Gardens will again host Chennai Super Kings (CSK) and Mumbai Indians (MI), who will lock horns for the most coveted domestic prize, the Indian Premier League (IPL) title here on Sunday.
While CSK have won the title twice, MI had clinched it once two years earlier.
However, the road to the final was not easy for either of the two teams. Mumbai had a disastrous start to their campaign as they lost all of their first four matches.
But just when things looked bleak for the Rohit Sharma-led outfit, the team bounced back with some panache as it won seven of its last nine group games to make it to the title round.
They took along the momentum to the Wankhede stadium -- their home turf -- where they beat CSK by 25 runs in Qualifier 1 and booked a place in the ultimate showdown.
Chennai, on the other hand, had a consistent season as they finished atop the league table with 18 points from 14 games.
But the heavyweights had a slip up enroute to the final, at the Wankhede, but recovered with a very clinical performance against the Royal Challengers Bangalore (RCB) on Friday night as they outdid Virat Kohli's side by three wickets in Ranchi.
Considering the head to head battles, it is difficult to differentiate between the two franchises with Mumbai having clinched 11 games to CSK's 10.
Thus a battle of the titans await the fans and supporters at Eden on Sunday as each side unleash their full fury to clinch the trophy on a wicket that has fulfilled expectations this tournament.
"It is a different wicket than last year, you want to see a good battle between bat and ball and that is what is happening... very pleased with the pitch," Kohli had said after an earlier game.
However, Eden's pitch curator Prabir Mukherjee refrained from commenting on the fresh strip that will host the two teams, saying, "You will have to decide for yourself whether it is a sporting wicket when the final starts on Sunday."
The strip may, however, be witness to a Caribbean calypso as both sides boast of a top order having swashbuckling willowers from the West Indies.
While it will be Lendl Simmons -- who carved a brilliant 51-ball 65 in Qualifier 1 for Mumbai -- for CSK, Dwayne Smith will open the batting. The Caribbean flavours continue as all-rounders Dwayne Bravo and Kieron Pollard don the yellow and blue jerseys respectively.
Bravo is also the leading wicket-taker this season with 24 victims from 15 innings.
The other big guns who can step up to make a difference in the big game can be the two skippers, namely Rohit Sharma for MI, and Mahendra Singh Dhoni for the Super Kings.
One also needs to note that for the former, it has been personally one of the most happy hunting grounds as in the opening game this season he had scored a blistering 98 not out against KKR.
With the leather, both side possess an formidable weaponry, with the likes of Lasith Malinga (MI) and Ashish Nehra (CSK) marshalling the respective departments. And they sure know how to turn things around in a pressure situation.
Will it be the big guns who will make a difference or will the likes of Pawan Negi and Hardik Pandya deliver the goods and become an unlikely hero, one has to wait and watch.
IANS
Updated Date: May 25, 2015 00:47:50 IST