After 60 matches and 47 days, 1 run proved to be real difference between the champions and the runners-up. Mumbai Indians edged Rising Pune Supergiant in the final to win their third title, which brings us to the last episode of our show Free Hit, a cricket talk show brought to you by Firstpost in association with Exhale Sports. A fun-filled show where former cricketers Rohan Gavaskar and Amol Muzumdar talk about their favourite moments of the 2017 Indian Premier League (IPL) and announce different awards. But these are not your regular awards, but those with a difference.
Sunil Narine was chosen for the 'Shock of the Season' award by Udi and Gaff, as the Kolkata opener proved to be a real match-winner for his side not just with the ball but also with the bat.
Titanic award: RCB (an allusion to their sinking without a trace)
Team spirit award: Virender Sehwag and Glenn Maxwell (with tongue firmly in cheek)
Bromance award: Sanjay Manjrekar and Kieron Pollard (with a Tino Best cameo)
Herschelle Gibbs award (You just dropped the World Cup mate, remember?): Krunal Pandya's fluffed catch of Ajinkya Rahane in the final
Young Gun award: Basil Thampi
Story of the IPL: Rishabh Pant coming back to play the tournament after his father expired
To know about the other awards, watch the above video.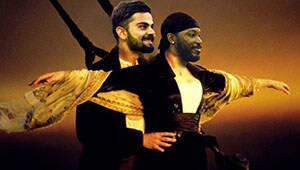 Updated Date: May 26, 2017 11:59:15 IST