IPL 2016, KXIP vs MI as it happened: Parthiv, Rayudu shine as Mumbai beat Kings XI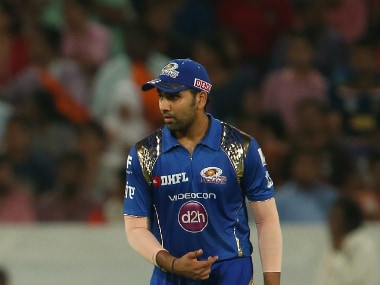 23:51 (IST)

Parthiv Patel is named the Man of the Match.

23:42 (IST)

For just the 4th match in 21 at #IPL2016 a team wins batting first#MumbaiIndians also avoid being the first team to register 5 defeats

— The Cricket Prof. (@CricProf) April 25, 2016

23:40 (IST)

That's it! MI back to winning ways, beat KXIP by 25 runs.

McClenaghan bowled some lethal yorkers at the death following Bumrah's exploits in the previous over. KXIP lost the momentum in the middle overs, Maxwell hit his first fifty in 15 matches but then kept it for too late. Mumbai Indians bowled well in the middle overs and then Bumrah scalped Maxwell to blow away any chance that KXIP had. Miller too didn't get going and KXIP suffered yet another embarrassing defeat. KXIP lost half the battle giving away 189 on a big ground. Bangar too was critical of the bowlers at the post match presentation.

23:32 (IST)

Double blow for KXIP!

McClenaghan with two brilliant yorkers. One uproots Axar's stumps and the other Mitchell Johnson's.

The Game all but over for KXIP.

23:28 (IST)

After 18 overs, Punjab 147/5 ( David Miller 15 , Axar Patel 0)

Bumrah has turned the match on his head. Miller had hit Pollard for a six over deep mid-wicket where Krunal's slam dunk effort went in vain as he couldn't hold on to a catch. But then McClenaghan build the pressure giving away just six runs. Bumrah pounche dupon it with two wickets in the 18th over and conceding just 2 runs. 20 runs and 2 wickets off the last 3 overs. 49 needed off 12 now.

23:23 (IST)

OUT! Sound of timber. Bumrah with his special yorker. NS Naik b Bumrah 1 (3b 0x4 0x6)

On the off stump. Naik goes for a wild swing. Misses and finds his off stump uprooted.

Axar Patel is the new batsman.

23:20 (IST)

OUT! Maxwell drags it on. Bumrah strikes. GJ Maxwell b Bumrah 56 (39b 5x4 1x6)

It's that slower one that does the trick. Lenght delivery outside off, Maxwell looks to swing across the line but is done in by the change of pace and ends up dragging it onto the stumps.

Nikhil Naik is the new batsman.

23:15 (IST)

Just the second half-century for Maxwell in 33 IPL innings in India. He scored 3 50s in 5 IPL innings in UAE. #KXIPvMI

— Bharath Seervi (@SeerviBharath) April 25, 2016

23:13 (IST)

FIFTY for Maxwell! He gets it after 25 innings in IPL. It was a long wait! 50 off 33 balls with five fours and one six. He is crucial to KXIP's chances now.

23:11 (IST)

After 15 overs, Punjab 121/3 ( Glenn Maxwell 48 , Miller 0)

Just when Mumbai Indians needed a breakthrough, Southee provided one. Marsh was looking ominous. He hammered a powerful six over long on off Harbhajan, Maxwell then joined with a thumping six off Southee but the NZ bowler bounced back to remove Marsh off the final ball of the 15th over. 26 runs and a wicket off the last 3 overs.

23:07 (IST)

OUT! Southee provides the much-needed breakthrough. S Marsh c Rayudu b Southee 45 (34b 3x4 1x6)

It's full on the pads, Marsh stays in the crease and flicks it, nonchalantly, but straight to Rayudu at deep square leg. Marsh misses out on his fifty.

22:55 (IST)

Glenn Maxwell playing proper shots >>>>>>> Glenn Maxwell playing reverse nonsense

— Peter Miller (@TheCricketGeek) April 25, 2016

22:55 (IST)

After 12 overs, Punjab 95/2 (Shaun Marsh 34 , Glenn Maxwell 34)

Maxwell is starting to look dangerous now. He Smacks Harbhajan through wide long on for four. Then gets an inside edge wide of the keeper for four off Pollard before carving the next one wide of backward point for another four. He then smacks one off Harbhajan through extra cover for his fourth boundary in three overs. 27 runs off the last 3 overs.

22:43 (IST)

After 9 overs, Punjab 68/2 ( Shaun Marsh 27 , Glenn Maxwell 14)

Shaun Marsh doing well to get that odd boundary every over. He has hit one four in each of the last three overs which has kept the scoreboard moving. 28 runs off the last 3 overs. Surpirsingly, Maxwell has been pretty quiet so far with 14 from 13 balls.

22:33 (IST)

Krunal Pandya into the attack now.

22:29 (IST)

After 6 overs, Punjab 40/2 ( Shaun Marsh 6 , Glenn Maxwell 8)

MI have done really well to pull this back and maintain the stranglehold. McClenaghan bowls a frugal over giving away just 7 in his first over and then Bumrah gets the wicket of Vohra giving away just 5. Maxwell then releases some pressure with a boundary wide of short fine leg with a pull. 19 runs off the last 3 overs.

22:25 (IST)

OUT! Bumrah strikes. Vohra back in the hut. M Vohra c Buttler b Bumrah 7 (11b 0x4 0x6)

Not the greatest of deliveries, it tad wide outside off, on good length. Vohra stays in his crease and cuts it straight to Buttler at point.

Glenn Maxwell is the new batsman.

22:15 (IST)

After 3 overs, Punjab 21/1 ( Manan Vohra 2 , Shaun Marsh 0)

KXIP have got off to a brisk start but lost Vijay in process. Vijay got a lifeline and he might make MI pay for it. He got a leading edge off just the third ball of the over and Krunal at mid on spilt a difficult catch. He was running backwards and leapt in the air but couldn't manage to hold on. Vijay then added insult to injury but hitting a couple of fours of McClenaghan in the next over as he flicked one nonchalantly over mid-wicket and then trickled one wide of short fine leg. He then hammers one over deep square leg off Southee for the first six of the innings before departing the next ball.

22:14 (IST)

OUT! Southee draws first blood! M Vijay c Buttler b Southee 19 (13b 2x4 1x6)

Vijay had just spanked a six off the previous ball, this time Vijay again goes for a big one, eyeing the long off region but Southee cleverly delivers a slower one, Vijay ends up miscuing high in the air, Buttler at point settles under it and pouches a very good catch.

Shaun Marsh is the new batsman.

21:59 (IST)

Right! Back for the chase. Manan Vohra and Murali Vijay are the openers. Tim Southee will start off proceedings.

21:53 (IST)

Target looks real stiff. But Punjab's overseas batsmen - especially Miller & Maxwell who've struggled badly yet - have chance at redemption

— Cricketwallah (@cricketwallah) April 25, 2016

21:52 (IST)

Mohit Sharma has taken 7 wickets in this IPL - all in the death overs (last five). 4 of those in the 20th over! #KXIPvMI

— Bharath Seervi (@SeerviBharath) April 25, 2016

21:46 (IST)

Mumbai Indians have posted 189/4

A good end for KXIP, they conceded just 13 runs off the last 2 overs scalping 3 wickets.. But Mumbai have done well to post 189.Johnson had bowled a very good over until Hardik spanked him for a four over extra cover off the last ball. Johnson had Parthiv caught at backward point and gave away just 5 runs off the five balls off the penultimate over. Mohit then bowled a brilliant last over where he bamboozled Pollard with his slower ones and after a couple of dots, had him caught at short third man and then had Hardik Pandya caught at mid off. Johnson gave away 9 runs along with a wicket while Mohit gave away just 4 runs along with 2 wickets. Parthiv (81) and Rayudu (65) the chief archietects of MI's innings.

21:37 (IST)

After 18 overs, Mumbai 176/3 ( Parthiv Patel 80 , Kieron Pollard 2)

Buttler came out all guns blazing. He hammered a couple of powerful sixes over long on off Sahu and then put on an exhibition of a wide array of scoops, one over slips off Sandeep for four, then one over short fine leg for four off Mohit and then one over the keeper off the the next ball. 36 runs and one wicket off the last 3 overs.

21:33 (IST)

OUT! Mohit cleans up the dangerous Buttler. JC Buttler b Sharma 24 (13b 3x4 1x6)

Buttler has hit him for consecutive fours off the previous two balls, this time, he bowls a slower one, totally foxex Butler who is early into his swing and misses. The ball shatters the stumps. But a very good cameo ends.

Kieron Pollard is the new batsman.

21:25 (IST)

Really think Punjab should stick to their strengths, not too late to make this a farming franchise#KXIPvMI

— Gaurav Sethi (@BoredCricket) April 25, 2016

21:22 (IST)

After 15 overs, Mumbai 140/2 ( Parthiv Patel 70 , Jos Buttler 1)

MI have upped the ante big time. Parthiv hits a couple of well timed lofts over mid off and extra cover off Sandeep. He then lays into Johnson for a couple of fours more. Rayudu then cracks a couple of sixes, one over the bowler Axar's head and then over long on before holing out to long on. 39 runs off the last 3 overs.

21:19 (IST)

OUT! Axar provides KXIP some relief. A Rayudu c Vohra b Patel 65 (37b 4x4 4x6)

A tad full outside off, Rayudu gets down and goes for a slog sweep but doesn't connect well and helps it straight into the hands of Vohra at deep mid-wicket.

Jos Buttler is the new batsman.

21:03 (IST)

FIFTY for Parthiv! A huge relief for him. He was struggling to convert starts but has done well here to set a platform 50 off 41 balls with six fours and one six.

21:00 (IST)

After 12 overs, Mumbai 101/1 ( Parthiv Patel 47 , Ambati Rayudu 51)

The 100-run stand comes up between Parthiv and Rayudu. They have started accelerating now. Parthiv gets an outside edge to third man for streaky four but then gets stuck into Sahu and hammers it over long on for a well timed six. Rayudu then takes on Axar as he hemmers him over logn on for a six and then crunches one over extra cover for four. 32 runs off the last 3 overs.

20:58 (IST)

Most fifty plus scores for Mumbai Indians in IPL:
20 - Rohit Sharma
14 - Sachin Tendulkar
13 - AMBATI RAYUDU#KXIPvMI #IPL

— Sampath (@SAMPATHB24) April 25, 2016

20:58 (IST)

FIFTY for Rayudu! He's making the most of the promotion to no.3. He's the only Mumbai batsman who's looked assured since his promotion to number 3. 50 off 31 balls with four 4s and 2 sixes. Another crucial innings.

20:48 (IST)

After 9 overs, Mumbai 69/1 ( Parthiv Patel 32 , Ambati Rayudu 35)

Another three-over period where the batsman gets a lifeline. Parthiv and Rayudu have done well to get the scoreboard ticking. Rayudu hammers one over long on off Maxwell for a six. He then cuts one to point for four before going for a slog sweep which he doesn't connect off the middle and to his delight, Axar drops an absolute sitter. 30 runs off the last 3 overs.

20:33 (IST)

After 6 overs, Mumbai 39/1 ( Parthiv Patel 23 , Ambati Rayudu 15)

Parthiv Patel gets a lifeline. He pulled one powerfully but straight to deep backward square leg but the umpire checked for a front foot no ball and replays showed he had indeed overstepped. Parthiv was caught at mid-wicket off the free hit ball. However, he then added insult to injury by hammering a couple of fours. Axar and Sandeep bowled a couple of frugal overs to give away 12 runs combined in two overs. KXIP had done well to maintain the stranglehold until the 5th over before Rayudu and then Parthiv launched into Johnson to hammer 14 runs. 26 runs off the the last 3 overs.

20:15 (IST)

Axar Patel into the attack now.

20:14 (IST)

After 3 overs, Mumbai 13/1 ( Parthiv Patel 12 , Ambati Rayudu 1)

A decent start for Kings XI Punjab. Sandeep removed Rohit off the second ball of the innings. He got good inward movement and bowled a frugal over first up. Parthiv then took on Johnson in the next over as he hit a couple of fours. An exquisite cover drive followed by a flick wide of short fine leg for consecutive fours. Sandeep bowls another good over where he provides good change of lengths. Parthiv is looking in good touch and middled a couple off Sandeep but straight to the fielder.

20:09 (IST)

Most ducks for Mumbai Indians in IPL:
12 Harbhajan
7 Rayudu
6 Malinga, ROHIT
4 Tendulkar#IPL2016 #KXIPvMI

— Bharath Seervi (@SeerviBharath) April 25, 2016

20:03 (IST)

OUT! Rohit departs! RG Sharma c Naik b Sandeep Sharma 0 (2b 0x4 0x6)

Good length delivery outside off, taling in a tad. Rohit stays in his crease and looks to cut bit gets an outside edge to the keeper. What a start for KXIP!

Ambati Rayudu is the new batsman.

20:01 (IST)

Right! Rohit Sharma and Parthiv Patel have made their way out to the middle. Sandeep Sharma will start off proceedings.

19:54 (IST)

Parthiv Patel has 4 fifties vs KXIP. The most he has scored against an opponent in Twenty20 Cricket. #KXIPvMI #IPL

— Sampath (@SAMPATHB24) April 25, 2016

19:44 (IST)

MI XI: RG Sharma, P Patel, A Rayudu, K Pandya, J Buttler, K Pollard, H Pandya, H Singh, T Southee, M McClenaghan, J Bumrah

19:38 (IST)

KXIP XI: M Vijay, M Vohra, S Marsh, D Miller, G Maxwell, N Naik, A Patel, M Johnson, M Sharma, P Sahu, Sandeep Sharma.

19:36 (IST)

MI have gone unchanged, while KXIP opt to bring in Mitchell Johnson and Pardeep Sahu in their team.

19:35 (IST)

TOSS - Finally, David Miller calls it right. KXIP have won the toss and elected to bowl.

18:32 (IST)

Hello and welcome to Firstpost's live coverage of the 21st match of the ongoing Indian Premier League (IPL) match between Kings XI Punjab (KXIP) and Mumbai Indians (MI), which is to take place at the PCA IS Bindra Stadium in Mohali on Monday. This is Jigar Mehta, and I shall be presenting to you the live updates of the match.
PREVIEW: Even as they struggle to find the winning formula, laggards Kings XI Punjab (KXIP) will still fancy their chances when they host Mumbai Indians (MI) in the Indian Premier League (IPL) match in Mohali on Monday.
Mumbai Indians have so far had a mixed bag having won two games against Kolkata Knight Riders (KKR) and Royal Challengers Bangalore (RCB) while losing four.
On the other hand, KXIP, whose performance in the tournament so far has been pedestrian, have managed to notch
up just one win from five outings and are placed at the bottom of the points table among the eight teams.
The Rohit Sharma-led Mumbai side suffered defeats against Rising Pune Supergiants (RPS), Gujarat Lions (GL), Sunrisers Hyderabad (SRH) and Delhi Daredevils (DD).
In their last match played at Delhi on Saturday, Mumbai lost by 10 runs chasing a victory target of 165. Rohit (65) and Krunal Pandya (36) were unfortunate to get run-out as Mumbai could only manage 154 for seven.
MI initially struggled to get their team combination right, but they did come good with a convincing chase of 170-plus score against Virat Kohli's RCB.
Two-time title winners, MI slumped to defeats in both their home matches this season to IPL debutants Rising Pune
Supergiants (RPS) and Gujarat Lions and have now lost a game in their away campaign as well.
Mumbai's top-order batting has failed to come good so far barring the captain, who was instrumental in both their wins scoring superb half-centuries.
But in most games, the leading batsmen have failed to click as a unit. Martin Guptill, who replaced injured Lendl Simmons, failed to live upto the expectations in his first game against Sunrisers Hyderabad, prompting Mumbai team management to drop him against RCB and Delhi matches.
Much would depend on all-rounder Kieron Pollard as Mumbai look to keep up the pressure on struggling Punjab.
Firstpost is now on WhatsApp. For the latest analysis, commentary and news updates, sign up for our WhatsApp services. Just go to Firstpost.com/Whatsapp and hit the Subscribe button.
Updated Date: Apr 26, 2016 00:05:33 IST