IPL 2016, MI vs RPS as it happened: Rahane powers Pune to thumping win over Mumbai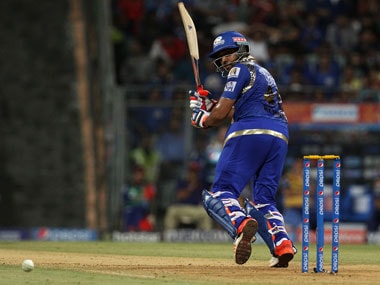 23:14 (IST)

Ajinkya Rahane is named the Man of the Match.

23:14 (IST)

India regulars: 16 runs, 1 wkt
bench-warmers: 111 runs, 1 wkt

— Nikhil Naz (@NikhilNaz) April 9, 2016

23:04 (IST)

Mumbai Indians recent IPL opening games:

2016: L
2015: L
2014: L
2013: L

— Alt Cricket (@AltCricket) April 9, 2016

23:01 (IST)

Rising Pune Super Giants win by 9 wickets!

What a debut for Pune. A thumping win over hosts Mumbai. Rahane remains not out on 66 off 42 balls.

MI had one chance for a slight turnaround but Gopal missed it as he dropped a caught and bowled chance of Rahane off the final ball of the 12th over. Pietersen then again hammered Harbhajan over deep mid-wicket for a six in the next over. Rahane showed he can mix grace with brute force as he hammered Pandya over long on for a flat six and then finished the game off in style with a six over third man. Pietersen remained unbeaten on 21 off 14 balls.

22:51 (IST)

FIFTY for Rahane!

A brilliant innings so far and a sensible one too. Seven fours and one six in his innings so far.

22:50 (IST)

After 12 overs, Pune 96/1 ( Rahane 47, Pietersen 11)

Harbhajan got some turn. He beat Pietersen off the first ball with one that spun in sharply as Pietersen missed his punch. His first over yielded just 3 runs and a wicket. But Pietersen took him on in his next over by clobbering him over wide long on for a six. 20 runs and a wicket off the last 3 overs.

22:42 (IST)

OUT! It's been a one man show for MI tonight! Harbhajan breaks the opening stand. F du Plessis b Harbhajan Singh 34 (33b 1x4 3x6)

Du Plessis departs. Length delivery on the leg stump, Du Plessis gets down for a sweep but misses, it hits his thigh pad, then arm and rolls onto the stumps.

Kevin Pietersen is the new batsman.

22:37 (IST)

After 9 overs, Pune 76/0 ( Rahane 39, Du Plessis 33)

Things have slowed down. Sensible batting from Du Plessis and Rahane. They are dealing in singles after a blistering start. 9 singles and then Rahane plays a crisp drive, uppishly through mid off for a four. 19 runs off the last three over.

22:24 (IST)

Vinay Kumar into the attack now.

22:23 (IST)

Powerplay Comparison: #MI: 37-4 (23 dot balls; 4 boundaries)#RPS: 57-0 (20 dot balls; 10 boundaries)#IPL #MIvRPS

— The Cricket Prof. (@CricProf) April 9, 2016

22:23 (IST)

After 6 overs, Pune 57/0 (Rahane 31, Du Plessis 26)

Pune are running away with this. Rahane looking in good touch. Du Plessis ominous. He cracks one through covers off Bumrah and then pulls one off McClenaghan for a six over deep square leg. Du Plessis then joins the party as he clobbers a slower one from McCleneghan over long on for the second six off the over but the New Zealand pacer hits back beating the South African off consecutive balls. Du Plessis then gets a lifeline thanks to a comedy of errors from Buttler. Rahane tucks it to the leg side, the run through for a single, Rahane scampers through for a second, Du Plessis sets off but then sees the fielder charge on the ball and retreats. The throw is high, Buttler fails to collect it with a leap and fumbles, Du Plessis decides to complete the run, Buttler still has time to recuperate and throw down the stumps at the non-striker's end but he misses a simple shy. He then adds insult to injury with consecutive sixes, one off a free hit to make it 20 runs off the Bumrah over. The 50 stand has come up.

22:08 (IST)

At no cost Rohit Sharma wants to win:
1. Not bowling on this surface after winning the toss
2. Defensive fielding now
#VIVOIPL

— Abhishek Shekhawat (@abhi07cricket) April 9, 2016

22:07 (IST)

After 3 overs, Pune 18/0 (Rahane 12, Du Plessis 6)

A decent start from Pune. At this stage, Mumbai had already lost Rohit. It was a streaky start from Rahane. He drove the first ball of the innings for four straight back past the bowler. But then got a leading edge which fell short of the backward point fielder and then went for a drive but got a thick outside edge wide of the first slip fielder for second four in the over. Du Plessis then had a heart in the mouth moment in the second over from Bumrah where he got an inside edge which flew tantalizingly wide of the off stump for four. Rahane then showed his class again in the next over, from McClenaghan when he smashes one straight back past the bowler uppishly for his third four of the innings.

21:54 (IST)

Right the Pune openers - Ajinkya Rahane and Faf du Plessis have made their way out to the middle. Mitchell McClenaghan will start off proceedings for Mumbai.

21:49 (IST)

The lowest score successfully defended by #MI is 120 - v Pune Warriors India in 2012. #IPL #MIvRPS #RPS

— The Cricket Prof. (@CricProf) April 9, 2016

21:44 (IST)

90 off the first 18. 31 off the last two. MI's innings started like they begin IPLs. And finished like they finish them.

— Sidvee (@sidvee) April 9, 2016

21:41 (IST)

Highest individual scores at No.8 in IPL
64 (24) Harbhajan v KXIP, Wankhede, 2015
45* (30) Harbhajan v RPS, Wankhede, 2016

— Bharath Seervi (@SeerviBharath) April 9, 2016

21:40 (IST)

Mumbai Indians post 121/8

Harbhajan's late flurry has made sure Mumbai has at least crossed the 100 mark. He smashes one straight back over RP Singh's head for four and then swats one over short fine leg. He then lays into Ishant as he cracks one straight back past the bowler for four, hammers one into the RPS dug out for a flat six off the next ball and then smashes the next ball through extra cover for another four. 17 runs off the last over. 31 runs off the last two overs. Harbhajan remains not out on 45 off 30 balls.

21:33 (IST)

OUT! Vinay Kumar holes out. RP Singh gets his first wicket. R Vinay Kumar c Smith b Singh 12 (11b 0x4 1x6)

Short on off, Kumar goes for a pull but is done in by the extra pace. He ends up top edging it to deep mid-wicket where Smith accepts a simple catch.

Mitchell McClenaghan is the new batsman.

21:29 (IST)

RP Singh back on to bowl the 19th over.

21:29 (IST)

11 overs of dot balls! Jeez Mumbai that's beyond pathetic

— Minal (@Granger_Gab) April 9, 2016

21:29 (IST)

After 18 overs, Mumbai Indians 90/7 (Harbhajan 17, Vinay Kumar 12)

NO WICKETS IN THE LAST TWO OVERS! A couple of boundaries too. Harbhajan smashes one straight back past the bowler for four and then Vinay Kumar clobbers one over long off for a six. 15 runs off the last two over.

21:26 (IST)

SIX! This is surely an event! Finally, something happens for Mumbai Indians.

A tad short from Marsh, Vinay Kumar slaps it over long off for a flat six. Something to smile for the home fans.

21:19 (IST)

Just spotted a Mumbai Indian player in the middle of all the sponsors.

— Trendulkar (@Trendulkar) April 9, 2016

21:19 (IST)

After 16 overs, Mumbai Indians 75/7 ( Harbhajan 12, Vinay Kumar 2)

There is no momentum at all in this Mumbai Indians innings. M Ashwin and Rajat Bhatia bowled disciplined lines. Bhatia finished with figures of- 4-1-10-1. Rayudu, Mumbai's last hope, got out on an innocuous ball from Ravichandran Ashwin who became the fourth bowler this night to scalp a wicket off the first ball of the spell. Harbhajan got a four with a late cut through backward point to bring some cheer inside Wankhede. 18 runs and a wicket off the last four overs.

21:14 (IST)

4 bowlers have taken a wicket off their first ball of the innings today - Ishant, M Marsh, Bhatia and R Ashwin.#IPL2016 #MIvRPS

— Bharath Seervi (@SeerviBharath) April 9, 2016

21:13 (IST)

OUT! Another bowler gets a wicket off the first ball. Ashwin strikes to remove Rayudu! AT Rayudu c du Plessis b R Ashwin 22 (27b 2x4 0x6)

It's a short ball, an innocuous one. Doesn't bounce much. Rayudu rocks back and pulls it straight to Du Plessis at short mid-wicket. Everyone is shocked, Du Plessis is laughing. How could he get a wicket off that ball expression on everyone's face.

Vinay Kumar is the new batsman.

21:10 (IST)

No Ravichandran Ashwin bowling as yet. Dhoni still pissed with him for some reason?#MIvRPS

— Amit Banerjee (@akb287) April 9, 2016

21:05 (IST)

Shastri still pronouncing - Rising Pune Super Joints.
Meanwhile, not a single joint moving in MI's legs. #MIvRPS

— jigar mehta (@jigsactin) April 9, 2016

21:04 (IST)

After 12 overs, Mumbai Indians 57/6 ( Rayudu 12, Harbhajan 1)

Another three over period where Mumbai loses a wicket. It's been a procession so far. Shreyas Gopal got into a shell and departed after just 2 off 16 balls. Rayudu released some pressure with a four through extra cover off Bhatia. The ball is holding up a bit on the surface. MI need a move on from here on. Rayudu is the key.

20:59 (IST)

Gopal faced 14 dot balls in his 16 balls innings before being dismissed by Ashwin. #IPL #MIvRPS #MI #RPS

— The Cricket Prof. (@CricProf) April 9, 2016

20:59 (IST)

MI 51/6. Pune people be like: why didn't they ban csk six years ago!

— Sidvee (@sidvee) April 9, 2016

20:58 (IST)

OUT! Murugan Ashwin strikes in his first over. S Gopal c Rahane b M Ashwin 2 (16b 0x4 0x6)

He was too short off the first five balls. But he tosses this one up outside off, Gopal uses his feet and looks to go downtown, doesn't connect it well and helps it straight into the hands of Rahane at long off.

Harbhajan Singh is the new batsman.

20:52 (IST)

Marsh has done a brilliant job so far - 3-0-11-2

20:51 (IST)

2000 runs for Ambati Rayadu in #IPL:
- 24th player overall
- 3rd for MI after Sachin Tendulkar & Rohit Sharma#MIvRPS #IPL2016

— Deepu Narayana (@deeputalks) April 9, 2016

20:50 (IST)

After 9 overs, Mumbai Indians 47/5 ( Rayudu 9, Gopal 1)

Pune keep striking at regular intervals and Mumbai has all the momentum sucked out because of that. Rajat Bhatia struck with his first ball to remove Pollard and ended with a wicket maiden. Earlier Pollard was lucky to survive as a huge LBW shout was turned down against him off a full toss from Marsh. He didn't last long and walked back in the very next over. Rayudu finally released some pressure with a flick behind square leg for a four. 10 runs and a wicket in the last three overs. The hosts are in a real spot of bother.

20:45 (IST)

Among uncapped Indians, Rajat Bhatia (64) has the second most number of wickets in IPL after Siddarth Trivedi (65). #MIvRPS #IPL2016

— Deepu Narayana (@deeputalks) April 9, 2016

20:43 (IST)

OUT! Rajat Bhatia strikes first ball. K Pollard lbw b Bhatia 1 (8b 0x4 0x6)

Length delivery outside off, nips back in sharply. Pollard is caught on the back foor as he looks to flick. He is done in by the inward movement and misses. Gets hit on the back leg and the umpire lifts his finger. The grass cover is helping the medium pacers here. Mumbai in deep trouble having lost half their side.

Shreyas Gopal is the new batsman.

20:35 (IST)

Simmons, Rohit, Pandya and Buttler all stuck at the crease with zero footwork. #MIvRPS #IPL2016

— jigar mehta (@jigsactin) April 9, 2016

20:35 (IST)

After 6 overs, Mumbai Indians 37/4 (Rayudu 2, Pollard 0)

Mumbai Indians are in trouble. They have lost 3 wickets in three overs. Poor footwork bringing about their downfall. Ishant looks sharp with his pace but has been wayward too. 17 runs and 3 wickets in the last three over. A brilliant Powerplay for Pune, they have managed to pick up 4 wickets. Mumbai need to stabilise now.

20:31 (IST)

Only once before today had @mipaltan lost 4 wickets for 30 runs or fewer at the Wankhede Stadium - that was 4/25 against KXIP in 2015. #IPL

— Arun Gopalakrishnan (@statanalyst) April 9, 2016

20:29 (IST)

OUT! Buttler out for a duck on debut! J Buttler c R Ashwin b Marsh 0 (2b 0x4 0x6)

Marsh gets second wicket in the over. It's full on off, shaping away. Buttler, again, without any feet movement, looks to flick but gets an outside edge to first slip where Ravichandran Ashwin makes no mistake. A night to forget for Buttler.

Kieron Pollard is the new batsman.

20:25 (IST)

Chaos at the Wankhede. Which surely must become a book title.

— Elizabeth Ammon (@legsidelizzy) April 9, 2016

20:24 (IST)

OUT! Pandya back in the hut. Mitchell Marsh strikes with his first ball. H Pandya c Dhoni b Marsh 9 (11b 2x4 0x6)

Back of a length delivery on off, it does down on Pandya who looks to pull but is early into his shot. He gets a top edge and Dhoni accepts a simple catch.

Ambati Rayudu is the new batsman.
Preview: Mumbai Indians (MI) will aim to get their Indian Premier League (IPL) 2016 campaign off to a winning start when they take on debutants Rising Pune Supergiants (RPSG) in the opening match of the cash-rich T20 tournament at the Wankhede Stadium in Mumbai on Saturday.
Mumbai who have won the title twice in 2013 and 2015, have strengthened their squad even more, thanks to the players' auction earlier this year.
In the batting department, the in-form Lendl Simmons, wicket keeper-batsman Jos Buttler and all-rounders Kieron Pollard, Corey Anderson and Mitchell McClenaghan will add firepower to the line-up.
Promising young domestic talents like Unmukt Chand, Ambati Rayudu, Hardik Pandya, Siddhesh Lad, Nathu Singh and Nitish Rana will be the ones to watch out for.
On the other hand, new franchise Rising Pune Supergiants were incorporated into the IPL family after Rajasthan Royals and Chennai Super Kings (CSK) were suspended for two years following betting and spot fixing scandals.
Led by India's World Cup winning skipper Mahendra Singh Dhoni and coached by Kiwi Stephen Fleming, the side looks a balanced outfit. The partnership of Dhoni-Fleming was a hit for CSK and the duo will hope it continues in the ninth edition of the IPL.
Besides Dhoni the other CSK players in the squad are star off-spinner Ravichandran Ashwin, batsman Faf du Plessis and pacer Ishwar Pandey.
England's swashbuckling batsman Kevin Pietersen, India's Ajinkya Rahane and Australia skipper Steven Smith were bought in the auction by the team management.
Squads:
Mumbai Indians: Rohit Sharma (c), Harbhajan Singh, Hardik Pandya, Jasprit Bumrah, Jos Buttler, Kieron Pollard, Corey Anderson, Lasith Malinga, Lendl Simmons, Mitchell McClenaghan, Marchant de Lange, Tim Southee, Unmukt Chand, Vinay Kumar, Parthiv Patel, Shreyas Gopal, Nathu Singh, Jagadeesha Suchith, Ambati Rayudu, Akshay Wakhare, Deepak Punia, Jitesh Sharma, Kishore Kamath, Krunal Pandya, Nitish Rana, Siddhesh Lad.
Rising Pune Supergiants: MS Dhoni (c), Ajinkya Rahane, Kevin Pietersen, Faf du Plessis, R Ashwin, Irfan Pathan, Ishant Sharma, Ishwar Pandey, Jaskaran Singh, Steven Smith, M Ashwin, Mitchell Marsh, Peter Handscomb, Rajat Bhatia, RP Singh, Scott Boland, Adam Zampa, Thisara Perera, Ankit Sharma, Ankush Bains, Ashok Dinda, Baba Aparajith, Deepak Chahar.
Updated Date: Apr 09, 2016 23:34 PM