IPL 9, SRH vs DD as it happened: Samson, Pant power DD to thumping win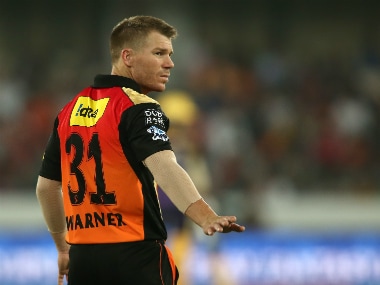 23:46 (IST)

Chris Morris is named the Man of the Match.

23:44 (IST)

Mustafizur conceded 39 runs in this match - second-most by him in a 4-over spell in T20s. Pant scored 26 off 13 against him. #SRHvDD

— Bharath Seervi (@SeerviBharath) May 12, 2016

23:38 (IST)

Samson & Pant power Delhi to emphatic win over high flying Hyderabad. Along the way we may have had a glimpse into future of Indian cricket

— Cricketwallah (@cricketwallah) May 12, 2016

23:37 (IST)

DD win by 7 wickets!

A commanding display from DD. Mustafizur gives away just 3 runs in the 16th over but then Pant takes on the Bangdesh pacer as he smashes one over mid off and then whips another over deep mid-wicket. In between he clobbers one over deep mid-wicket off Bhuvneshwar. Samson then finishes it off in style as he hammers a pull over deep mid-wicket off Yuvraj to win it for DD.

23:26 (IST)

The youngest (Samson) and second-youngest (Pant) players to make 50+ in IPL have added 50+ for the 4th wicket #SRHvDD

— Bharath Seervi (@SeerviBharath) May 12, 2016

23:17 (IST)

After 15 overs, Delhi 114/3 ( Sanju Samson 21 , Rishabh Pant 18)

Samson and Pant have done a good steadying job so far. 23 runs in the last 3 overs. Pant took on Mustafizur in the 14th over where he smacked him for a six over wide long on and then whipped one through mid-wicket. SRH had a chance to get the wicket of Samson but Henriques at mid-wicket let it through his hands. Just 33 needed off 30 now. Samson and Pant need to bat sensibly and see the visitors through.

23:02 (IST)

How Erasmus' mind works:

1. Erasmusn't

2. Erasmusn't

3. Erasmusn't

4. Erasmust#SRHvDD

— Gaurav Sethi (@BoredCricket) May 12, 2016

23:00 (IST)

After 12 overs,Delhi 91/3 ( Sanju Samson 13 , Rishabh Pant 3)

Henriques has turned it around for SRH. He sends back Nair and De Kock in the 10th over and gives away just 4 runs. Yuvraj bowls a tight over and that builds the pressure. Samson however releases some pressure with a smashing six over mid-wicket. 17 runs and two wickets off the last 3 overs.

22:54 (IST)

OUT! Umpire Erasmus takes ages to give that out. Looked like De Kock was unlucky. Q de Kock c Ojha b Henriques 44 (31b 5x4 2x6)

It's a short delivery outside off, De Kock goes for the upper cut, in process his helmet falls off. There seemed to be no edge. Henriques and the bowler go up in an appeal, they go on and on and on. The umpire takes ages to lift the finger. De Kock is shocked.

Rishabh Pant is the new batsman.

22:45 (IST)

OUT! Brilliant yorker. Henriques strikes. KK Nair b Henriques 20 (17b 3x4 0x6)

Nair backs away, Henriques sees it early and bowls a stinging yorker on the leg stump. Nair looks to dig but misses and finds his leg stump uprooted.

Sanju Samson is the new batsman.

22:43 (IST)

After 9 overs,Delhi 74/1 ( Quinton de Kock 43 , Karun Nair 20)

De Kock and Nair have continued to play the shots. Nair gets a streaky boundary off an inside edge to fine leg. De Kock then takes on Sran, smashes one over mid off for four and then flicks one over deep square leg for six. Hooda is then brought into the attack and he pulls one back giving away just 5 runs. 24 runs off the last 3 overs.

22:31 (IST)

After 6 overs, Delhi 50/1 ( Quinton de Kock (W) 28 , Karun Nair 11)

DD have upped the ante despite Mayank's departure. De Kock smashes one over deep square leg for six and then slashes one over backward point for four off the next ball. Karun then joins the party as he crunches one through covers off Sran and then lofts one over cover. Nair had a heart in the mouth moment where he gets a leading edge which flies wide of the bowler Mustfizur. De Kock continues his good touch as he smothers one through point for four off Mustafizur. 50 comes up.

22:16 (IST)

OUT! Nehra draws first blood! M Agarwal c Yuvraj Singh b Nehra 10 (9b 2x4 0x6)

Length delivery outside off, Agarwal leans forward and drives it uppishly straight to cover-point.

Karun Nair is the new batsman.

22:15 (IST)

DD have used 5 different opening pairs in last 5 games:
QDK-Iyer v KKR
QDK-Pant v GL
Pant-Samson v RPS
QDK-Samson v KXIP
QDK-Agarwal v SRH

— Bharath Seervi (@SeerviBharath) May 12, 2016

22:13 (IST)

After 3 overs, DD 20/0 ( Agarwal 10 , De Kock 10)

A decent start for DD. Bhuvneshwar bowls five good balls, he overpitches one slightly, Agarwal lofs it over mid on for four. De Kock then gets into the act with consecutive fours off Nehra. One through point and another through mid on. Agarwal then looks to pull one off Bhuvneshwar but gets a top edge over the keeper.

22:09 (IST)

Back for the chase. DD openers - Mayank Agarwal and Quinton de Kock are the openers. Bhuvneshwar Kumar to start off proceedings.

21:45 (IST)

SRH post 146/8

A brilliant end for DD. Morris gave away just 2 runs and scalped the wickets of Williamson and Bhuvneshwar. Ojha then gave SRH fans something to smile as he thumped the first ball of the last over for four through point off Coulter-Nile. But Four balls later Coulter-Nile removed Ojha. 10 runs and 3 wickets off the last two overs. 33/5 in the last 5 overs.

21:38 (IST)

Double blow for SRH!

OUT! Williamson is cleaned up by Morris.

A hint of reverse, it's a full toss, Williamson has backed away too far. He looks to place it through the off side but misses the low full toss and finds the stumps shattered.

OUT! Morris then shows some brilliant footword as he flicks the ball onto the stumps on his follow through to run Bhuvneshwar Kumar out.

Just 2 runs and two wickets off the Morris over.

21:35 (IST)

After 18 overs, Hyderabad 136/5 ( Kane Williamson 27 , Naman Ojha 1)

DD have done well to scalp wickets at regular intervals. Shami removes Henriques and gives away just 5 runs. Williamson then finally releases some pressure as he flicks one over mid-wicket off Williamson. Coulter-Nile then delivers a no ball which is crunched away for four by Hooda but He then commits the error of going too much on the back foot and getting hit wicket. 23 runs and 2 wickets off the last 3 overs.

21:31 (IST)

OUT! Hooda is hit-wicket off Coulter-Nile. DJ Hooda hit wicket b Coulter-Nile 10 (9b 1x4 0x6)

It was turning into a good over for SRH until Hooda tried to go back and then back and then back and then step onto the stumps. It's a good length delivery on off. Hooda goes back and looks to turn it to the leg side but he's committed himself too much on the back foot and steps onto the stumps.

21:19 (IST)

OUT! Shami sends back Henriques now! MC Henriques lbw b Mohammed Shami 0 (1b 0x4 0x6)

Good length delivery outside off, nips back in sharply. Henriques is caught on the backfoot as he looks to flick but he misses because of the inward moment. Gets hit on the back leg and the umpire raises his finger straightaway.

Deepak Hooda is the new batsman.

21:17 (IST)

After 15 overs, Hyderabad 113/3 ( Kane Williamson 17 , Hooda 0)

Just when it seemed SRH were gaining some momentum, they lost a wicket. Mishra bowles a brilliant 13th over to give away just four runs and scalp the wicket of Dhawan. Williamson got a streaky four off a top edge over the keeper and then Yuvraj spanked one over long on for flat six off Mishra. Mishra however, had his revenge as he removed Yuvraj four balls later. 19 runs and two wickets in the last 3 overs.

21:13 (IST)

OUT! Mishra strikes again. Yuvraj back in the hut. Yuvraj Singh c Pant b Mishra 8 (8b 0x4 1x6)

It's the faster one from Mishra, Yuvraj is into his flick early and gets a top edge. Pant misjudges it at first but recovers well to pouch a diving catch.

21:03 (IST)

OUT! The flatter one does the trick. Mishra sends back Dhawan. S Dhawan c Samson b Mishra 34 (37b 3x4 0x6)

Flat and short outside off, Dhawan rocks back for a pull but gets a top edge to deep mid-wicket where Samson charges in, dives and pouches a good low catch.

Yuvraj Singh is the new batsman.

21:01 (IST)

After 12 overs,Hyderabad 94/1 ( Shikhar Dhawan 32 , Kane Williamson 9)

SRH have picked up a bit again. Dhawan the aggressor this time as he executes a couple of powerful sweeps for fours off Duminy. Williamson then gets into the act as he pulls one through mid-wicket for four. Morris then bowls another good over giving away just 6 runs. Dhawan and Williamson showing some urgency in running quick singles. 26 runs off the last 3 overs.

20:52 (IST)

Good form now of batsmen apart from Warner has boosted Hyderabad's prospects in the tournament

— Cricketwallah (@cricketwallah) May 12, 2016

20:52 (IST)

After 9 overs, Hyderabad 69/1 ( Shikhar Dhawan 16 , Kane Williamson 1)

DD have pulled it back really well. Morris bowls a frugal over and gives away just 3 runs. Warner then releases some pressure as he thumps one over mid off for a four off Duminy but still, it turned out to be a good over for DD with 7 runs. Jayant Yadav finally gets Warner in the next over to dent SRH and gives away just 7 runs.

20:41 (IST)

OUT! Yadav draws first blood. It's the big one of Warner. D Warner b Yadav 46 (30b 6x4 1x6)

Length delivery on middle and leg, goes straight on. Warner gives himself room and looks to push it to the off side but misses. Finds his stumps shattered.

Kane Williamson is the new batsman.

20:27 (IST)

After 6 overs, Hyderabad 51/0 ( David Warner 32 , Shikhar Dhawan 14)

The 50 is up for SRH. Warner has suddenly gone berserk. The first three overs were calm before the storm. Dhawan starts it off with a flick wide of mid on. Warner then places a couple beautifully for back to back fours through point. He then takes on Yadav hammering him for a four straight back and then another one via a pull through square leg. He then clobbers one over the bowler's head for a six. 17 runs off the Yadav over. Dhawan is playing the second fiddle, he gets a four leg byes trying to flick. 40 runs off the last 3 overs.

20:15 (IST)

3000 IPL runs for David Warner. Second overseas player after Gayle to reach there. #SRHvDD

— Bharath Seervi (@SeerviBharath) May 12, 2016

20:15 (IST)

After 3 overs, Hyderabad 11/0 ( David Warner 5 , Shikhar Dhawan 6)

Been a really cautious start from SRH. Duminy started off with Jayant Yadav the off-spinner and he's given away just 8 runs in the two overs so far. Coulter-Nile found some swing and conceded just 3 runs. DD might be disciplined but they would look to remove Warner as soon as possible. No boundaries in the first three overs.

20:01 (IST)

Right! The SRH openers - David Warner and Shikhar Dhawan have made their way out to the middle. Jayant Yadav will start off proceedings.

19:42 (IST)

DD XI: Q de Kock, M Agarwal, S Samson, K Nair, JP Duminy, R Pant, J Yadav, C Morris, A Mishra, N Coulter-Nile, M Shami

19:39 (IST)

SRH XI: Warner (c), Dhawan, Williamson, Yuvraj, Henriques, Hooda, Ojha, Bhuvi, Sran, Nehra, Mustafizur

19:37 (IST)

Delhi Daredevils win the toss, and stand-in skipper JP Duminy elects to bowl first!

No Zaheer Khan today for Delhi, as he has been rested due to niggles. Meanwhile, Duminy finds his place in the team as the captain, with Jayant Yadav, Mayank Agarwal and Nathan Coulter-Nile also being included in the team.

18:50 (IST)

Rahul Dravid's magical touch continues, as Delhi Daredevils have posted a tremendous turnaround under his mentorship. From finishing second-last in the previous season, they are among the top contenders for the playoffs at the moment.

Rahul Dravid keeping a close watch at the @DelhiDaredevils nets #SRHvDD pic.twitter.com/xAJ0KswrKd

— IndianPremierLeague (@IPL) May 11, 2016

18:48 (IST)

Coach Tom Moody on his side's last home match of the group stage of this tournament.

Arrived back in Hyderabad after a successful trip to Vizag, tomorrow's our last home match, #SRHvDD come out #OrangeArmy

— Tom Moody (@TomMoodyCricket) May 11, 2016

18:28 (IST)

Squads:


Sunrisers Hyderabad: David Warner (c), Ashish Reddy, Ricky Bhui, Bipul Sharma, Trent Boult, Ben Cutting, Shikhar Dhawan, Moises Henriques, Deepak Hooda, Siddarth Kaul, Bhuvneshwar Kumar, Abhimanyu Midtun, Eoin Morgan, Mustafizur Rahman, Ashish Mehra, Naman Ojha (wicketkeeper), Vijay Shanker, Karn Sharma, Barinder Sran, T Suman, Aditya Tare, Kane Williamson, Yuvraj Singh.


Delhi Daredevils: Zaheer Khan (c), Mayank Agarwal, Khaleel Ahmed, Sam Billings, Carlos Brathwaite, Nathan Coulter Nile, Quinton de Kock (wicketkeeper), JP Duminy, Akhil Harwardkar, Imran Tahir, Shreyas Iyer, Manipal Lamror, Chama Milind, Amit Mishra, Mohammad Shami, Chris Morris, Shahbaz Nadeem, Karun Nair, Pawan Negi, Rishabh Pant, Pratyush Singh, Sanju Samson, Pawan Suyal, Jayant Yadav.

18:25 (IST)

Hello and welcome to Firstpost's live coverage of the 42nd match of the ongoing Indian Premier League (IPL) between Sunrisers Hyderabad (SRH) and Delhi Daredevils (DD).


Can SRH maintain their number one position in the IPL points table, or will Delhi — under the inspirational leadership and mentorship of Zaheer Khan and Rahul Dravid respectively — knock them off their perch? Stay tuned to our live blog to find out.
PREVIEW: On a roll after three successive wins, a confident Sunrisers Hyderabad will aim to continue their winning spree when they face Delhi Daredevils in the ongoing Indian Premier League (IPL) at the Rajiv Gandhi International Cricket Stadium in Hyderabad on Thursday.
Comfortably placed atop the rankings table with 14 points from seven wins in 10 outings, the David Warner-led side has been beaming with confidence after sneaking past Rising Pune Supergiants by four runs in a nail-biting encounter on Tuesday.
On the other hand, the Zaheer Khan-led visitors will be hoping to get back on track after suffering two back-to-back losses against bottom-placed Pune and Kings XI Punjab.
Going into Thursday's encounter, Hyderabad will once again bank on a perfect start from their skipper Warner and his opening partner Shikhar Dhawan. Back into his groove, the Delhi smasher has steered the team in the event of his skipper's early dismissal.
With mercurial Yuvraj Singh in good nick, Hyderabad's middle order boasts of explosive batters in New Zealand skipper Kane Williamson, Australian all-rounder Moises Henriques, keeper-batsman Naman Ojha and Deepak Hooda.
Sunrisers' bowling unit, comprising the lethal troika of Bhuvneshwar Kumar, Mustafizur Rahman and Ashish Nehra, has been the best in the business so far. They have been ably supported by Barinder Sran and Henriques.
On the flip side, the Rahul Dravid-mentored Daredevils, who have applied a horses-for-courses strategy this season, would be hoping for a brilliant start from their openers Quinton de Kock and Rishabh Pant.
Delhi's explosive middle-order, comprising youngsters Sanju Samson, Karun Nair, Chris Morris and Carlos Brathwaite, will be tested well by the pace trio of Hyderabad.
Skipper Zaheer has led the bowling department brilliantly with early wickets and has found good support from Mohammed Shami, Morris and Brathwaite.
The spin department, consisting Amit Mishra, Imran Tahir and Shahbaz Nadeem, has also been amongst wickets and will hopefully come good to contain Hyderabad's strong batting attack.
Firstpost is now on WhatsApp. For the latest analysis, commentary and news updates, sign up for our WhatsApp services. Just go to Firstpost.com/Whatsapp and hit the Subscribe button.
Updated Date: May 13, 2016 12:56:19 IST