IPL 9, RCB vs RPS, as it happened: Kohli century helps RCB beat RPS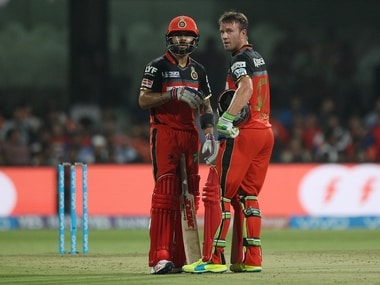 19:40 (IST)

Virat is king. Nothing more to add...

— Cricketwallah (@cricketwallah) May 7, 2016

19:39 (IST)

That's it! RCB win by 7 wickets!

Kohli finishes it in style with a flick through square leg for four. What an innings from Kohli. 108 not out off 58 balls. 8 fours and sixes in his innings.

19:38 (IST)

No T20 hundred in career's first 180 innings, then two hundreds in the next four inns. Virat Kohli. #IPL

— Mazher Arshad (@MazherArshad) May 7, 2016

19:35 (IST)

CENTURY! Kohli gets there in style. A flick over deep mid-wicket off RP Singh for a six and then a six straight back over his head to bring up his century. What a wonderful innings. He brings it up off 56 balls with 7 fours and 7 sixes. RCB need just 4 runs to win now off the last over. Dinda will bowl.

19:31 (IST)

After 18 overs, Bangalore 172/3 ( Virat Kohli (C) 87 , Travis Head 4)

Ashwin is finally introduced and he bowls a good over giving away just one boundary which Kohli thumped over covers. 7 runs off that over but then Kohli gets into the act as he hammers two consecutive sixes - one a slog sweep and another straight down the ground. He then gets an outside edge over backward point for four to make it 18 off the over. 25 off the last 2 overs. 22 needed off 12 now.

19:22 (IST)

Virat Kohli is the first man to 500 runs in #IPL

8 innings, 501 runs, ave 82.83, SR 138, 5 fifties, 1 hundred

— The Cricket Prof. (@CricProf) May 7, 2016

19:22 (IST)

After 16 overs, Bangalore 145/3 ( Virat Kohli 64 , Travis Head 1)

Watson had gone berserk. Kohli had first joined the party after carnage in Perera over with a slash over point for six. Watson then clobbered Bhatia for consecutive sixes over wide long on. They were massive ones. However, RP Singh bowled an excellent over to pull it back with 3 runs and the wicket of Watson. 47 needed off 24.

19:18 (IST)

OUT! RP Singh gets a huge wicket. SR Watson lbw b Singh 36 (13b 5x4 2x6)

Watson had gone rampant but RP Singh has provided a timely wicket. It's a tad full on off, tailing in. Watson stays in his crease and looks to swing across the line, misses and gets hit on the back leg. The umpire lifts the finger on the appeal. It was plumb.

Travis Head is the new batsman.

19:11 (IST)

Shane Watson Last 9 Balls:

4, 4, 4, 0, 4, 4, 6, 6, 1

— Broken Cricket (@BrokenCricket) May 7, 2016

19:08 (IST)

After 14 overs, Bangalore 123/2 ( Virat Kohli 56 , Shane Watson 23)

Watson on a roll. Huge over for RCB. He cracks five fours off Perera. He smashes first over point, then waits and cuts it through point. Then goes for a loft but gets an outside edge to third man, then again gets an outside edge through the same region and finally gets one off the middle with a thumping uppish drive over mid off. 20 runs off the over. 69 needed off 36.

19:00 (IST)

After 12 overs,Bangalore 97/2 ( Virat Kohli (C) 54 , Shane Watson 0 )

Rahul and Kohli has started to pick up the scoring as Rahul hammered one over deep mid-wicket for six off Perera and then Kohli hit a couple of fours in the next over off Bhatia before bringing up his fifty. However, Zampa pegged them back with two crucial wickets in the next over - that of Rahul and ABD. 27 runs and two wickets off the last 3 overs.

18:58 (IST)

Double blow for RCB! Zampa the man doing the job on debut.

OUT! Zampa draws first blood. Rahul departs. AB de Villiers c Perera b Zampa 1 (3b 0x4 0x6)

It's full outside off, Rahul makes some room and looks to loft, doesn't connect it well and helps it straight into the hands of Bailey at deep cover.

OUT! De Villiers flops. KL Rahul c Bailey b Zampa 38 (35b 1x4 2x6)

There was a huge LBW shout turned down off hte previous ball. This time De Villiers look to loft, doesn't connect it well and Perera at wide long off takes a very good leaping catch.

18:55 (IST)

FIFTY for Kohli! He is unstoppable at the moment. He hits a couple of glorious fours off Bhatia and then scampers through for a quick couple to bring up his fifty. Four 4s and three 6s in his innings so far.

18:46 (IST)

Seriously? Extra cover and two sweepers and he managed to thread the needle giving none of them a chance? That's magical

— Prem Panicker (@prempanicker) May 7, 2016

18:41 (IST)

After 9 overs, RCB 70/0 ( Rahul 27 , Kohli 39)

The fifty has come up for RCB. Kohli upping the ante now. Zampa put the lid on scoring somewhat giving away just 4 runs. He bowled good lengths in the first over but then errs in his second and Kohli punished him with a couple of fours - One through mid-wicket and one through extra cover. In between Kohli lofts Rajat Bhatia straight back over his head. 24 runs off the last 3 overs.

18:30 (IST)

After 6 overs,Bangalore 46/0 ( Virat Kohli (C) 21 , Lokesh Rahul (W) 23)

Kohli and KL Rahul have began accelerating. Both batsman look set in the middle and suddenly Supergiants' target doesn't seem very big. Dhoni would be desperate for wickets now, as Kohli-Rahul threaten to take the game away from the visiting side

18:25 (IST)

Targets of 190+ have been successfully chased in #IPL on 17 occasions. Most times
4 - at Bangalore
2 - at Chennai/Hyderabad/Mohali#RCBvRPS

— Mohandas Menon (@mohanstatsman) May 7, 2016

18:14 (IST)

After 3 overs,Bangalore 10/0 ( Virat Kohli (C) 5 , Lokesh Rahul (W) 4)

Good start from the Pune Supergiants, who have managed to keep Kohli quiet so far. But Dhoni will be looking for wickets as he certainly won't be wanting to let Kohli settle during a chase

18:01 (IST)

Virat Kohli and KL Rahul set to open the innings for Royal Challengers bangalore. The home side need 192 runs to win. Ashok Dinda to bowl the first over for Pune Supergiants

17:47 (IST)

After 20 overs, Rising Pune Supergiants 191/6 ( Rajat Bhatia 9 , Ravichandran Ashwin 10)

RCB have done well to restrict RPS to 191. At one point, Perera was going great guns as he wen after Chahal for a four straight back and a six over wide long on. Rahane joined the assault with a flat six over long off, off Jordan but then, Jordan hit back to remove Perera. And then Watson bowled a fantastic penultimate over giving away just four runs and scalping the wickets of Rahane and Bailey. However, RPS finished well thanks to two sixes off Jordan, one by Ashwin and one by Rajat Bhatia which yielded 16 runs. 53/4 in the last five overs.

17:39 (IST)

OUT! Another one bites the dust. GJ Bailey c Rahul b Watson 0 (2b 0x4 0x6)

Bailey departs. It's full and wide outside off, Watson reaches out for a slash but only ends up getting an outside edge to the keeper.

Rajat Bhatia is the new batsman.

17:37 (IST)

This is now #RPS 2nd highest total of the IPL. The best is 195-3 vs #GL. They will be hoping to pass that with 9 balls to go.

— The Cricket Prof. (@CricProf) May 7, 2016

17:36 (IST)

Double blow for RPS!

OUT! Maiden IPL wicket for Jordan. T Perera c Watson b Jordan 14 (8b 1x4 1x6)

Good catch from Watson, it's full outside off, Perera hammers it to extra cover where Watson takes a good low catch.

OUT! Watson into action once again, this time he is the bowler. The set Rahane departs.

Good length delivery on off, Rahane gives himself room and looks to slash but misses. The ball clips the top of off and the bail files in the air.

17:25 (IST)

After 16 overs, Rising Pune Supergiants 146/3 ( Ajinkya Rahane 62 , Thisara Perera 1)

RPS have been scoring at a brisk pace but they need more than this. The fact tha tthey lose Tiwary and Dhoni hasn't helped. Just a one boundary - a top-edged six from Dhoni off Watson in the last 3 overs. 25 runs and two wickets in the last 3 overs.

17:22 (IST)

OUT! Finally someone accepts a catch! Dhoni departs. MS Dhoni c Parvez Rasool b Watson 9 (8b 0x4 1x6)

It's a tad slower outside off, Dhoni goes for a wild swing across the line but gets an outside edge to third man where Rasool takes a good diving catch.

Thisara Perera is the new batsman.

17:17 (IST)

Rain round the corner. Not far away from the Chinnaswamy.

— Shashank Kishore (@captainshanky) May 7, 2016

17:16 (IST)

MS Dhoni has an average of 57.33 and a strike rate of 184.95 in the 12 Twenty20 innings he has played at this venue. #IPL #RCBvRPS

— Sampath (@SAMPATHB24) May 7, 2016

17:15 (IST)

OUT! Finally, something goes right for RCB in the field. SS Tiwary st †Rahul b Chahal 52 (39b 9x4 0x6)

Chahal removes Tiwary. It's a googly outside off, Tiwary gets down the track and looks to swing across the line but misses. Rahul clips the bails off as Tiwary gets his bat back in. Replays show Tiwary's bat was in the air. It was a very close but very good call. Much-needed relief for RCB.

MS Dhoni strides out to the middle amidst huge cheers

17:05 (IST)

After 13 overs,Rising Pune Supergiants 121/1 ( Ajinkya Rahane 53 , Saurabh Tiwary 50)

Tiwary and Rahane looking ominous now. The hammers Rasool straight back over his head for a four and then hammers the next one through long on. Rahane then joins the party as he pulled one through square leg for four and again pulls one to fine leg to bring up his fifty. 31 runs off the last 3 overs.

17:03 (IST)

FIFTY for Tiwary! He is lucky to be still out there. He takes a risky single to get there. A direct hit might have had him back in the hut. 50 off 37 balls. 9 fours in his innings.

FIFTY for Rahane! He brings it up in style as he pulls one to fine leg off Aaron for four. He brings it up off 34 balls. Seven fours and one six in his inning so far.

16:59 (IST)

After 10 overs,Rising Pune Supergiants 89/1 ( Ajinkya Rahane 39 , Saurabh Tiwary 32)

Rahane and Tiwary are making RCB pay for some really sloppy fielding.

16:58 (IST)

After 6 overs,Rising Pune Supergiants 60/1 ( Ajinkya Rahane 24 , Saurabh Tiwary 20)

Saurabh Tiwary and Ajinkya Rahane have built on the good start with some help from the RCB fielders who have dropped a few easy catches

16:19 (IST)

After 3 overs, Rising Pune Supergiants 31/1 ( Ajinkya Rahane 11 , Saurabh Tiwary 4)

A mixed start for RPS. Rahane was looking solid. He crunches one through point for four off Binny in the first over. He then chips one just wide of Binny uppishly and then there was communication problems with Khawaja while running. Khawaja then got into the groove taking on Rasool for a flat six straight down the ground and then a four through fine leg. Jordan then gives away 9 runs in his first over as Tiwary cuts him through point for four. But that over fetches Khawaja's wicket in form of a run out.

16:13 (IST)

OUT! A comedy of errors and Khawaja is run out. UT Khawaja run out 16 (6b 2x4 1x6)

Rahane looks to flick but misses, the ball lobs towards backward point off his thigh pad. Khawaja sets off for a single, Rahane takes a headstart but decides against the run. He gets back, Khawaja doesn't stop and keeps running and crosses the striker crease. The throw reaches the non-striker's end and the mid on fielder runs in, collects the ball and clips the bails off.

Saurabh Tiwary is the new batsman.

16:01 (IST)

The RPS openers - Rahane & Khawaja make their way out to the middle. Stuart Binny will start off.

15:45 (IST)

IPL debuts for Zampa and Jordan, also, no Gayle for RCB!

15:44 (IST)

RPS XI: Rahane, Khawaja, Tiwary, Dhoni, Perera, Bailey, Bhatia, Zampa, R Ashwin, Dinda, RP Singh

15:42 (IST)

RCB XI: Rahul, Kohli, De Villiers, Head, Watson, Baby, Binny, Rasool, Jordan, Aaron, Chahal.

15:32 (IST)

TOSS - Kohli wins the toss and RCB will bowl first.

15:26 (IST)

Royal Challengers vs Supergiants match will decide which team has the worst bowling among worst bowling.#IPL2016

— Billoo (@MohitParmarr) May 7, 2016

14:52 (IST)

Greetings to all you cricketheads! Welcome to Firstpost's live coverage of the 35th match of the ongoing IPL 2016 between Royal Challengers Bangalore and the Rising Pune Supergiants at the M Chinnaswamy Stadium in Bengaluru on Saturday.
PREVIEW: Unfazed by three consecutive losses Royal Challengers Bangalore (RCB) hope to break the jinx on Saturday when they take on Rising Pune Supergiants in the league tie of IPL in Bengaluru to stay the course for a place in the play-offs.
"Every game is a must win for us from now onwards to make it to the play-offs. We have to give 150 percent tomorrow (Saturday) to stay the course," RCB's new all-rounder Chris Jordan told reporters in Bengaluru on Friday ahead of the tie at the M Chinnaswamy stadium.
With only two wins, including one over Sunrisers Hyderabad on 12 April at their home venue and against Pune on 22 April, RCB is languishing at the seventh position in the eight-team points table, with four points, as it lost five of the seven games it played so far.
"We have put all defeats, including the last (to Kolkata Knight Riders) behind and remain positive to give our best, treating all the seven upcoming games as a semi-final to bounce back," said the 27-year-old Barbados-born English player.
Jordan joined RCB on 1 May when the annual summer tournament is halfway through in place of Aussie pacer Mitchell Starc, who is out of action for the tournament due to injuries.
"Though we won against Pune by 13 runs last time (22 April), it is important for us to take early wickets, especially in the first power play, as they are in form, having beaten Delhi Daredevils by seven wickets yesterday (Thursday) in Delhi," Jordan reiterated.
With weak bowling, particularly in death overs, making it difficult for RCB to defend its totals, it is a do-or-die contest for it to regain the momentum for the remaining six matches, including three here and three away.
After winning the first game against Sunrisers on 12 April and losing the next game to Delhi Daredevils on 17 April, RCB played four away matches, in the league's first phase, losing to Mumbai Indians on 20 April in Mumbai, but winning over Pune on 22 April at Pune, and then losing again to Gujarat Lions on 24 April at Rajkot and Sunrisers on 30 April in Hyderabad.
"We are taking every match seriously and have plans in place to execute them, focusing on each game as one at a time than looking far ahead. We got to regain our winning momentum," Jordan asserted.
RCB hopes to win in the back-to-back tie with Pune, as the latter plays without its star overseas players like Kevin Pietersen, Steve Smith and Faf Du Plessis, who are out of action for the remaining part of the season due to injuries.
"If we can pull it off again over Pune, the win could be a good script to make the turn around," Jordan noted, adding the team had plans to get the opponents in-form opener Ajinkya Rahane, who steered it over Delhi with an unbeaten 63 in 48 balls.
Updated Date: May 08, 2016 11:22 AM