IPL 2016, GL vs SRH as it happened: Warner, Dhawan help SRH crush Lions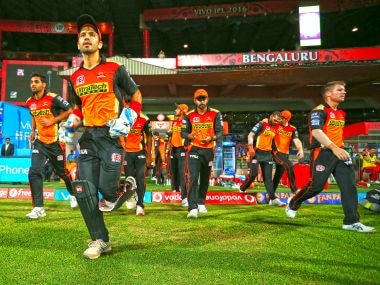 23:05 (IST)

Bhuvneshwar Kumar is named the Man of the Match for brilliant spell of 4/29.

22:58 (IST)

Teams chasing now has won 14 out of the 15 games so far in #IPL2016.
In the 11 matches captain winning toss & fielding, 10 resulted in wins.

— Deepu Narayana (@deeputalks) April 21, 2016

22:58 (IST)

This IPL season is like TV Serial everyone knows what is going to happen still seeing everyday...

— Broken Cricket (@BrokenCricket) April 21, 2016

22:57 (IST)

But credit must go the the SRH bowlers. Mustafizur had exceptional figures of 4-0-19-1. Lions were 74/2 in the 10th over and then SRH turned it around to restrict them to 135. Bhuvneshwar finished with four wickets which included 3 in the last over. All in all a good all-round performance to hand first loss of IPL 9 to the Lions.

22:55 (IST)

That's it! Sunrisers thump Gujarat Lions by 10 wickets.

A stroll in the park for Warner and Dhawan. The best news for SRH would be that Dhawan is back in some sort of form, he wasn't at his fluent best but he made sure he stuck it out in the middle and carved out a fifty. Warner looked flawless throughout and has mastered the art of pacing the innings.

22:44 (IST)

After 12 overs, Hyderabad 112/0 ( David Warner (C) 66 , Shikhar Dhawan 36)

Dhawan upping the ante. They want to finish this off early. Warner at first pulls a googly through mid-wicket for four off Tambe. They take four singles off the Jadeja over and then Dhawan takes on Bravo with a paddle sweep and a heave through mid-wicket for consecutive fours. 26 runs off the last three overs. 24 needed off 48 now.

22:33 (IST)

If Dhawan crosses the 30-run mark, #GL seriously needs to think about their bowling line-up! #GLvSRH

— Kunal Karanjkar (@kunal_karanjkar) April 21, 2016

22:32 (IST)

After 9 overs,Hyderabad 86/0 ( David Warner 57 , Shikhar Dhawan 20)

Things have calmed down and it's sensible batting from Warner and Dhawan. Tambe is brought into the attack but the openers garner 7 runs in the over pretty easily. They then get five singles and a wide off the Raina over before Dhawan gets his second four of the innings with a flick to fine leg off a poor ball on the pads by Bravo. Dhawan is taking his time which is good, the run rate is brilliant and he should take this chance to spend as much time in middle as possible. 23 runs off the last 3 overs.

22:24 (IST)

David Warner now has most 50+ scores in the #IPL
Most 50+ scores in the IPL
28 DAVID WARNER/Gambhir
27 Raina/Rohit#GLvSRH #IPL2016

— Sarang Bhalerao (@bhaleraosarang) April 21, 2016

22:23 (IST)

FIFTY for Warner. His 3rd in four matches. Seven fours in his innings so far. Been in imperious form.

22:19 (IST)

After 6 overs, Hyderabad 63/0 ( David Warner 45 , Shikhar Dhawan 11)

A brilliant powerplay for SRH. They are cruising here. Warner lays into Praveen Kumar with three fours in the fourth over. He hits a couple of cracking cover drives and then smashes one straight back past the bowler. Bravo is then introduced into the attack, Dhawan finally gets his first four as he flicks one through square leg. Warner follows up with a couple of fours off Raina to make it 33 runs off the last 3 overs.

22:07 (IST)

After 3 overs, Hyderabad 30/0 ( David Warner 18 , Shikhar Dhawan 5)

A decent start for SRH. They are going at 10 an over. Steyn doesn't have the best of comebacks as he conceded 10 runs in the first over. Two fours off the over. He is unlucky with the first one as it flies wide of the first slip off a thick outside edge of Warner and then the Australia opener slashes one over point for another. Praveen Kumar then bowls a wayward over and concedes five wides to give away 13 runs in the second over. Steyn then bounced back to bowl a decent over, conceding just 7 runs. He isn't getting much swing or movement. Dhawan looks a tad cautious.

21:51 (IST)

Back for the chase. Warner and Dhawan are the openers. Steyn will start off proceedings.

21:36 (IST)

Gujarat Lions have posted 135/8

A very good finish for SRH. Mustafizur bowls a brilliant penultimate over to concede just 4 runs. Bhuvneshwar then concedes a boundary first ball off the last over but then bounces back to remove Raina and Akshdeep Nath off consecutive balls. Raina holed out to long on while Akshdeep go a top edge to cover. Steyn holes out to long on off the last ball to hand Bhuvneshwar his fourth wicket.

21:24 (IST)

After 18 overs, Gujarat Lions 125/5 ( Suresh Raina 70 , Akshdeep Nath 2)

Gujarat Lions have gone into a shell. They amass 9 runs off a wayward over from Bhuvneshwar but no boundaries in that 16th over. Mustafizur then bowls a fantastic over, giving away just four runs along with a wicket. Raina then finally gets a four as he cracks one through mid-wicket for four. 21 runs and 1 wicket off the last 3 overs.

21:21 (IST)

Mustafizur is probably the best death-overs bowler at the moment on subcontinent pitches. #GLvSRH #IPL2016

— Shamik Chakrabarty (@shamik100) April 21, 2016

21:20 (IST)

Ravindra Jadeja's batting is getting worse after every innings!!!#GLvSRH

— Deepu Narayana (@deeputalks) April 21, 2016

21:20 (IST)

OUT! The off stump goes tumbling. Mustafizur sends back Jadeja.

Length delivery outside off, tailing back in. Jadeja goes for a wild swing across the line but misses. Finds his off stump flattened.

Akshdeep Nath is the new batsman.

21:12 (IST)

After 15 overs,Gujarat Lions 104/4 ( Suresh Raina 61 , Ravindra Jadeja 6)

Wickets at regular intervals hampering Gujarat Lions. Henriques has done a very good job of tying the batsmen up. His figures read 3-0-17-0. Sran was brought back and he got the wicket of Bravo off his first ball. Raina then finally released some pressure as he cracked one over Mustafizur's head for a four to make it 9 runs from the 15th over. 21 runs and one wicket off the last 3 overs. Gujarat Lions need to up the ante big time now.

21:02 (IST)

OUT! Sran strikes. Another wicket falls. DJ Bravo c Kumar b Sran 8 (12b 0x4 0x6)

Back of a length delivery outside off, Bravo stay sin his crease and looks to pull but doesn't connect well and helps it to Bhuvneshwar at deep square leg.

Ravindra Jadeja is the new batsman.

20:56 (IST)

After 12 overs, Gujarat Lions 83/3 ( Suresh Raina 50 , Dwayne Bravo 5)

SRH have pulled it back really well. The Gujarat Lions are dealing in just singles. No boundaries in the last three over. Plus they lost the wicket of Dinesh Karthik. 16 runs and a wicket off the last three overs.

20:53 (IST)

FIFTY for Raina!

It's been a sparkling innings so far. 50 off 34 balls with six fours. He's played sensibly too.

20:48 (IST)

OUT! Poor ball, poor shot and nearly a poor catch. D Karthik c Kumar b Hooda 8 (9b 1x4 0x6)

It's a full toss on off, Karthik gets down and slog sweeps straight into the hands of Bhuvneshwar at deep square leg where Bhuvneshwar juggles before pouching it on the second attempt.

Dwayne Bravo is the new batsman.

20:43 (IST)

After 9 overs, Gujarat Lions 67/2 (Suresh Raina 44 , Dinesh Karthik 3)

SRH have pulled it back a bit. Henriques bowls a frugal over conceding just five. Bipul Sharma then gets the wicket of McCullu, and gives away just 7 runs. Henriques again follows up with a disciplined over conceding just 5 runs. 17 runs and a wicket off the over.

20:36 (IST)

OUT! Bipul Sharma gets the big one. McCullum is back in the hut. B McCullum c Hooda b Bipul Sharma 18 (17b 1x4 1x6)

It's full on middle and off, McCullum gets down for a slog sweep, doesn't connnect well and helps it into the hands of Hooda at deep mid-wicket.

Dinesh Karthik is the new batsman.

20:30 (IST)

After 6 overs,Gujarat Lions 50/1 ( Brendon McCullum 16 , Suresh Raina 33)

The 50 has come up. McCullum is looking dangerous. There was a bit of drama in between as Deepak Hooda came on to bowl, the umpires seemed to be unsure whether there was a problem with his action and his bowling so the play was held up for a while but he was given the clearance to bowl. Mustafizur bowled a very good over and choked McCullum, there was a caught behind appeal too but the umpire turned it down. MCcullum then took on Sran and hammered him for a six over deep square leg as well as a four. Raina then hit a wonderful cover drive for four off Hooda. 26 off the last 3 overs.

20:17 (IST)

Mustafizur Rahman into the attack now.

20:17 (IST)

Most runs in T20 cricket

8840 Gayle
6998 Hodge
6368* McCullum
6181 Warner
6019* Raina#IPL #GLvSRH

— Bharath Seervi (@SeerviBharath) April 21, 2016

20:16 (IST)

After 3 overs, Gujarat Lions 24/1 ( Brendon McCullum 2 , Suresh Raina 21)

A mixed start for both the teams. Bhuvneshwar has picked up Finch in the first over but Raina has come out firing great guns. He crunched the first ball he faced from Bhuvneshwar for a a four through extra cover and then flicked one wide of fine leg for another four off Sran. He then took on Bhuvneshwar again with a couple of lovely fours, one a straight drive and second a sublime flick through square leg.

20:07 (IST)

Finch in IPL 2016:

50+ in all the first 3 innings while chasing
Duck today when batting first#IPL2016 #GLvSRH

— Bharath Seervi (@SeerviBharath) April 21, 2016

20:06 (IST)

OUT! Bhuvneshwar strikes early. The in-form Finch departs. A Finch b Kumar 0 (4b 0x4 0x6)

It's a full delivery on off, swinging back in sharply. Finch looks to drive straight, on the up, but is done in by the inward movement. He misses and the ball crashes onto the middle and leg stump.

Suresh Raina is the new batsman.

20:02 (IST)

Aaron Finch and Brendon McCullum are the openers striding out to the middle. Bhuvneshwar Kumar will start off proceedings.

19:48 (IST)

Perfect 3 out of 3 record for the Gujarat Lions so far. Suresh Raina and Co are looking good!

19:42 (IST)

David Warner calls for tails, and tails it is! Sunrisers Hyderabad have won the toss and will bowl. Aditya Tare comes in for Ashish Reddy for the Sunrisers while Ravindra Jadeja is back for Gujarat! Suresh Raina has also dropped James Faulkner for Dale Steyn.

SRH XI: Warner(c), Dhawan, Henriques, Morgan, Hooda, Tare, Ojha(wk), Kumar, Mustafizur Rahman, Sharma, Sran

​GL XI: Finch, McCullum, Raina (c), Karthik (wk), Bravo, Jadeja, Nath, Kulkarni, Kumar, Steyn, Tambe

18:31 (IST)

Will we see another explosive performance from David Warner or will Aaron Finch steal the show?

17:59 (IST)

Hello and welcome to our live coverage of the Gujarat Lions vs Sunrisers Hyderabad match in Rajkot. Suresh Raina's team are unbeaten in the competition so far while David Warner and Co secured their first win in their last match against the Mumbai Indians in convincing fashion.
Preview: Sunrisers Hyderabad will aim to end Gujarat Lions' three-match winning streak when they face-off in an Indian Premier League (IPL) encounter at the Saurashtra Cricket Association Stadium on Thursday.
Hyderabad snapped their opening two-match loss -- to Royal Challengers Bengaluru and Kolkata Knight Riders -- with a seven-wicket thumping of Mumbai Indians on Monday and against hosts Gujarat, they will face a strong challenge.
Gujarat are currently second in the points table with three consecutive wins and they will throw everything in their bid to extend the winning run.
The IPL debutants have won their two away matches against Kings XI Punjab and Mumbai Indians. They also overcame fellow debutants Rising Pune Supergiants here by seven wickets.
Gujarat, captained by Suresh Raina, have been guided by the heroics of Australian opening batsman Aaron Finch. The right-hander will be Hyderabad's biggest danger as he has scores of 74, 50 and 67 not out respectively in the three matches so far.
However, his opening partner, retired New Zealand captain Brendon McCullum hasn't really fire yet, barring a 49 against Pune, while Raina has failed to convert starts of 20s and 30s into big ones. It could be a crucial game for McCullum as West Indian Dwayne Smith is waiting for his chance.
Other batsmen in the team are wicket-keeper Dinesh Karthick and all-rounders Dwayne Bravo and James Faulkner. The return of local star Ravindra Jadeja is yet to be confirmed as the all-rounder got married recently.
Gujarat's bowling is also strong and has delivered keeping its reputations in tact. Medium pacers Praveen Kumar, Dhawal Kulkarni, Bravo and Faulkner has been complemented well by spinners in the form of Shadab Jakati and Praveen Tambe.
They also have ace pacer Dale Steyn in their ranks and it will be interesting when Raina plays the South African.
In the other camp, Indian opening batsman Shikhar Dhawan's poor run has bee a worry for Hyderabad. The left-hander has scored 16 runs in the three games so far and Hyderabad definitely need him to end hid slump. He also had a poor World Twenty20 during which he scored 43 runs in four outing before being dropped for the semi-final against eventual champions West Indies.
Captain David Warner has looked in very good touch with scores 90 and 58 in the three matches and the Australian's performance is key to Hyderabad's success.
The middle order batsmen Eoin Morgan and Moises Henriques need to raise their game, while the performance of Deepak Hooda and Naman Ojha will be crucial against the tricky death-overs specialists Bravo and Kumar.
Hyderabad have missed the experience and all-round capability of Yuvraj Singh, who is nursing an injury, as did New Zealand batsman Kane Williamson.
In the bowling department, however, Bhuvneshwar Kumar and Bangladeshi left-armer Mustafizur Rahman have ensured that Hyderabad don't miss veteran Ashish Nehra, who injured his groin during the opening game against RCB on April 12.
Spinners Bipul Sharma and Karn Sharma will face a big task in containing Gujarat batsmen, along with the medium pace of Barinder Sran and Henriques.
Firstpost is now on WhatsApp. For the latest analysis, commentary and news updates, sign up for our WhatsApp services. Just go to Firstpost.com/Whatsapp and hit the Subscribe button.
Updated Date: Apr 21, 2016 23:27:35 IST