IPL 9, GL vs KKR as it happened: Raina fifty guides Gujarat Lions to six-wicket win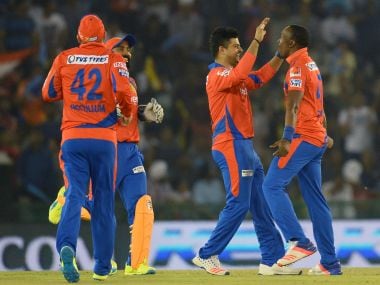 23:13 (IST)

Smith named man of the match for his 4/8 on the night.

23:01 (IST)

Gujarat Lions in this IPL:
Batting first: Won 1, Lost 3
While chasing: Won 7, Lost 2#GLvKKR

— Bharath Seervi (@SeerviBharath) May 19, 2016

23:01 (IST)

#GL becomes the second team to reach 16 points...don't recall an IPL when 16 wasn't enough to qualify. Well played. 👏😊

— Aakash Chopra (@cricketaakash) May 19, 2016

23:00 (IST)

That's it, Gujarat Lions reach the target in just 13.3 overs, win by 6-wickets. Excellent turn with the ball by Smith four wickets, but a golden duck with the bat. Raina and Finch carried the chase and the skipper and a new father went on the hit a half-century.

22:56 (IST)

After 13 overs,Gujarat Lions 119/4 ( Suresh Raina (C) 52 , Ravindra Jadeja 6)

Raina-esque. Excellent. Raina gets down on one knee, and drives over mid-off, how many times have we seen him do this. It's just as beautiful evrytime. He brings up his 50 with that beauty. 52 off 33, 7 fours and a six.

22:52 (IST)

After 11 overs,Gujarat Lions 107/4 ( Suresh Raina (C) 45 , Ravindra Jadeja 1)

Raina lets it out on Holder and hits back-to-back fours. Two short balls, Raina pulls both of them to square leg and then midwicket. Raina has finally learnt to play a short ball. Need 18 runs off 54.

22:44 (IST)

OUT! Finch is run out on 26. Massive mix-up. Raina and Finch run a couple without breaking a sweat, the third one was there for the taking as well, but then the two collided mid-way breaking Finch's run and running him out. It seemed Raina was drawn to him like metal to magnet as Finch ran wide to avoid his partner.

22:38 (IST)

After 9 overs,Gujarat Lions 87/3 ( Suresh Raina (C) 34 , Aaron Finch 19)

The Lions cruising here. Raina and Finch just a run away from a 50-partnership. And it has been brisk. Just 38 needed from 11 overs. GL are heading for an easy win.

22:30 (IST)

After 7 overs,Gujarat Lions 71/3 ( Suresh Raina (C) 28 , Aaron Finch 10)

Very expensive over. 5 wides and then a four. Raina gets lucky and finds an edge on 145kmph ball, it races to third man. 16 runs off the over. GL going steadily now.

22:25 (IST)

Mr IPL.

Suresh Raina in IPL:
- Second to 1000 runs
- First to 2000 runs
- First to 3000 runs
- Second to 4000 runs#GLvKKR

— Bharath Seervi (@SeerviBharath) May 19, 2016

22:21 (IST)

After 6 overs,Gujarat Lions 55/3 ( Suresh Raina (C) 22 , Aaron Finch 7)

SIX! Raina executes the inside-out drive, lofted high, again. This one clears the rope. Raina takes back the IPL runs crown from Kohli, crosses 4000 IPL runs. Raina and Finch need to build up a partnership. 70 needed from 14 overs, not a big ask.

22:12 (IST)

After 4 overs,Gujarat Lions 39/3 ( Suresh Raina (C) 13 , Aaron Finch 1)

OUT! Karthik is bowled by Morkel on 12. Karthik played a peach of a shot just the previous ball, a classy punch off the backfoot through the covers. Morkel responds in kind and equal class. The ball slips through the huge gap between bat and body and takes out the timber. Aaron Finch the new man in.

22:08 (IST)

After 3 overs,Gujarat Lions 28/2 ( Suresh Raina (C) 13 , Dinesh Karthik (W) 2)

Typical Raina. The skipper makes room gets down on his back knee and plays that inside-out he's known for. Over the covers for four.

22:01 (IST)

OUT! McCullum departs on 6. Baz hit a six early on but Narine got the better of him. The ball drifted through the air, cuts in and B-Mac is plumb LBW. Not an ideal start for Gujarat Lions, openers back in the pavilion. Time for Raina to step up.

21:53 (IST)

OUT! On the very first ball of the innings! Smith had success with the ball, not so much with the bat. Golden duck. A shortish delivery from Rajpoot, SMith swings away and gets an edge, Uthappa does his best to make a mess of it and holds on to the ball after a juggling act.

21:38 (IST)

After 20 overs,Kolkata 124/8 ( Sunil Narine 2 , Morne Morkel 1)

KKR manage 124/8 from 20 overs, not enough considering IPL standards. Smith did all the damage today. 4-0-8-4 on the night. KKR need a similar performance from their ranks to have a chance at this one.

21:36 (IST)

OUT! Holder departs on 13, Bravo does the champion dance and smiles as he sends off Holder. Holder doesn't hit it quite well and sends it high up over the bowler's head. Finch runs in from mid off and takes the catch, not too far from the non-striker's stumps.

21:29 (IST)

After 19 overs,Kolkata 120/7 ( Jason Holder 12 , Sunil Narine 0)

OUT! Yusuf Pathan is gone after making 36. That was a soft and sluggish dismissal. Full toss outside off, and Pathan lunges to send it straight to Raina at extra cover. Just one more over left for KKR to make this competitive.

21:26 (IST)

After 18 overs,Kolkata 116/6 ( Yusuf Pathan 32 , Jason Holder 12)

Holder lets lose this time and takes his his fellow West Indian Bravo to the cleaners. The six was a massive one, 95 metres into the crowd. Full delivery from Bravo, begging to be slogged, got its wish.

21:18 (IST)

After 17 overs,Kolkata 103/6 ( Yusuf Pathan 31 , Jason Holder 1)

SIX & OUT! Suryakumar Yadav departs on 17. He hits Jakati for an inside-out six and just the next ball he goes for a sweep and gets a top edge. Kulkarni takes a simple catch at fine leg. Jaosn Holder the new man in.

21:13 (IST)

After 15 overs,Kolkata 83/5 ( Yusuf Pathan 24 , Suryakumar Yadav 5)

Pathan finally unleashes the monster within. He hits a four and six back to back. Yusuf hammers it to the long-off boundary, the first boundary since the end of powerplay, a much needed one. The next ball, he makes some room and tonks it over long on. 14 runs off the over. KKR finally get a jog on.

21:05 (IST)

After 14 overs,Kolkata 69/5 ( Yusuf Pathan 12 , Suryakumar Yadav 3)

KKR have taken their foot off the accelerator. Just 8 runs from the last two overs.

21:00 (IST)

After 12 overs,Kolkata 61/5 ( Yusuf Pathan 7 , Suryakumar Yadav 0)

OUT! Shakib is sent packing on 3, Smith's on fire, he gets his fourth wicket on the night. Short ball did the trick, Shakib tried to play the upper cut, and found Dwivedi at third man. Onus now on big-man Pathan.

20:49 (IST)

OUT! Bowled! Smith makes a mess of Chawla's stumps. The left-hander was left befuddled by a straight roller. The ball seemed to skid and come in fast and hit high on the timber. Smith claims his third on the night.

20:46 (IST)

After 9 overs,Kolkata 54/3 ( Piyush Chawla 11 , Yusuf Pathan 4)

Strategic time-out. KKR trudging along after early stumbles. Chawla and and Yusuf Pathan need to go big or go home here. The latter lives by the same mantra. Meanwhile in Headingly, it's a rather long tea-break for the men in white. It's raining (it's England) and the final session has been delayed.

20:42 (IST)

Apple CEO Tim Cook gives a big, flashy smile as KKR reach 50. i-PL.

20:38 (IST)

Inzamam would be proud.

Gambhir has been run out 21 times in T20s - most by a batsman, goes past Jayawardene's 20 such dismissals. #GLvKKR

— Bharath Seervi (@SeerviBharath) May 19, 2016

20:34 (IST)

OUT! Uthappa is gone on 25, he was looking dangerous. Smith strikes again. A tempting short-ish ball in the gallery and Uthappa slashes at it, gets an edge and Karthik makes no mistake behind the stumps. KKR in a bit of a spot now. And remember, no Andre Russell tonight.

20:28 (IST)

After 5 overs,Kolkata 36/2 ( Robin Uthappa (W) 23 , Piyush Chawla 2)

OUT! Manish Pandey doesn't last long. He chases a full and wide one from Smith, but only gets enough bat on it to send it to Raina in the slips. Pandey departs after making a solitary run. Piyush Chawla has been promoted up.

20:23 (IST)

After 4 overs,Kolkata 34/1 ( Robin Uthappa (W) 23 , Manish Pandey 1)

Uthappa, meanwhile, is carrying on unperturbed. Brilliant shot on that last delivery to bring up the first six of the innings. Glancing Kulkarni off his pads for maximum over midwicket. Hard to top that off. Manish Pandey the new man in.

20:20 (IST)

OUT! No more freebies for Gambhir, he is run out excellently by Jakati on 8. Jakati dove to collect and caught Gambhir in the middle of the pitch with a direct hit. Uthappa had knocked it to mid on, and slipped and fell as he ran towards the non-striker's end. Jakati was quick to get his hands on the ball and even quicker to throw at the stumps as Gambhir lost a crucial second in confusion due to Uthappa's fall. You've lived out your lives, Gautam.

20:16 (IST)

After 3 overs,Kolkata 23/0 ( Robin Uthappa (W) 13 , Gautam Gambhir (C) 8)

DROPPED, again. Gambhir gets a life-line for the second time. He edges a short one going wide, and Smith dives but fails to hold on to the ball in the slips. It seems PK has been bit by Karma. This could prove costly for Lions. PK has left the field due to injury he sustained during his attempted catch.

20:11 (IST)

After 2 overs,Kolkata 16/0 ( Robin Uthappa (W) 7 , Gautam Gambhir (C) 7)

Dhawan Kulkarni comes in to bowl the second over, but is punished by the KKR openers. Right off the first ball, Uthappa plays a peach of a drive through covers, punching the ball in the gap for four. Then Gambhir picks up a length ball and sends it over mid-off for another boundary. To add insult to injury, PK missed a simple catch at mid-on, he misjudged it and in the end was just grasping at straws,

20:08 (IST)

After 1 overs,Kolkata 3/0 ( Robin Uthappa (W) 2 , Gautam Gambhir (C) 1)

Cautious start by KKR openers. Meanwhile Jonny Bairstow has reached his seventh fifty in Test cricket for England, 51 off 60 balls, in the first Investec Test between England and Sri Lanka at Headingley. Bairstow and Alex Hales have hit half-centuries to lead England's recovery after debutant Shanaka scalped three wickets in the first session itself.

20:04 (IST)

Uthappa has reached a milestone.

Robin Uthappa becomes the 5th Indian to score 5000 runs in T20 cricket. Kohli, Raina, Rohit and Gambhir are the others. #GLvKKR

— Bharath Seervi (@SeerviBharath) May 19, 2016

20:01 (IST)

Gautam Gambhir and Robin Uthappa open for KKR, Praveen Kumar bowls the first over

19:42 (IST)

A new battle ground.

This is the first ever T20 match at Green Park stadium in Kanpur. #GLvKKR

— Bharath Seervi (@SeerviBharath) May 19, 2016

19:40 (IST)

GL XI: DR Smith, B McCullum, S Raina, A Finch, D Karthik, R Jadeja, DJ Bravo, E Dwivedi , P Kumar, D Kulkarni, S Jakati

19:39 (IST)

KKR XI: R Uthappa, G Gambhir, M Pandey, Y Pathan, S Yadav, S Al Hasan, J Holder, P Chawla, S Narine, M Morkel, A Rajpoot

19:33 (IST)

Gujarat Lions have won the toss and chose to bowl first

19:33 (IST)

Hello and welcome to the Live blog for Gujarat Lions vs Kolkata Knight Riders. Both the teams are gunning for the playoff berth, this one promises to be a live-wire.
Kanpur: Gujarat Lions will look to bounce back from their heaviest defeat this season as they take on Kolkata Knight Riders (KKR) in the Indian Premier League (IPL) game in Kanpur on Thursday.
Regular captain Suresh Raina will be back for the tie at the Green Park stadium to boost the team's confidence after skipping the Royal Challengers Bangalore match to be alongside his pregnant wife who gave birth to a daughter recently. It was Raina's first IPL match missed since 2008.
On the contrary the Knight's may have to go into this game without their star all rounder Andre Russell who suffered a hamstring pull in the last game.
KKR have 7 wins from 12 outings so far and if they grab all two points against Gujarat they will be almost sure of a play-off spot. The Lions also have as many wins as KKR but they have a lesser net run-rate.
Both teams come into the encounter after being battered by the Royal Challengers Bangalore (RCB). First it was the Lions who faced the wrath of the Virat Kohli led side suffering a humiliating 144-run defeat last Saturday.
Twin centuries from Kohli and AB de Villiers helped their side reach a mammoth 248/3 and then RCB bowled Gujarat out for a paltry 104. KKR were then handed a 9-wicket thrashing.
Gujarat know they have to pull up their socks in the next tie. Raina's return can be a boon for the home side as he has been prolific over the last nine seasons of the league.
And if the likes of Brendon Mccullum, Dwayne Smith and Aaron Finch fire, the rival bowlers will have a tough time.
The last time these two sides had met at the Eden Gardens, the Lions had come out on top and it will be interesting to see what Gautam Gambhir will do to turn the tables this time around.
The home side might look to get in Dale Steyn and James Faulkner in the side to strengthen their bowling. The wily fast bowlers might prove to be handy against the in form KKR batsmen.
The Knights have suffered problems in their top order but they have been able to put healthy totals on the board frequently.
They will want middle order batsman Yusuf Pathan to fire if they are to score heavily. However, the void left by Russell may be difficult to fill.
Spinners have been the main weapon of the Knights this season but the Green Park strip may not offer much to the likes of Piyush Chawla and Sunil Narine.
The squads:
Kolkata Knight Riders: Gautam Gambhir (captain), Robin Uthappa, Manish Pandey, Yusuf Pathan, Suryakumar Yadav, Shakib Al Hasan, Piyush Chawla, Sunil Narine, Ankit Rajpoot, Morne Morkel, Chris Lynn, Colin Munro, Brad Hogg, Shaun Tait, Jason Holder, Umesh Yadav, Sheldon Jackson, Jaydev Unadkat and Rajagopal Sathish.
Gujarat Lions: Suresh Raina (captain), Dwayne Smith, Brendon McCullum, Aaron Finch, Dinesh Karthik, Ravindra Jadeja, Dale Steyn, James Faulkner, Ishan Kishan, Praveen Kumar, Dhawal Kulkarni, Shivil Kaushik, Dwayne Bravo, Sarabjit Ladda, Amit Mishra, Akashdeep Nath, Paras Dogra, Eklavya Dwivedi, Shadab Jakati, Pradeep Sangwan, Jaydev Shah, Umang Sharma, Pravin Tambe, Andrew Tye.
Firstpost is now on WhatsApp. For the latest analysis, commentary and news updates, sign up for our WhatsApp services. Just go to Firstpost.com/Whatsapp and hit the Subscribe button.
Updated Date: May 19, 2016 23:28:50 IST