IPL 2016, DD vs GL as it happened: Morris' heroics in vain as Lions edge Daredevils by one run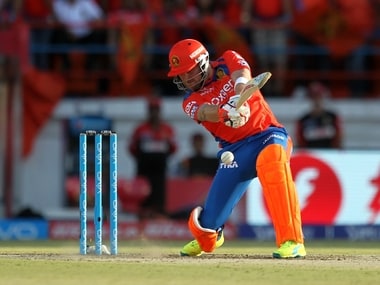 23:55 (IST)

Chris Morris is named the Man of the Match

23:49 (IST)

What an all-round performance from Morris. 4-0-35-2 with the ball. 82 off 32 (4x4, 8x6) with the bat.

He signs off. pic.twitter.com/FM1VOl3uQ6

— FirstpostSports (@FirstpostSports) April 27, 2016

23:44 (IST)

Shout-out to Pawan Negi, the most expensive player at this year's IPL. After five matches, he has 32 runs, zero wickets, and 8.5 crores.

— Alt Cricket (@AltCricket) April 27, 2016

23:42 (IST)

Heartbreak for Delhi. But while Gujarat won, surely there is no loser in this match. Morris spectacular, and Guj brilliant in death overs

— Cricketwallah (@cricketwallah) April 27, 2016

23:42 (IST)

Gujarat Lions win by 1 run!

What a match! With four required off the last ball. Bravo bowls a very full delivery, Morris could only bunt it to mid-wicket and they gets just a couple.

There was drama first ball as Morris crashed one to covers where Faulkner let one through his hands for four. It was at a catchable height but the power of Morris helped the ball burst through his hands. A couple of singles off the next two balls and then lazy fielding from Jadeja helps Morris scamper through for that risky second. Karthik then gives Morris a lifeline as Jadeja fires in a throw from long on but he fails to collect it as Morris hares in for the second. He was struggling. They got just 2 runs off the last ball and Morris' heroics went in vain.

23:36 (IST)

After 19 overs,Delhi 159/5 ( Chris Morris 71 , Pawan Negi 2)

Brilliant over from Praveen Kumar. A string of yorkers, adjusting the lines according to the batsman's position. Just four singles off it. 14 needed off the last over.

23:30 (IST)

Chris Morris is playing Stick Cricket on invincibility mode.

— Alt Cricket (@AltCricket) April 27, 2016

23:30 (IST)

Even his defensive pushes go for a boundary. Morris is worth a million dollars more. #IPL

— cricBC (@cricBC) April 27, 2016

23:29 (IST)

Praveen Kumar will bowl the penultimate over.

23:28 (IST)

After 18 overs, Delhi 155/5 ( Chris Morris 69 , Pawan Negi 0)

Dhawal Kulkarni bowled a very good comeback over to build the pressure by giving away just seven runs. But then Morris just hammered Smith out of the park for three consecutive sixes to make sure DD were well on course. He clobbered one over mid-wicket, then smashed one straight back to get to his fifty and then pulled one over the deep mid-wicket stands. Bravo then gets the much-needed wicket of Duminy off the first ball of the next over. But Morris continued his momentum with a four down the ground and then another one through extra cover off a delightful punch. 39 runs and a wicket off the last 3 overs. 18 needed off 12 balls now.

23:23 (IST)

OUT! Bravo gets the much-needed wicket. Duminy misses out on his 50. JP Duminy c & b Bravo 48 (43b 3x4 1x6)

It's that deadly slower one again. On length area outside off, Duminy goes for a heave but is foxed by the change of pace. He ends miscuing it high in the air. Bravo runs backwards and pouches it himself. A wicket at a crucial imterval.

Pawan Negi is the new batsman.

23:18 (IST)

FIFTY for Morris! He's is on fire. He hits the fastest fifty of IPL 9. Seven sixes and he brings it up in style with a six straight back over Smith's head. What an innings so far and what a fightback from DD.

23:11 (IST)

After 15 overs, Delhi 116/4 ( JP Duminy 44 , Chris Morris 35)

Morris is turning it on now with some monstrous hitting. He hammers Faulkner for a couple of sixes in the 13th over. One over long off and other over deep square leg. He then pulls one off top edge over deep square leg for his third six. In between, Duminy lofts one over mid off off Bravo for a four. Morris then hammers a couple of huge sixes off Tambe to make it 44 runs off the last 3 overs. 57 required off 30 now.

23:03 (IST)

Could some one tell us Pawan Negi's role ? Bowled five overs so far, none today.. Chris Morris bats ahead of him at six.. Then?? #IPL #DDvGL

— jatin sapru (@jatinsapru) April 27, 2016

22:54 (IST)

After 12 overs, Delhi 72/4 ( JP Duminy 33 , Chris Morris 2 )

Duminy has started to show some urgency. He pulls one powerfully over mid-wicket for four. Then takes on Jadeja as he hammers one over deep mid-wicket for a six and then swats one through the same region for four. 29 runs and one wicket off the last three overs.

22:50 (IST)

OUT! Faulkner strikes. Pant departs

Length delivery on the leg stump. Pant stays in his crease and heaves it to long leg. Doesn't connect it well and Praveen Kumar at long leg takes a good low catch.

Chris Morris is the new batsman.

22:45 (IST)

#DD have successfully chased down more than 100 runs in the last 10 overs only once in #IPL. They now need 122 off 60 balls #DDvGL #IPl2016

— Cricbuzz (@cricbuzz) April 27, 2016

22:44 (IST)

Losing 3 wickets in Powerplay is usually one way ticket to defeat in T20. Cant see escape route for Delhi unless punt on Pant pays off!

— Cricketwallah (@cricketwallah) April 27, 2016

22:43 (IST)

After 9 overs, Delhi 43/3 ( JP Duminy 13 , Rishabh Pant 13)

It's still slow going for DD. Pant however releases some pressure with a well placed boundary through backward point. Dwayne Smith, Raina and Bravo operated in the last 3 overs and conceded just 21 runs combined. The required rate is 11.81. 130 needed off 11 overs.

22:33 (IST)

After 6 overs, Delhi 22/3 ( JP Duminy 5 , Rishabh Pant 1)

Things going at snail's pace for DD. Duminy and Pant would be looking to stabilise and rebuild. Kulkarni has bowled a fantastic spell and his two wickets in the fourth over and then giving away just 3 runs in his next. Praveen Kumar has supported him well. 15 runs and two wickets in the last 2 overs.

22:23 (IST)

Dhawal Kulkarni is the only bowler to bowl a wicket wicket maiden twice in #IPL2016 #DDvGL

— Sarang Bhalerao (@bhaleraosarang) April 27, 2016

22:20 (IST)

Double blow for Daredevils!

OUT! Kulkarni gets the big one. De Kock walks back. K Nair c Tambe b Kulkarni 9 (7b 1x4 0x6)

It's that slower one that does the trick. Full on off stump, De Kock looks to loft but is foxed by change in pace. He miscues it high in the air where the covers fielder makes no mistake.

OUT! Kulkarni on a roll, 3rd wicket for him. Karun departs. Q de Kock c Raina b Kulkarni 5 (11b 1x4 0x6)

It's full on the pads, an innocuous delivery. Nair had hit a thumping four just the previous ball. This time he flicks it off the middle, but straight to short fine leg where Pravin Tambe takes an excellent overhead catch.

22:13 (IST)

After 3 overs, Delhi 7/1 ( Quinton de Kock 1 , Karun Nair 4)

A brilliant start for Gujarat Lions. Praveen Kumar and Dhawal Kulkarna were on the money. Praveen built the pressure giving away just 2 runs. He found some swing. Kulkarni, on the other hand, found more swing than Praveen kumar and got the wicket of Samson in the second over. He bowled a wicket maiden. Praveen then again bowled a frugal over where there was a huge LBW appeal was turned down against De Kock as it was pitching outside leg.

22:05 (IST)

OUT! A very good catch from Faulkner. Samson departs. S Samson c Faulkner b Kulkarni 1 (6b 0x4 0x6)

Full on middle and leg, tailing away. Samson is early into his flick and is done in by the away movement. He gets a leading edge and Faulkner takes a very good catch running backwards.

Karun Nair is the new batsman.

21:58 (IST)

Right! Back for the chase. Quinton de Kock and Sanju Samson are the openers. Praveen Kumar will start off proceedings.

21:47 (IST)

After 20 overs,Gujarat Lions 172/6 ( Dwayne Bravo 7 , James Faulkner 22) Lions end up at 172/6 after Baz and Smith hammered home 110/0 in first 10. Brilliant comeback from Delhi Daredevils, they pulled it back. Just 62 runs given in last 10 overs. Complete turnaround. They'd be happy with the total, considering GL were easily headed to 215-220. Excellent bowling performance from Tahir and Morris. Tahir: 4-0-24-3, Morris 4-0-35-2

21:39 (IST)

Zaheer has used his bowlers well, although he himself proved quite costly tonight. His figures: 4-0-48-0

21:38 (IST)

After 19 overs,Gujarat Lions 162/6 ( Dwayne Bravo 5 , James Faulkner 14)

It was looking like GL would cross 200 easy. DD have done brilliantly well.

21:28 (IST)

After 17 overs,Gujarat Lions 143/6 ( Dwayne Bravo 0 , James Faulkner 1)

OUT! Karthik departs on 19, Tahir has struck back-to-back is now on a hat-trick! This has spelled disaster for Lions. What a colossal collapse by Gujarat, what a comeback by DD. 6 WICKETS IN THE LAST 7 OVERS!

21:26 (IST)

OUT! Ishan Kishan, the India u-17 captain departs. Half-hearted attemnpt at a shot, skies it and is caught by Duminy. Tahir has struck again.

21:18 (IST)

After 15 overs,Gujarat Lions 132/4 ( Dinesh Karthik (W) 11 , Ishan Kishan 1)

OUT! Jadeja is gone, he gets the faintest of edges off Duminy and de Kock makes no mistake. Caught behind. DD are back into it. GL, once cruising to a extra-200 total, have now lost 4 wickets for 22 runs in last 5 overs.

21:08 (IST)

Last 3 overs: 10 runs and 3 wickets. Delhi Daredevils are pulling things back.

21:05 (IST)

Question of the decade: How many times has Raina fell to the short ball? Winner gets my sympathies.

21:03 (IST)

After 12 overs,Gujarat Lions 117/3 ( Dinesh Karthik (W) 1 , )

OUT! Skipper Raina departs on 2, Morris is turning things around for DD here. Raina goes for a behind-square flick but is unaware of the field placement. He is caught out easily by Nair at short fine-leg. What an over from Chris Morris, 2 wickets and just 2 runs given. That's how tides turn in T20 cricket.

21:00 (IST)

Brendon McCullum's 100 sixes in IPL:
42 for CSK
32 for KKR
16 for KTK
10* for GL#IPL2016 #DDvGL

— Bharath Seervi (@SeerviBharath) April 27, 2016

21:00 (IST)

The B McCullum-D Smith opening stand aggregate in #IPL
for CSK 25 inns, 922 runs @ 36.88, 2/5
for GL 2 inns, 159 runs @ 79.50, 1/0#DDvGL

— Mohandas Menon (@mohanstatsman) April 27, 2016

20:54 (IST)

OUT! McCullum departs on 60 off 36, he is beaten by Morris, swings and misses and the ball takes out the timber. Bowled!

20:52 (IST)

Skipper Suresh Raina comes in to bat after Smith departs. The opening pair however have done the job on Delhi. Scitillating T20 batting, one cannot take thier eyes off it.

20:50 (IST)

OUT! Smith departs on 53, Tahir gets the breakthrough, he traps Smith leg-before. The batsman is not pleased he believes he got an edge off the bat. Smith-Baz partnership was worth 112 runs.

20:46 (IST)

After 10 overs,Gujarat Lions 110/0 ( Dwayne Smith 52 , Brendon McCullum 57)

Smith and Baz power Lions to fastest 100 in IPL 2016, in 9 overs!!

Both McCullum and Smith have reached their half centuries in 27 and 26 balls respectively. They have completely dismantled the Delhi bowling attack.

20:37 (IST)

After 7 overs,Gujarat Lions 82/0 ( Dwayne Smith 42 , Brendon McCullum 40)

No respite for DD. Two back to back fours in the over, McCullum the culprit here. First he swings his bat a full 360, twisting around, whipping across and sending the ball to deep square leg. In the next one, the yound and expensive Rishab Pant is caught with his pants down in deep covers, the ball passes though his outstretched limbs and goes for four. Dreadful.

20:29 (IST)

After 6 overs,Gujarat Lions 71/0 ( Dwayne Smith 41 , Brendon McCullum 30)

71/0 after powerplay. 5 sixes, 6 fours. McCullum 30* off 16, Smith 41* off 20. Lions are roaring. Strategic time out, much needed for Delhi Daredevils.

This has been a crash course in T20 batting by Brendon McCullum and Dwayen Smith.

20:26 (IST)

After 5 overs,Gujarat Lions 63/0 ( Dwayne Smith 34 , Brendon McCullum 29)

Smith and Baz are in a six-hitting competion. And this won't be an easy bet. This won't be an easy live blog to do as well. It is a hitting frenzy. The openers have powered Lions to the fastest 50 in IPL 2016, hitting 5 sixes in 5 overs. The delhi bowling attack has been completely decimated.

20:20 (IST)

After 3 overs,Gujarat Lions 42/0 ( Dwayne Smith 27 , Brendon McCullum 15)

Smith fireworks do not imply that Brendon McCullum is goin to keep quite. Zaheer is being hammered here. Two sixes and one them a dropped catching chance in covers by Samson. It was short and wide from Zak, Baz flattened it to covers and Samson could only get a hand to it. The power in the shot was enough to betray his hands and fly past the rope. Next one over mid-wicket, just regular T20-style slogging. 32 runs given in 2 overs by Zaheer.

20:08 (IST)

After 1 overs,Gujarat Lions 18/0 ( Dwayne Smith 18 , Brendon McCullum 0)

18 runs from that first over from Zaheer. Deja vu after deja vu. Three times Smith got a thick outside edge and the ball dissected the slips and raced away to the third man fence. Duminy and de Kock could only stare at each other on one occasion as the ball waved past them. Barring the drive on the first ball, all 3 fours in the third man region and borne of an edge. Excellent start from Lions.

19:51 (IST)

Here are the starting XIs for tonight

Gujarat Lions XI: Smith, McCullum, Raina, Karthik, Jadeja, Bravo, Faulkner, Kishan, Kumar, Kulkarni, Tambe

Delhi Daredevils XI: De Kock, Samson, Nair, Pant, Duminy, Negi, Morris, Khan, Mishra, Nadeem, Tahir

19:44 (IST)

The leggie has been in been brilliant form. Can Gujarat Lions quell the threat?

19:34 (IST)

Delhi Daredevils have won the toss and opted to bowl. "We're gonna follow the trend" — Zak.

Zaheer likes to play it safe. Quite the irony if you consider the team name.

New Delhi: It will be a clash of two in-form teams when Delhi Daredevils host Gujarat Lions in an Indian Premier League (IPL) tie at the Ferozeshah Kotla Stadium in New Delhi on Wednesday.
Gujarat have enjoyed a superb start to their debut season, winning four of their five matches to be placed second on the table with eight points. They have the same number of points as table toppers Kolkata Knight Riders.
Delhi are two points behind in third place. The Daredevils have been equally impressive, winning three of the four matches they have played so far.
Led by Zaheer Khan, the Daredevils have done well as a unit. Opener Quinton de Kock has been in good form. The South African star has the ability to play the big shots and perk up the run rate, and can also play a long innings when required.
Delhi also have several talented young batsmen like Shreyas Iyer, Karun Nair, Sanju Samson, Pawan Negi, and Mayank Agarwal, while J.P. Duminy has been in good form in the lower-middle order. West Indies all-rounder Carlos Brathwaite also has the ability to produce the big hits.
Among the bowlers, pacer Mohammed Shami and leg-spinner Amit Mishra have done well. Although Zaheer has not been in his best form, the likes of Chris Morris, Imran Tahir and Nathan Coulter-Nile offer several strong candidates in the bowling department.
Gujarat are also have a strong batting line-up with the likes of Suresh Raina, Ravindra Jadeja, Aaron Finch, Brendon McCullum, Dwayne Bravo, Dale Steyn, Dinesh Karthik, James Faulkner and Dwayne Smith.
Finch had struck three back-to-back half centuries in the first three games, although his opening combination with McCullum was not a success. In the last match against Royal Challengers Bangalore. The Gujarat think tank tried a new opening combination in McCullum and Smith which proved to be a good move as the duo added a quick partnership of 47 runs.
Gujarat's Indian players like Pravin Tambe, Praveen Kumar, and Akshdeep Nath have also done well. In the bowling department, left-arm spinner Shadab Jakati has not been among the wickets and may find himself out of the playing XI.
The squads:
Delhi Daredevils: Zaheer Khan (captain), Amit Mishra, Shreyas Iyer, Mohammed Shami,Shahbaz Nadeem, Mayank Agarwal, Jayant Yadav, Nathan Coulter-Nile, Imran Tahir, JP Duminy, Quinton de Kock, Pawan Negi, Chris Morris, Sanju Samson, Carlos Brathwaite, Karun Nair, Rishabh Pant, Sam Billings, Chama Milind, Pratyush Singh, Mahipal Lomror, Saeed Khaleel Ahmed, Akhil Herwadkar, Pawan Suyal.
Gujarat Lions: Suresh Raina (captain), Brendon McCullum, Dinesh Karthik, Aaron Finch, Dwayne Smith, Dwayne Bravo, James Faulkner, Ravindra Jadeja, Amit Mishra, Pravin Tambe, Dale Steyn, Praveen Kumar, Pradeep Sangwan, Andrew Tye, Akshdeep Nath, Paras Dogra, Eklavya Dwivedi, Ishan Kishan, Shadab Jakati, Shivil Kaushik, Sarabjit Ladda, Jaydev Shah, Umang Sharma.
IANS
Firstpost is now on WhatsApp. For the latest analysis, commentary and news updates, sign up for our WhatsApp services. Just go to Firstpost.com/Whatsapp and hit the Subscribe button.
Updated Date: Apr 28, 2016 13:58:15 IST