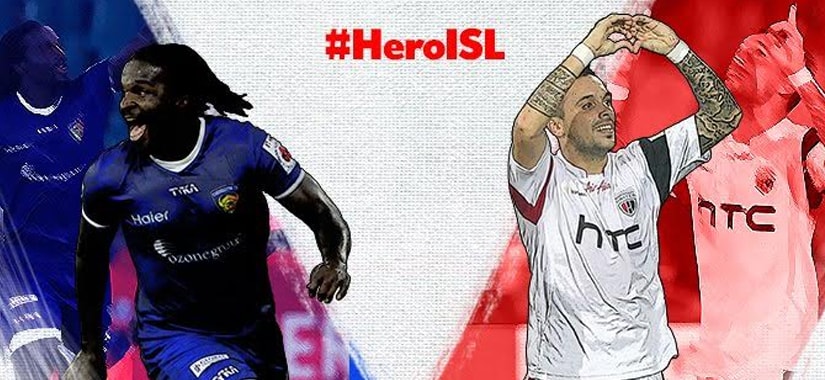 Indian football is getting a boost all thanks to a roster of outstanding international players who are equipped with years of experience and possess superior tactical as well as technical ability.
The third season of the Indian Super League that commenced from Oct. 1, 2016, is capturing the public's imagination while garnering sizable interest and support for the sport in India.
Top-notch foreign players and coaches from around the world, some of whom have participated in the previous editions of ISL, are seen filling the void in the Indian football landscape this season too with their expertise and experience.
Star players who are worthy of emulation
Edel Bete
One of ISL's most decorated goalkeepers, Edel Bete is renowned in the world of football for his impressive reflexes and his ability to anticipate his opponent's moves. Rival strikers find it hard to score against him; playing against him itself is a lesson in the game for any Indian footballer participating in ISL. While Bete previously played for last season's winners Chennaiyin FC, this year he is a part of FC Pune City. And, Bete is not the only proven performer.
Diego Forlán
All eyes are also on Uruguay football legend and one of the biggest marquee players in ISL, Diego Forlán, who is already making an impact on younger Mumbai City FC's Indian players who look up to him. And there's a reason why. Forlán wasn't always a superstar athlete - he worked his way up to being a legend and therefore, there's a thing or two Indian football players in the team will be able to learn about grit and hard work from him. Forlán is a world-class athlete and his hunger for victory is something every football player can emulate.
Lúcio & Iain Hume
Some of the other super foreign players in ISL 2016 are Brazilian player Lúcio from FC Goa and Scottish-born Canadian national Iain Hume from Atletico de Kolkata. While Lúcio has played against several European giants, Hume has been ISL's outstanding player so far.
***
Indian players do have plenty to gain from these foreign players if they seize the opportunity to learn from them as they play against and with them during ISL.
Since 2014, ISL has not only attracted the best players but also the best coaches. Leading coaches like FC Goa's Zico and Chennaiyin FC's Marco Materazzi have brought stability to the game by staying on for the third season as well.
More expertise, more value for Indian football
As long as every ISL team has a good mix of foreign and domestic players, there will be balance and plenty of opportunities for Indian players to blossom. As domestic players learn as much as possible from the experience of these international players, their confidence and subsequently the game will continue to improve.
The inclusion of marquee players, who, by ISL's definition are world-renowned footballers, have played for popular clubs in big leagues and have been featured in major global tournaments will not only raise the quality of their own ISL teams but also that of their rivals. Forlán is an example to quote here.
Additionally, with the implementation of ISL's grassroots programme aimed at bringing about a football revolution among the youth, the game has a bright future in India. Millions of Indian youth, who lacked access to the game, will now have a shot at gaining exposure to the best in world football.
This is a partnered post.
Updated Date: Oct 10, 2016 12:02 PM