International Olympic Committee names three female candidates for membership in bid to ensure gender parity
The International Olympics Committee has named three women in its shortlist of nine candidates who will contest for membership to the body in a vote held in October.
Lausanne: The International Olympic Committee on Friday named a young Afghan woman, Samira Asghari, among nine candidates for membership of the body in a move to boost women's rights.
Thomas Bach, the IOC president, said the nomination of the 24-year-old Asghari, who played basketball for her country and has taken on a series of administrative roles, sent a message. "She's a young woman of Afghanistan who is very active in promoting the right to play sport for women in Afghanistan, you all know it's not an easy task," Bach told a press conference.
"With this nomination we wanted to send a signal not only to men and women in Afghanistan but also in all these countries where women are facing serious obstacles to do sport," Bach added.
Five of the nine candidates due to be voted in in October are "Individual Members" proposed by a special committee, three of which are women. The other four represent either National Olympic Committees (NOCs) or international sports federations (IF) which are entitled to representation, of which all four are men.
Missing, for a second year, are FIFA president Gianni Infantino and IAAF head Sebastian Coe. The two other women are Daina Gudzineviciute, president of the Lithuanian Olympic Committee, and Felicite Rwemarika, vice president of the Rwanda's Olympic committee.
The other two individual nominees are Giovanni Malago, president of the Italian Olympic Committee and Camilo Perez Lopez Moreira, head of the Paraguayan NOC. The two NOC nominees are William Frederick Blick, from Uganda, and Prince Jygyel Ugyen Wangchuck of Bhutan.
The IF candidates are Morinari Watanabe, Japanese president of the International Gymnastics Federation, and Brazilian Andrew Parsons, president of the International Paralympic Committee.
Football and athletics federations are two of the biggest Olympic sports and Sepp Blatter, of FIFA, and Lamine Diack, of the IAAF, were both long-time IOC members. Since both were unseated following embarrassing scandals, their successors have not been nominated to take their IOC places.
Bach said it was not the right moment to nominate either Coe, who ran London's Olympics in 2012, or Infantino, saying, "we are now in a situation for both of them where we are quickly approaching their reelection. The IOC did not want to give the impression that we would like to interfere in this campaign for the election next year. The timing now would be to close."
"Seb and I agreed that we could respect that he, for the time being, wants to set other priorities, one of the key is implementing the reforms he has initiated in IAAF," added Bach.
Sports
Italy will face North Macedonia at home in a playoff semi-final next March, and the winner will play away at either Portugal or Turkey for a spot in the World Cup.
Sports
Qatar sought an edge in securing hosting rights from rivals like the United States and Australia by hiring former CIA officer turned private contractor Kevin Chalker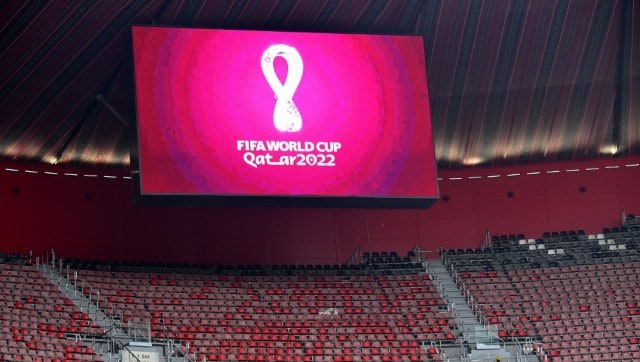 Sports
CEO Nasser al-Khater said Qatar has not been given enough credit for its labour reforms aimed at improving conditions for migrant workers, mostly from South Asia.