International match halted for first time as Netherlands-France pay tribute to 'Dutch Master' Johan Cruyff
The Netherlands' international against France was halted in the 14th minute on Friday to lead global tributes to Dutch football legend Johan Cruyff, one day after his death.
A huge portrait banner showing Cruyff's back and his familiar Dutch orange number 14 shirt was hauled across one end of the ArenA stadium in his home city of Amsterdam.
Fans and players applauded the footballer and coach who died on Thursday from cancer at the age of 68.
A seat covered with flowers and a number 14 shirt was left empty in the VIP stand at a game which saw the Dutch slip to a 3-2 defeat against the hosts of the Euro 2016 tournament this summer.
It was the first time that an international has been halted for such a gesture.
"It was special," said France coach Didier Deschamps. "A great man like Johan Cruyff deserved such a tribute and the stadium responded to him."
A Dutch newspaper for whom Cruyff wrote a column said the footballer's funeral was held Friday in Barcelona.
But while his family said they had been "deeply" moved by the many accolades, they did not confirm the report.
Amazing. The 14th minute tribute for Cruijff: #nedfra https://t.co/eUhHbWRE5H

— Priya Ramesh (@Priya8Ramesh) March 25, 2016
Fans flocked to the Cruyff statue in Amsterdam to leave flowers, portraits and footballs bearing his name and messages.
Dutch and French fans put their rivalries aside to pay their respects to Cruyff in bars around the stadium.
In his childhood home area in the Amsterdam working class Betondorp (Concrete Town) neighbourhood, fans laid hundreds of flowers and other tributes.
"He was a god. He was football and he was the Netherlands," a teary Peter Heysteeg, 52, told AFP.
Leading football figures also highlighted the importance of Cruyff's impact on football.
"I knew nothing about football before knowing Cruyff," said Pep Guardiola, the Bayern Munich coach who played under Cruyff at Barcelona and later became its most successful coach.
Football revolutionary
"He helped us to understand football ... and he encouraged you to trust your instinct, your nose. To make decisions," Guardiola told Catalan radio station Rac1.
"He revolutionised football and, in particular, he embodied everything about Barcelona's playing philosophy," said Joachim Loew, coach of the German team who won the 2014 World Cup.
Pictures of Cruyff in his favourite shirt covered front pages around the world.
The spirit of Cruyff, captured perfectly by Dutch daily De Volkskrant pic.twitter.com/HgJIO3rt2j

— Dan Roan (@danroan) March 25, 2016
"Dutch Master" said the Dutch tabloid Algemeen Dagblad with a picture of a young Cruyff in full flight in the Ajax Amsterdam colours.
"Immortal" said De Telegraaf daily which also reported that Cruyff's cremation was held Friday.
This morning's front cover of De Telegraaf pic.twitter.com/uBLEPSmRMJ

— Beyond The Last Man (@BeyondTLM) March 25, 2016
"Heaven has a new playmaker," headlined the British tabloid, The Sun.
A one-time heavy smoker who gave up after double heart by-pass surgery in 1991, Cruyff revealed in October last year that he had lung cancer.
Cruyff "died peacefully in Barcelona, surrounded by his family after a hard-fought battle with cancer", said a family statement.
On Friday, his son, Jordi Cruyff, also a former footballer, tweeted his affection for his late father.
"A husband, a father, a grandfather. We will miss you like crazy, it will be hard but I hope we will make you proud," Jordi wrote.
The Cruyff family said it was arranging "a private farewell to Johan." But they did not say when it would be held.
The family also said it would soon announce a public memorial for the player who won three European Cups as a player with Ajax Amsterdam and European player of the year titles in 1971 with Ajax and 1973 and 1974 with Barcelona.
Cruyff moved from Ajax to Barcelona in 1973 and stayed there until 1978.
He returned 10 years later to coach the Spanish side. They won four consecutive league titles and their first ever European Cup in 1992 at Wembley.
Cruyff is considered one of the greatest players of all time. All of his peers have acclaimed his precision passes, speed, technique and goalscoring ability which set new standards as a player.
"We have lost a great man. May we carry on his example of excellence," said Brazil's Pele.
"He leaves a very important legacy for our family of football."
"He was the best player of all time," French legend Michel Platini told AFP hailing his admiration for the Dutchman.
"We will never forget you skinny," said Argentina legend Diego Maradona.
Cruyff helped end an era of dour defensive football, inspiring the Dutch team in their Total Football offensive that took them to the 1974 World Cup final where they were narrowly beaten by Germany.
Barcelona said fans would pay tribute to Cruyff on Saturday at the Camp Nou Stadium where a special condolence area would be set aside.
Some Spanish fans launched a Twitter campaign for the stadium to be renamed after Cruyff.
AFP
Sports
Klopp described Guardiola as the best manager in the world at a press conference on Wednesday and the Catalan was full of compliments in return.
Sports
City have claimed the trophy with three games to spare, capping a remarkable surge to the silverware in the second half of the season.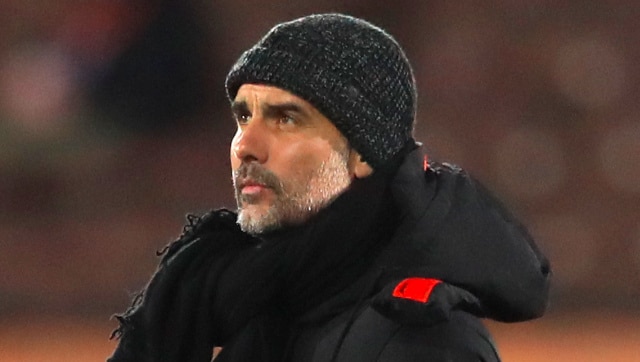 Sports
City moved to the brink of sealing a third Premier League title in four years at the weekend and Guardiola urged his side to maintain the same focus they have all season to see off PSG on Tuesday.