International Champions Cup 2018: Arsenal kicks off Unai Emery era with fixtures against PSG, Atletico Madrid
Arsenal play Atletico on Thursday and PSG on Saturday, before returning to Europe for the last pre-season fixture. Firstpost will be catching the team in action in Singapore and will bring you a report on just what we learned from the two games. Keep watching this space.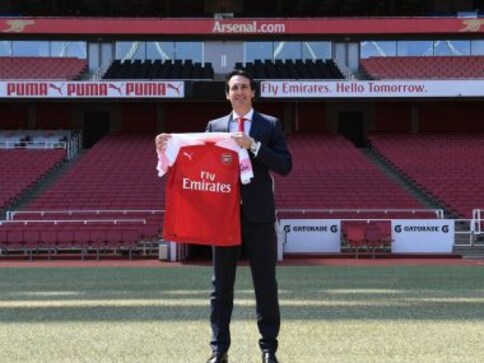 Wojciech Szczesny, Alex Oxlade-Chamberlain, Kieran Gibbs, Olivier Giroud, Alexis Sanchez, Mathieu Debuchy, Gabriel Paulista, Francis Coquelin, Per Mertesacker, Theo Walcott, Santi Cazorla, Jack Wilshere and the incomparable Yaya Sanogo — all of these names were on the payrolls of Arsenal Football Club at this time last year (give or take a few weeks). So too was a certain Arsene Wenger.
Of course, Mertesacker is still on the payrolls of the club, but as a coach, rather than a player. And that's why he's a part of Arsenal's Departed XI, which you can see in the snazzy little graphic. What the graphic doesn't show is Cazorla and almost-postman Sanogo warming the bench, and Wenger pacing up and down the technical area.
"A proper team, a well-balanced unit" is how this XI could ostensibly be summed up.
And over the course of last season, Arsenal added to its ranks left-back Sead Kolasinac, strikers Pierre-Emerick Aubameyang and Alexandre Lacazette, midfielder Henrikh Mkhitaryan and defender Konstantinos Mavropanos. In the past two months, reinforcements arrived at the Emirates in the form of goalkeeper Bernd Leno, defenders Sokratis Papastathopoulos and Stephan Lichtsteiner and midfielders Mattéo Guendouzi and Lucas Torreira.
Perhaps, most pertinently, after a 22-year-run, Wenger stepped down as Arsenal Manager and has been replaced — albeit in the capacity of 'head coach' — by former Paris Saintt Germain and Sevilla gaffer Unai Emery.
A proper pre-season
The new-look (well, somewhat new) Arsenal played a friendly fixture against Boreham Wood FC (8-0) and a couple of closed-doors friendlies — Crawley Town FC (9-0) and Brentford FC (1-2), before landing in Singapore ahead of Emery's first real challenge — the International Champions Cup 2018, featuring his old side PSG and Atletico Madrid. The latter, it may be recalled, edged past Arsenal in the 2017/18 Europa League semi-finals before lifting the trophy.
Looking at the first couple of games quickly, returns of 17 goals in 180 minutes is staggering indeed, but the quality of the opposition must be borne in mind. Nevertheless, a healthy glut of goals early on should create good scoring habits when the real matches roll around. It's hard to say much about the loss to Brentford, given that it was neither televised, nor played in public view. As for the two matches ahead, PSG and Atletico are almost certain to field fairly weakened squads considering most of their star players will be on a post-World Cup break.
The Gunners' final pre-season friendly will be on 1 August in Dublin against Chelsea, and is likely to be the most competitive one of the lot given new Blues manager Maurizio Sarri will also want to prove a point before the Community Shield showdown with Manchester City. (Interesting aside: Arsenal's first opponent in the season proper will also be City).
The biggest positive for Arsenal so far has to be the fact that the club is experiencing a full pre-season with minimal injuries and minimal players away on World Cup, Euro or Copa America duties in a long time. Further, it's also the first time in years that a large part of the transfer business has been wrapped up well in advance and the club won't be waiting for panic buys. Guendouzi and Torreira — less so in the case of the latter if you saw him take down Cristiano Ronaldo in the World Cup — were brought in with an eye on the future, while Sokratis and Lichtsteiner make up for what they lack in terms of time on their hands with bags of experience.
In another departure from previous seasons, Emery has made strengthening the defensive spine of the team his priority and eschewed the need, so far, to enlist any flashy, nimble and silky attacking players. It wouldn't be a stretch to say that this is something Arsenal have needed for a long, long time.
What to look out for
A successful pre-season is no guarantee of a successful season, however, it is a good indicator of the sort of ideas, strategy and tactics the manager is likely to deploy later on. With that in mind, here's a quick rundown of the key areas that will be on show in Singapore:
The new backline: It is going to be very interesting to see how and in what capacity Emery deploys Sokratis and Lichtsteiner among the likes of Shkodran Mustafi, Calum Chambers, Hector Bellerin, Rob Holding et al. It's clear that this defensive duo has been brought in to provide some amount of leadership and steel to an inexperienced (overall) and somewhat fragile defensive lineup, but how they will be utilised remains to be seen. The same applies to Leno, the former Bayer Leverkusen stopper, who has been brought in presumably to challenge Petr Cech's role as the club's Number 1. How he is used and what happens to David Ospina (who is not on the Singapore tour) remains to be seen. There should be few hints about both these aspects over the next few days.
Attacking formation: Lacazette, Aubameyang, Mkhitaryan, Ozil, Lucas Perez, Alex Iwobi and Danny Welbeck (who did not travel to Singapore on account of his 11 minutes played in the World Cup) makes for quite a crowded front-end of the field. Towards the end of Wenger's term, we saw him use Lacazette down the middle with Aubameyang on the left-wing. It'll be interesting to see how Emery deploys Lacazette and Aubameyang (separately or together) and how he puts the rest of the attacking players to use. Considering the first goal of the Emery era (albeit in a friendly) was an Aubameyang special delivered from outside the box and straight into the top left corner of Boreham Wood's goal, it'll be interesting to see if the head coach abandons his predecessor's penchant for having players walk the ball into the goal and take more chances from further out.
The O Factor: It's been a tough few weeks of Ozil. From the time he and German national teammate Ilkay Gundogan posed for that infamous photograph with Turkish president Recep Tayyip Erdogan, things have been going downhill for him. From the German Football Association throwing him under the bus, former players and managers blaming him for Germany's poor showing and all the way to "fans" insulting and threatening the attacking midfielder, it's been rough. And it all culminated in Ozil announcing on Sunday night that he no longer wished to play for Germany. It'll be fascinating to see which Ozil has turned up in Singapore: Whether it's the one who's wallowing in self pity or the one who's out to prove a point to his detractors. Either way, it'll make for fascinating viewing.
Arsenal play Atletico on Thursday and PSG on Saturday, before returning to Europe for the last pre-season fixture. Firstpost will be catching the team in action in Singapore and will bring you a report on just what we learned from the two games. Keep watching this space.
Sports
United travel to Watford on Saturday licking their wounds after four defeats in their past six Premier League matches, including chastening home losses to Liverpool and Manchester City.
Sports
Conte has to find a way to get the best out of Tottenham's record signing, who has become a target for frustrated fans since his £55 million ($74 million) signing from Lyon in 2019.
Sports
The former England international's first game will be at home to Graham Potter's Brighton on Saturday, following the current international break.