Intercontinental Cup: Sandesh Jhingan says he 'enjoys' playing in games where he's under pressure
For a defender, the opportunity to shine often comes at the time of adversity. India's defensive mainstay Sandesh Jhingan is no alien to the notion.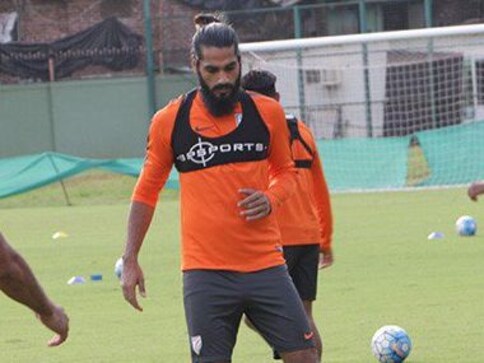 For a defender, the opportunity to shine often comes at the time of adversity. India's defensive mainstay Sandesh Jhingan is no alien to the notion.
"I enjoy playing games when there is a lot of pressure on us because that's what makes you better," Jhingan tells reporters in Mumbai.
"You don't want to go and play against teams that are not strong or not at the same level. You want to play against teams that always keep you on your toes because that's how you learn," the defender adds.
Jhingan's enthusiasm in playing a saviour is evident. From tackling with his head while lying on the floor to putting his body on the line to block a fierce shot, the 24-year-old takes as much "pride" in doing the "dirty work" as a striker would in scoring a goal.
With the AFC Asian Cup and the preparatory matches on the horizon, Jhingan is certain to get plenty of chances to become a hero, but his focus for the time being remains on improving and getting in the best possible shape for the UAE event.
"The friendly games are vital. Of course, the result is also important, but more important is to learn from them and you only learn when you play tough teams. To go into the Asian Cup in our best shape we have to play against tough teams," Jhingan declared.
India are slated to play against Kenya, New Zealand and Chinese Taipei in the Intercontinental Cup from 1 June. Jhingan sees it as an ideal opportunity for the team to learn about its strengths and weaknesses ahead of the Asian Cup.
"(Playing against) teams like Kenya, New Zealand is not easy, even Chinese Taipei (is tough). So it's good for us to play against tough teams. It will test our abilities and we will get to know our weaknesses as well. It's a good thing. I look forward to it," Jhingan said.
On being asked about the physical challenge that teams like Kenya would provide, Jhingan agreed that the experience of facing that type of a team would come handy for the Indians in UAE.
"This is the first time India are playing Kenya and they are a different team, the way they play football and the way it is played in their continent is something new for us to experience. I know they are going to be physical, but it will be a good test (for us).
"In the Asian Cup, we are going to get physical teams. Bahrain is a physical team, so is UAE. So now if we play teams like Kenya we will get to know our weaknesses and on what aspects we need to work on before the Asian Cup," the 24-year-old suggested.
'Brotherly' bond
Against technically superior teams in the upcoming Intercontinental Cup and later in the Asian Cup, India will have to be prepared to sit deep, absorb pressure and defend without the ball for long periods. During these spells, Jhingan and his central defensive partner Anas Edathodika will come under a lot of pressure and the duo will be responsible for leading India's rearguard action.
Since being paired together in the second half of India's friendly against Cambodia in March 2017, India have conceded just 9 goals in 11 matches and kept 4 clean sheets. Coach Stephen Constantine has hardly deviated from the partnership that appears to be the one India will enter the Asian Cup with.
Earlier this week, Anas expressed his admiration for his partner by calling himself a "big fan" of the 24-year-old defender. On Sunday, Jhingan responded by calling Anas his "elderly brother".
"10-12 years ago when I was 13-years-old, I used to play with my elder brothers. The feeling was very special when I played with them. When I play with Anas, I get that same feeling. It's a very good feeling when I play with him, he is a brother to me, he's my elder brother," Jhingan said.
"I learn from him, he is a top guy, very humble, I just feel lucky to be his friend. Hopefully, we will continue to play together and win trophies together with the national team and also at club level now that he has almost joined Kerala Blasters," he added.
Apart from being a defensive rock, the Kerala Blasters defender has grown as a threat in the opponent box over the past two years and has netted some vital goals for The Blue Tigers. However, when it comes down to scoring or keeping a clean sheet, Jhingan stays true to his breed.
"Of course I want to contribute in attack. (I want to) score or assist as many goals as possible. But if anyone asks me if you have a chance to score a goal or keep a clean sheet, then as a defender my priority would be to keep a clean sheet," the centre-back declared.
Football
ISL 2022-23 Matchweek 7: From Kerala Blasters beating leaders Hyderabad to Mumbai City thumping Bengaluru, here's the whole wrap of Matchweek 7.
Football
Brazil football legend Pele was hospitalised this week amid ongoing cancer treatments.
Football
In a brief statement, UEFA said it would be looking into whether Juventus had provided misleading information to get the first case resolved with a "settlement agreement" in August.