Indian Women's League: Eastern Sporting Union's coach Bembem Devi says team's well prepared to defend title
Bembem Devi, the face of Indian women's football for the past couple of decades, on Sunday said Eastern Sporting Union's performances will speak for themselves
Shillong: Bembem Devi, the face of Indian women's football for the past couple of decades, on Sunday said Eastern Sporting Union's performances will speak for themselves as the defending champions look to take home the crown that they earned last year when the Hero Indian Women's League gets underway here on Monday.
"We are the defending champions and our aim is to take back home what we earned last year," said Bembem, who coaches Eastern Sporting Union.
"Being the defending champions, there is always an added pressure on you. The weight of expectations can be overwhelming. But if we as a team are not confident enough in our abilities then there is no point in taking the field.
"There is absolutely no alternative to not believing in yourself and playing like champions," she added.
Bembem said they are not waiting on their past laurels.
"Well, some of the players played at the Senior NFC and they learnt that you can't take anything for granted in football. This year we have brought in a few players and are not just resting on our previous achievements.
"Just wait for us to take the field and our performances will speak for themselves."
The IWL had seen a reach of 8.8 million on Facebook last year, even the Qualifiers for Season 2 in Kohlapur had generated sizeable interest.
Bembem said: "The interest in Women's Football and football in general is growing in India. And if we can showcase good football, this interest will grow even further.
"It would be even better if existing teams in the top tiers take interest in having their own Women's team. I want to thank Gokulam Kerala FC from the bottom of my heart for taking active interest in the women's game," the Arjuna Award winner added.
The IWL was held in Delhi last year and this time it finds home in Shillong in the North East and Bembem is excited about it.
"We all know how passionate the North East is about football. We can expect good crowds to come in and support us," said the hopeful coach.
"Recent times have seen new power centres come up with Tamil Nadu winning the Senior Women's National Football Championship and Chandigarh coming on top in the Sub-Junior Girls National Football Championship. Both times, it was Manipur who came up short.
It is actually good that new teams are winning at the national level. It shows how the game is spreading in different parts of the country," Bembem said.
"I want to congratulate Tamil Nadu for the super display in Cuttack and also the AIFF for the work they have done at the grassroot level across the country."
Find latest and upcoming tech gadgets online on Tech2 Gadgets. Get technology news, gadgets reviews & ratings. Popular gadgets including laptop, tablet and mobile specifications, features, prices, comparison.
Sports
Prabhsukhan mentioned about overcoming the initial "frustration" and the "importance of remaining in the best shape possible" despite the uncertainty.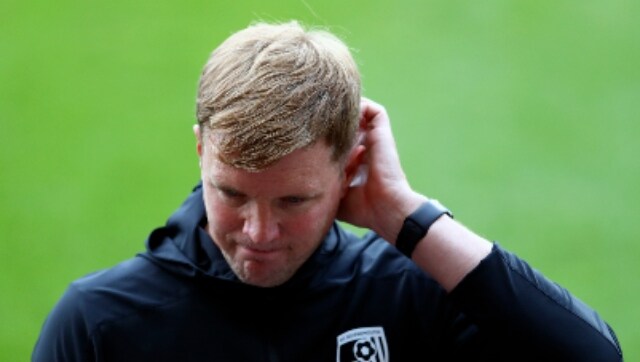 Sports
Howe was English league football's second longest-serving manager having begun his second spell at Bournemouth in October 2012 and leading it into the Premier League in 2015.
Sports
The former Indian national team goalkeeping coach Rogerio Ramos has signed a two-year deal with Odisha FC.