Indian Wells: Naomi Osaka crushes World No 1 Simona Halep to set up final against Daria Kasatkina
Daria Kasatkina upset Venus Williams 4-6, 6-4, 7-5 and Naomi Osaka routed top-ranked Simona Halep 6-3, 6-0 on Friday night to set up a final between two 20-year-olds.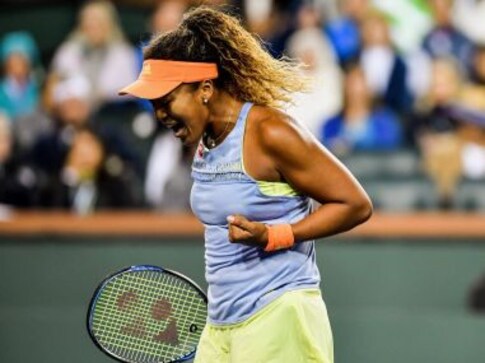 Indian Wells: World No 1 Simona Halep crashed out of the WTA Indian Wells tournament on Friday as she suffered a shocking 6-3, 6-0 upset loss to World No 44 Naomi Osaka of Japan.
The 26-year-old former champion Halep dropped to 18-2 on the season as she lasted just 64 minutes on the court with the unseeded Osaka.
"I just was not ready. I missed the ball a lot and I didn't play what I had to play," she said. "I don't find excuses. She was better. I just was not ready and played wrong."
Osaka put away Halep on her third match point when the Romanian netted a backhand.
Ranked 44th, the Japan-born Osaka opened the tournament by beating Maria Sharapova in the first round. She defeated No 31 Agnieszka Radwanska and No 5 Karolina Pliskova on her way to the final, dropping just one set in six matches.
Osaka will face fellow 20-year-old Daria Kasatkina, who stunned seven-time Grand Slam winner Venus Williams 4-6, 6-4, 7-5 in an earlier semi-final.
"Both of them deserve to be in the final," Halep said.
Osaka improved to 14-4 in 2018 as she came into the clash as the lowest ranked Indian Wells semi-finalist since Kim Clijsters in 2005.
Halep had three double faults, won just five points on her second serve and had her serve broken five times.
Halep, who had reached the semi-finals in all four of her tournaments in 2018, was trying to repeat her Indian Wells success of three years ago when she beat Jelena Jankovic to lift the trophy.
Kasatkina outlasts Venus
In the first semi-final, Kasatkina toppled her third top-10 player in a row, shocking world number eight Williams.
The 20-year-old Kasatkina rallied to claim the biggest victory of her career, extending a year-long assault on top players, Grand Slam winners and former world number ones.
Serving for the match, Kasatkina clinched the victory on her second match point as she raced out to a 40-0 lead. Venus hit a cross-court forehand winner on the first match point but then dumped a backhand into the net to end the two hour, 49 minute marathon showdown.
Ultimately the young Russian proved to be too strong for the 37-year-old Williams, who appeared to hit a wall at about the two and a half hour mark.
The turning point came in the third set as Williams was left breathing heavily on her chair after holding serve in the ninth game to take a 5-4 lead.
Williams, who was winning matches in Indian Wells before Kasatkina was even born, has enjoyed a longevity in tennis that is rarely achieved. But in the end she didn't have the legs to stay with the rising Russian star, who won the final three games.
Kasatkina fired one ace, hit five double faults and broke Williams's serve seven times in the entertaining match.
Williams hit more winners, 45-30, and broke Kasatkina six times but she also made five double faults — some at crucial moments in the match.
"Anyone who gets used to losses should give up on life," Williams said.
Kasatkina continues her Cinderella run through the California desert tournament as she goes for her second WTA title.
She highlighted 2017 by claiming her first crown in Charleston, beating fellow teenager Jelena Ostapenko in the final.
Four champions
Kasatkina has beaten all four reigning Grand Slam champions in the past year, including US Open champ Sloane Stephens twice. She did it for the second time in Indian Wells, winning their third round match 6-4, 6-3.
After eliminating Stephens she beat two top-10 players to get to the semis — world number two Caroline Wozniacki in three sets in the fourth round and then No 10 Angelique Kerber in straight sets in the quarters.
Before running headlong into the Russian juggernaut it had been smooth sailing for Williams into the semis as she did it without having to play someone ranked in the top-20.
In the third round she defeated her sister Serena, who had a protected ranking of 22 after she took 14 months off to have a baby.
Kasatkina is now 2-1 overall against Williams having beaten her the first time they play in Auckland in 2016.
"I really just make too many errors. That's pretty much all — I mean, I have to stop making that many errors against her," Venus said.
With inputs from agencies
Tennis
Alcaraz, who can return to number one in the world with a third ATP Masters 1000 title this week, led 6-2, 2-0 when Draper retired.
Tennis
For the second straight match Daniil Medvedev threatened to take a bathroom break "as slow as the court" as he ranted on a changeover.
Tennis
World number one Iga Swiatek passed the test she'd been looking for, roaring through the tiebreaker to win a roller-coaster clash with Bianca Andreescu 6-3, 7-6 (7/1) to reach the fourth round at Indian Wells.