Indian Wells Masters: Roger Federer sets up mouthwatering fourth round clash with Rafael Nadal
The last time Rafael Nadal and Roger Federer met before the quarter-finals of a tournament was their first meeting in the round of 32 at Miami in 2004.
Indian Wells: Roger Federer and Rafael Nadal will reprise their epic Australian Open title clash when they meet Wednesday in the fourth round of the ATP Indian Wells Masters.
It will be the 36th career meeting between the two, but Federer — who vanquished Nadal in Melbourne to claim his 18th Grand Slam title — admits their first meeting before the quarter-finals of a tournament since 2004 will have something of a different flavor.
"It will feel different," Federer said after downing American Steve Johnson 7-6 (7/3), 7-6 (7/4) to book the blockbuster. "It's going to be more difficult for both of us just to rip winners into the corner.
"If you play at the early matches, you see usually the top guys not chase the lines so much. You give yourself some margins for error. So I think the match will be played a bit different. Because it's early in the tournament, I think we both don't quite yet know to 100 percent how everything feels. So there is a bit of the unknown. And then it's a best of three set match. This is more of a sprint than a marathon, not like in Australia."
The last time Nadal and Federer met before the quarter-finals of a tournament was their first meeting in the round of 32 at Miami in 2004.
Then, 14-time Grand Slam champion Nadal was a hungry teenager taking on an already-established star — and winning.
"It was a long time ago," said Nadal, who advanced on Tuesday with a 6-3, 7-5 victory over fellow Spaniard Fernando Verdasco. "I went on court, nothing to lose. A lot of motivation to play against, I think, number one already.
"For me to play with Roger, doesn't matter if it was in that early round, I didn't feel it was unlucky for me. It was a beautiful match, and I tried to go out on court and enjoy it and fight for it."
Now, like Federer, Nadal is aware that the fourth-round match is part of a larger goal, and the draw that put them, along with World No 2 Novak Djokovic, in the same quarter a matter for regret.
"I think is unlucky part of the draw for everybody," he said. "In this case, doesn't matter if everybody is playing well, because from our part of the draw, only one of us is going to be in that semi-finals. So that's tough. The only thing we can do to avoid that is be in higher position in the rankings."
Sports
Here's everything you need to know about the live broadcast of the US Open 2021 men's singles final between Novak Djokovic and Daniil Medvedev.
Sports
US Open: Follow live score and updates from the men's semi-finals at Flushing Meadows in New York.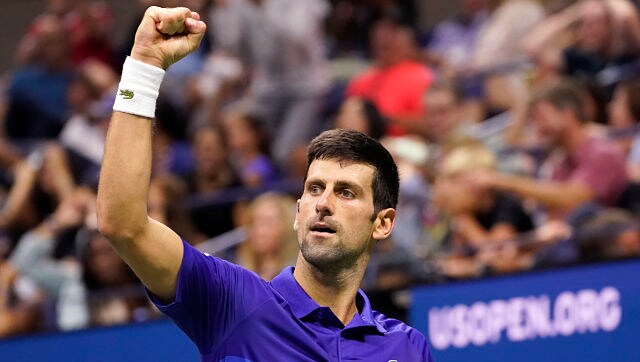 Sports
Djokovic seeks his 21st career Slam trophy, which would give him the men's record total he currently shares with Rafael Nadal and Roger Federer.